Activations and events are at the heart of what we do – and on March 31st, Tigris celebrated our 16th year of business in this fun space! Last summer, for our milestone 15th anniversary, we threw a huge party for clients, colleague, team members and friends. We were so proud of the turn out that we even developed a detailed planning guide following the event.
We are grateful and relieved we had the opportunity to host this party last year since this year has been quite different. In the midst of the Covid pandemic, we have been working from home and are practicing social distancing. Events are shelved for the foreseeable future and this unexpected downtime has certainly given us a lot of time to reflect. We felt the best way to celebrate this year, in honour of our 16th anniversary, would be to take a trip down memory lane and share of our top 16 activations and events. One has been selected for each of the 16 years we've proudly been in business.
2004: Apple Lounge Launch Party
Launching in 2004, Tigris has been providing top notch talent and planning unique experiences from the very beginning. Choosing the first event to showcase was no easy task, but the grand opening for Apple Lounge stood out in our minds. The theme was "tempt your senses". We created an ambiance of indulgence and temptation, tantalizing the senses. Tigris was responsible for the conception, ideation and management of the event details. This included creating a menu and invitations, sourcing décor, entertainment and custom uniforms as well as managing the guest list and onsite logistics. In addition, Tigris also provided events staff, as well as our very own "Eve" to welcome guests at the grand opening activation. This is a perfect example of the creativity we would continue to infuse into our events for years to come.
2005: Motorola ROKR Promotion
In 2005, we produced three successful activations for Motorola including the ROKR promotion. Tigris teamed up with Hill & Knowlton to execute the program which included promoting Madonna's new album in conjunction with the Motorola ROKR handset. The objective of the campaign was to attract new customers and advertise Motorola's latest and greatest phone. Essentially, we were creating a buzz for these huge brands. Altogether, we executed a 10-day program, across various locations downtown Toronto. In addition, staff were transported in a branded stretch excursion limousine, stocked full of promotional giveaways, to reward loyal Motorola customers with prizes while demonstrating the interactive features of the handset. This was definitely a fun campaign to remember!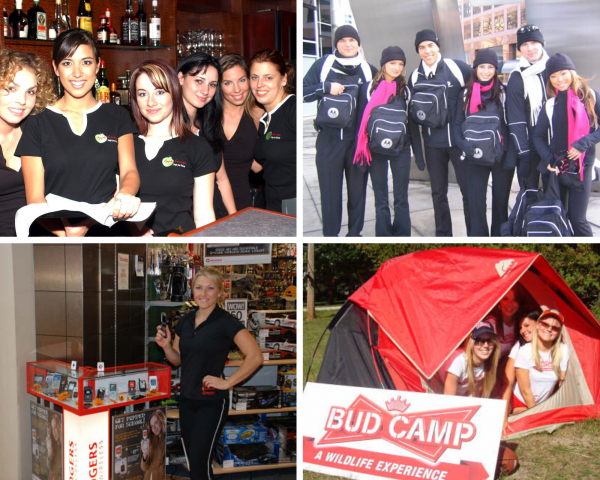 2006: Rogers and Motorola Promotion at Source by Circuit City
2006 was a milestone year. Tigris took the next step forward and expanded nationally with this next series of activations. Tigris planned a HUGE promotion for both Motorola and Rogers in less than one month. The activations took place simultaneously at 110 Source by Circuit City stores across Canada. Every Friday-Sunday over 6 weeks (that's 1,320 shifts in total!). While onsite, our brand ambassadors promoted the new Motorola V360 phone, as part of a back to school special. However, this was not any old "stand and hand" flyer promotion. Tigris cast talent that was loud, outgoing, and able to make an impact. Our team presented live demos of the phone's features. In addition, handing out promo material and giveaways to drive sales. Over the course of the program, there was a 60-70% lift in new activations. What a success and one that put Tigris on the map from coast-to-coast.
2007: Labatt Bud Camp Activations
In 2007, Labatt launched their infamous "Bud Camp" promotion. If you do not already know, Bud Camp is a "wildlife experience" intended to be the most fun and memorable "camp" experience for young adults. Providing staff and logistical support for the "Honk for Bud Camp" program through SMAK, Tigris helped to spread the word. For instance, the first Bud Camp took place in Ontario, so it was only fitting that the teams were situated along highways outside of the GTA and Ottawa. Our beautiful brand ambassadors set up "camp" in safe areas that were visible to commuters or those driving to the cottage. Dressed up as Bud Camp Team Leaders and equipped with camping essentials, our BA's help signs that read "Honk if you're going to Bud Camp" and "It not, visit budcamp.ca". It's safe to say we made quite an impression!
2008: Save The Walls University Campus Tour
During September of 2008, Tigris assisted Krista Slack by staffing 3M's Save The Walls campaign and took off on a 20-stop campus tour at universities across Canada. The objective was to promote both the brand and the product, familiarizing students with 3M's adhesive strips. We hosted a mix of in-person and online training sessions, in addition to providing detailed protocols to prepare our staff. Facilitating engagement is one of our specialties and staff were tasked with encouraging students to participate in a "Text to Win" contest. In addition to taking them through a guided tour with demonstrations in a customized "dorm-style" trailer. Overall, we were able to signup 3500 contest participants, hand out almost 7,000 samples and conduct over 6,200 product demonstrations throughout the tour.
2009: Peroni Launch
In 2009, we teamed up with Speed Promotions to staff promotional models for a series of Peroni samplings as they launched their product in Canada. Focusing on the Toronto and Vancouver markets, samplings took place at various upscale restaurants, bars and lounges. Tigris was tasked with recruiting a team with a very specific look/personality who would be responsible for interacting with guests and getting samples into the hands of valuable consumers. The sampling events took place from April to December at over 50 locations filled with the target demographic. It's safe to say we accomplished what we set out to do.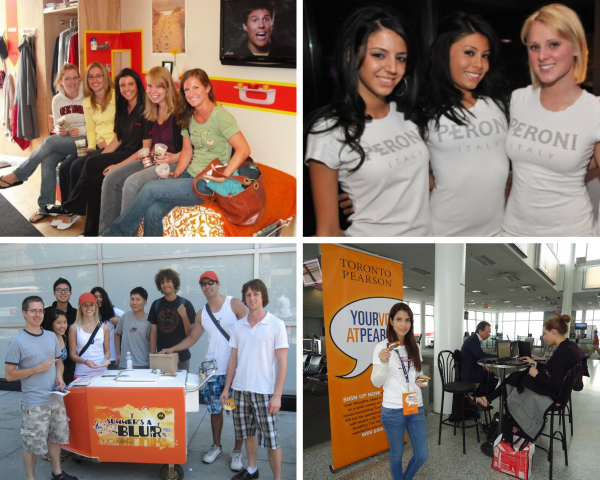 2010: Summer's a BLUR Activations
2010's activations provide us with the perfect example of summer inspiration. Another hit with Motorola, Tigris helped to execute their "Summer's a Blur" campaign for Hill & Knowlton. On two perfectly hot July days, in downtown Toronto, Montreal and Vancouver, our teams hit the streets outfitted in Motorola branded gear and riding dickie dee's. With demo phones in hand and popsicles in their carts, staff were on the lookout for consumers. Each team worked in pairs to demonstrate the functionality of the phone, using it to actively signup contest participants. The best part, those who participated were rewarded with a sweet treat!
2011: Hotspex Series
In 2011, we spent most of the year at Toronto Pearson International Airport. From January to November, we conducted over 12 market research studies called "Your Voice at Pearson" for GTAA through market research firm, Hotspex. The studies ranged in size from 10 to 80+ staff collecting surveys from passengers regarding brand perceptions, customer satisfaction and more. All of the projects combined totaled more than 11,000 hours and the collection of tens of thousands of surveys. A testament that our staff can really do it all!
2012: Appleton Rum Samplings
2012 was a fun year for samplings! Tigris booked teams of promotional models in both Toronto and Calgary for PMA to embark on a series of interactive sampling activations for Appleton Rum. As time passed, the samplings expanded to include Aperol, Cabo Wabo, American Honey and other great brands through to 2015 when PMA was bought by Campari. To bring these brands to life, we supported PMA by staffing promotional models for the events along with managing assets, logistics an storage. Our teams were booked at bars, lounges, golf tournaments and special events to interact with customers and sample the product. Equipped with branded materials, a portable mini bar, custom uniforms, prizes and more, every interaction was intended to make a lasting, yet tailored impression on consumers.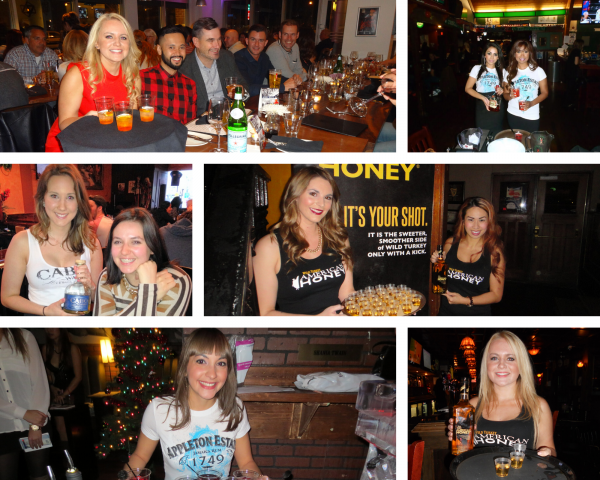 2013: Tide Test
This may be one of THE most unique experiential marketing campaigns we've ever been a part of. In 2013, we partnered with Zoom Media to carry out an activation appropriately titled "The Tide Test". This was a marketing campaign that required the collection, laundering and return of fitness apparel to consumers at various gyms. We executed this program, in not one, but three cities across Canada: Toronto, Vancouver and Montreal. We engaged regional event managers, team leads and brand ambassadors from our nation-wide rosters, at 24 gyms per city.
While onsite, our brand ambassadors engaged gym go-ers to collect their dirty laundry. Over one weekend, we took over 1 laundromat in each city. Our teams literally did laundry for over 800 people (without losing or shrinking one item, we might add!). The clothes were returned the following Monday, enclosed in a branded laundry bag. In addition, we wrapped them in paper (to preserve the smell of Tide Febreze plus Sport). Along with a free big bottle of Tide and coupons gifted to participants. The project was a huge success and went on to win awards!
2014: The Mud Tour
In summer of 2014, we embarked on a nation wide promotional tour for CGC called "The Mud Tour". This Canada-wide tour ran for 16 weeks from May to September, throughout the western, central and eastern regions of Canada. We booked one event manager per region to drive pick up trucks we sourced and branded throughout each stop. Each driver was paired with a local CGC rep in each city to visit various construction site visits, mini events held at local retailers and golf tournaments. Heading into construction sites made this tour unique. For instance, this allowed our ambassadors to collect direct feedback on products from contractors and workers. In addition, working with the local reps, we were able to strategically hand out samples that they could compare to similar products. It was no wonder it was so well received!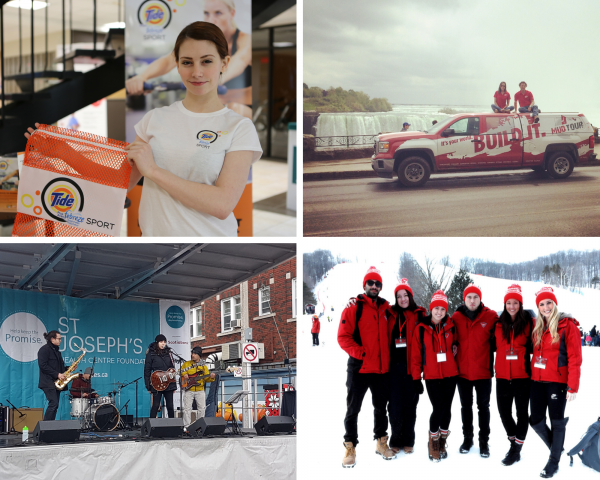 2015: Toronto West Halloween Fest
In 2015, our team planned the 4th annual Toronto West Halloween Fest, an example that we are particularly proud of. It was difficult to choose which year to highlight for this special event as we were involved between 2012-2018. Tigris was hired by St. Joseph's Health Care Foundation to plan this huge street festival fundraiser. The event was intended to create brand awareness for St. Joe's, bring the community together and of course, raise money for the health center. An event of this size takes months of meticulous planning and we can proudly say we were involved in every aspect. Our deliverables included managing permits to close down Bloor St., liaising with sponsors for their booths onsite, sourcing all vendors related to safety, traffic controls, waste and more. All the hard work that goes into planning a street festival is completely worth it when you're supporting such a great cause!
2016: Canadian Tire Ski Weekend
In 2016, we worked with Canadian Tire on several activations but this year, one stands out in particular. We've chosen to focus on Canadian Tire's employee ski weekend because it's an amazing display of generosity. Tigris provided an onsite team, including bus captains to help Canadian Tire run this team building event. Staff were outfitted in branded Canadian Tire jackets and toques to give them a cohesive and professional look. In addition to acting as bus captains, Tigris staff had a number of important duties. This included guest registration, collecting waivers and directional support.
Overall, this event was an excellent display of teamwork. Furthermore, it shows exactly how brand ambassadors can elevate your event. For example, "above and beyond" customer service by adding a human element. This ensures all guests feel welcome, special, and taken care of. These seemingly small gestures are the secret formula to leave guests with a positive lasting impression. In addition to this amazing event, Tigris staffed events for Canadian Tire dating back to 2012. Including the opening weekend at the Canadian Tire Motorsports Park every Victoria Day long weekend! While onsite our team provided attendees with complimentary shuttle rides. We did this on golf carts, transporting attendees across the massive park to help them get around more easily.
2017: Berczy Park Grand Re-Opening
2017's event is truly special! Its the first time the City of Toronto's Parks, Forestry & Recreation department utilized an external agency for an event – and they chose Tigris! On a beautiful June day, we celebrated the Grand Re-Opening of Berczy Park. Planning started in April, as we curated the experience for the event. While the "dog fountain" is the highlight of the park, we also wanted to display the unique community interests in the area. This includes St. Lawrence Market, the arts, as well as families. To tie this altogether, we had period characters handing out historical information.
Reusable shopping bags were branded with a shadow of the fountain to hand out to attendees. Lemonade stands and popcorn was also handed out and bunting was hung to add a whimsical element. Interactive elements included "Les Moutons" a performance group along with live music, a caricaturist and puppeteer. To commemorate the occasion, Toronto Mayor John Tory was in attendance for the ribbon cutting. If you want to experience the event for yourself, you can check out our video! In addition to this event, Tigris also planned and executed the grand re-opening of Lower Don Trail on September 27th.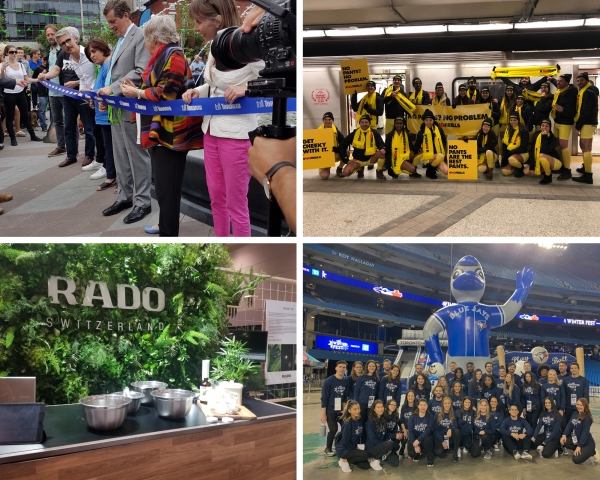 2018: No Frills, No Pants
In 2018, we staffed No Frills "No Pants Subway Ride" activation for a communications company based in Toronto. The objective was to create a unique and memorable experience for consumers while highlighting No Frills' humorous and rebellious attitude. Tigris booked a team of 28 brand ambassadors, who were outfitted in branded toques, scarves, jackets and of course underwear! The provocative nature drew lots of attention, as intended. This activation saw great consumer participation both in-person and on social media. Furthermore, our energetic and dancing staff caught the eye of the media, bringing even more attention to the tongue-in-cheek campaign.
2019: RADO
In January 2019 (and September 2018), we created and hosted a booth for RADO, a Swiss luxury watchmaking company owned by Swatch, at the Interior Design Shows. These events took place in Toronto in 2019 as well as Vancouver the previous fall. In addition to a luxurious booth design, they required engaging promotional staff to assist with our interactive design lab.
You may be wondering what goes into the design of a trade show booth? Pre-event, Tigris sourced all suppliers and provided our client with a proposal to ensure the best product and pricing. In addition, we managed all logistics and arrival of supplies and assets. Most importantly, full event load in and tear down was completed by Team Tigris! There were many unique elements to the RADO booth. Including custom builds for prototypes and time pieces, as well as a nature inspired focal point and decor. Last but not least, an interactive giveaway (DIY coffee scrub!) was executed to entice guest engagement. Want to see more? Check it out our video!
2020: Blue Jays Winterfest
We've arrived at 2020 and the 16th event we'd like to highlight. Currently, due to COVID-19, the event industry has come to a halt, in terms of in-person activations. This being said, Tigris worked on some amazing events prior to the pandemic. One of our favourites was Blue Jays Winterfest! This was the 3rd annual Winterfest and we were honoured to have worked with the Toronto Blue Jays for this exciting, annual event. We were required to provide a team of 40 energetic and engaging brand ambassadors and two onsite event managers for the event. In addition, we provide valuable on the ground insights and testimonials from Winterfest attendees in our post-event reporting. Supporting our clients with high volume staffing takes careful organization. Luckily, our in-house team are pros and coordinate everything from staffing and training, to break schedules and anything in between.
We couldn't have done it without you!
Amidst all the crazy chaos that descended on us with the Coronavirus pandemic, we passed our 16-year anniversary on March 31st. We hope you enjoyed our Top 16 Activations! It's been quite a ride, starting out with a handful of clients and events to having fulfilled well over 200,000 event staff hours. We've also logged over 40,000 management hours and 10,000+ hours for event planning. Since our inception, we've planned more than 12,000 activations for close to 1,000 customers and have been fortunate to work with some of the best known brands in almost every industry.
It's been quite the journey to say the least. Thank you to all of you who have been a part of it – from clients and colleagues who have trusted us with their events and programs to our BA's in field bringing brands to life for us and of course, our head office team, working tirelessly behind the scenes to pull everything together. We wouldn't be here today or have come this far without you! We look forward to continuing to support the event staffing and planning community. And if you feel inspired, feel free to reach out to us to chat or for a free quote on your next event!