Customer experiences are at the core of what we do. This said, social distancing has presented us with some unexpected challenges lately. As optimists, we are doing our best to continue to persevere. Why, you ask? Simple, it is because of you – the amazing clients, colleagues and events staff within our community. We cannot help but do our best to remain hopeful and plan for the future.
We embrace technology and see the value of virtual events, but as an experiential marketing and event staffing agency, we truly believe the importance of real-life customer experiences simply can't replaced. There is nothing like the feeling of connecting directly with consumers. This is why we're here to help and we're giving you five engaging customer experiences you need to try when the pandemic is over!
Guerilla Style
Guerilla marketing is a low-cost, yet effective way to get your product directly into the hands of consumers. The reason why this experiential strategy is one of our favourites is because it is a great way to surprise and delight. Utilizing street teams is a prime opportunity to take consumers by surprise, get them to sample your product and have genuine interactions with them. With the right expertise, staff and action plan you can distribute not only hundreds, but thousands of samples to your target audience. This type of customer experience is incredible for launching new products and/or to simply show appreciation.
Samplings
Samplings can apply to several different industries – the most popular being food and beverage samplings. Sampling programs offer unique experiences in which consumers can instantly taste test or interact with the product in front of them. However, samplings are not only for those in the food and beverage industry. For example, technology, makeup and skincare, even automotive brands can benefit from sampling. Picture the "latest and greatest" new video game or console has just been released. What better way to entice potential buyers than by setting up a sampling for them to test it out? This should be somewhere high traffic, such as a mall or a trade show. If you'd like to learn more about which sampling technique is right for your next customer experience, check out our blog that discusses which style is best for your brand.
Trade Shows & Expos
Trade shows are a great way to make a big impact on perspective clients or customers. They provide high foot traffic, and if you choose the right show, bring your target demographic right to you. Once you have set your sights on a specific show, the best place to start is your booth design. We suggest you think outside the box. For example, at Tigris, each time we get a new RFP, we like to start with a brainstorming session. It's amazing to see the creativity this can spark in your team members! One of the most important factors to consider is how you will entice and interact during your customer experience. You want to ensure you have all the necessary but laid out in an engaging and creative way.
PR Stunts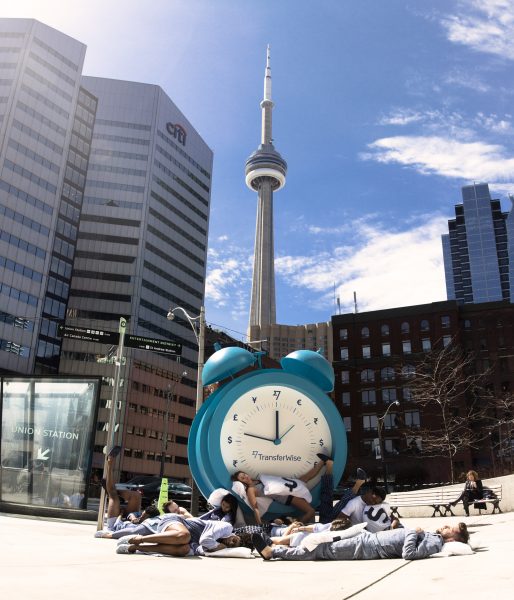 The next customer experience we would like to introduce you to is the PR stunt. These are not for the faint of heart, as they are high impact experiences, which can often come with a sizeable price tag. However, partner with the right agency and execute it perfectly and your brand is guaranteed to make a PR worthy splash! How you may ask? Our work with Transferwise is a perfect example.
Transferwise wanted to make an impact with their Canadian launch in Canada. The intention was to capture the attention of Canadians by raising awareness about their services and cost savings; essentially, "waking up" consumers about the fees associated with international money transfers. We were tasked with managing logistics and production for a viral video shoot. We built a larger than life, alarm clock built, sourced 4 beds, 100 pillows/pillow cases, branded bedding and sleepwear. We booked a cast of 10 "sleepwalkers" for the first part of the shoot then another 90 to accompany them for an epic pillow fight, shot guerilla style in a building downtown Toronto! Overall, it was a hit and featured on prominent news stations and the video had hundreds of thousands of views on social media. If you want to see the power of the PR stunt for yourself, check out the award winning video
Tours
Promotional tours are a fantastic customer experience. They allow you to connect with your consumers across many different communities. While many aspects depend on budget, how far you want to travel is completely up to you. Some brands decide to do province-wide tours, such as across Ontario. Others want to go coast-to-coast! While we have done this several times, with many clients, one of our favourites to highlight is our work with Taste of Nature. For their Urban Paddler Campaign, our team traveled across Canada transporting assets and samples. Samplings were conducted both at events and retail stops along the way. We even had a fully functional "canoe-cycle" on display to attract attention while distributing over 100,000 Taste of Nature samples! This allowed us to connect with consumers all across the nation, gathering important consumer data for our client. The best part was creating positive customer experiences and smiles along the way!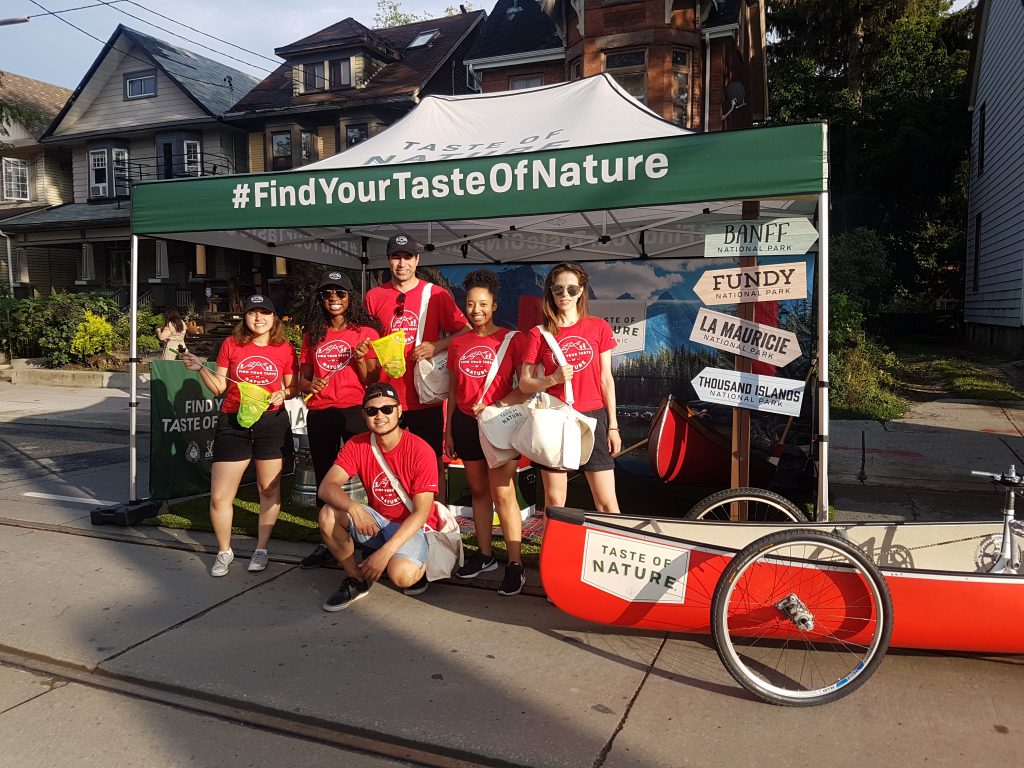 We are impressed by the creativity and adaptability of all industries during the pandemic thus far. While virtual events remain a helpful alternative, there is nothing that can replace the value of connecting with your consumers face-to-face. We love creating engaging customer experiences and providing our clients with photos, frequently asked questions, and testimonials, straight from our campaigns. If you would like to discuss any of these opportunities further, we would be happy to provide you with a free quote!