A Personal Message from Tigris' President & CEO, Serena Holmes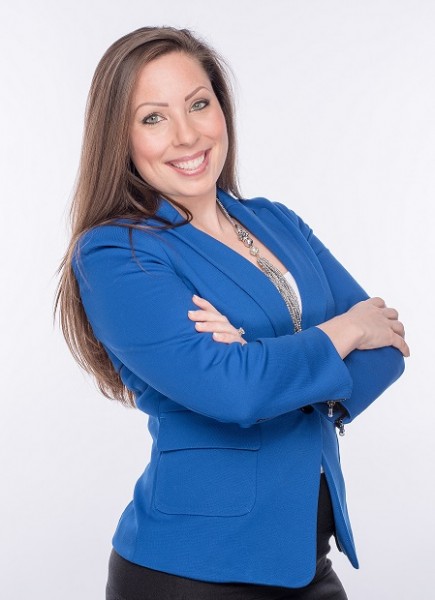 Over the years, a lot of people have asked me about how Tigris was started – so I thought I would dedicate a page to tell our story – or in this case, my story.
Some people start their own business because they think they have a great concept or idea. I was not one of these people and I can't take credit for founding the company I now own – but I can for developing it into the flourishing corporation it is today.
Everyone has to start somewhere. For me, I was putting myself through university for journalism. I was working part-time at a local gym when a member suggested I get into promotions. He thought I had a great look and personality; and referred me to a woman who owned an agency.
At the time, I'd never even heard of 'promotions' before, but I followed up with the phone # I'd been given. Shortly thereafter, I started sampling for Appleton Rum along with representing many other brands. I completely fell in love with the work! I learned how powerful personal experiences can be and how product knowledge, personality and persistence go hand in hand to influence other people's perception of a brand.
After a few years of working promotions part-time and just 2 months out of university, I was hired by Tigris as a Temporary Sales Staff. I was promoted to management in 4 months and shortly thereafter, offered partnership – which I turned down since I was an aspiring journalist. Unfortunately (or fortunately), broadcast journalism proved to be a more challenging road than anticipated, so a year after starting with the company, I accepted the partnership that had been offered to me the previous year. That same month, we began booking events with Motorola and shortly thereafter, Rogers. We expanded to Montreal and then nationally the following year.
A big shock came along in 2008 when my business partner decided to leave the company for personal reasons. Many people suggested dissolving the company, going our separate ways and starting over as they felt that the financial commitment of a buy-out would be too risky for me. Our sales had doubled the year before when my partner was on mat leave however, so I actually looked at the situation as a tremendous opportunity regardless of the hefty price-tag attached to it. We had already spent 4 years building our brand and had a great reputation in the industry. I knew how to do the work but I was used to working "in" the business rather than "on" it; so it's been a continued learning experience for me.
But, I took the risk and I'm still here 14 years after taking over complete operations – and 18 years after my humble beginning as a TSS. Our sales have grown steadily at a healthy pace.
As of Jan. 1, 2014, we changed our company name from Tigris Personnel to Tigris Incorporated (or Tigris, for short). The road to re-branding began in January 2013 with the need to better reflect the companies range of capabilities in the industry and to resonate better with current and prospective clients. Tigris introduced a revamped logo with a sleeker colour scheme along with a new website in spring 2013, followed by an updated business card design and promotional material in fall 2013. Synonymous with the name change, the company will also be updating its trademarked slogan from "the power of presence" to "bringing brands to life with the power of presence".
As time passed, it became apparent that Tigris was still being identified as staffing only. Given the amount of work we had dedicated towards internet marketing, we were hesitant to change our domain name and social media handles – but we determined the need for companies to view us as a turnkey solution would result in short term pain to long term gain. In November 2016, we changed our name again – from Tigris Incorporated to Tigris Events Inc. This was blanketed across our emails, website and social media. In a few short months, the impact has been incredible. We have landed huge opportunities that may have never been possible if prospective clients thought we were just staffing agency. We are thrilled about the impact this has had and are excited to see what other opportunities this brings us.
The name change was the final step in the transition targeted not only to refresh the brand identity of the company; but also to alter its entire corporate image. Tigris is fully integrated in personnel, promotions, marketing and events so steering people away from the perception that we are a staffing specific agency only is key. Dropping personnel from the company name, and adding events, no longer restricts Tigris to staffing, based on this perception and opens up a world of possibilities. When people think of events – whether it's event planning, event marketing, or event staffing – we want them to think of Tigris. We believe this will resonate more clearly with clients, especially if they've never heard of us before. The ultimate goal with the partnership is to offer clients innovative and cost-effective, turnkey solutions with maximum ease.
I have learned a lot from starting at the ground and working my way up. From a client's perspective, I understand what elements are important for a successful program from detailed event planning to amazing events staff. On the flip-side, I know from first hand experience what temporary staff value from the companies they work from proper training to competitive and timely payment. I know that we are only as strong as the people who work for us and those who manage them. Companies invest thousands of dollars for our staff to be walking and talking billboards so they can connect consumers to their brands on a personal level.
We initially built our business on referrals from staff and colleagues which was a testament to the work we did. With an increase in competition and ever-changing technology, I realized we had to do more, learn more and grow more. We implemented an internet marketing strategy that has enabled even more potential prospects find us and utilize our services. We pro-actively continue to build our business in new ways so we have a clear point of difference from other agencies in the industry.
The changes have been well received thus far with business growing in both event staffing and planning/XM. With a proven track record of consistency, organization, reliability & results, I whole-heartedly believe in our corporate mission and I take pride in knowing my company is one clients and staff alike can trust and can count on to deliver.
Since 2014, we have won and been nominated for several awards, winning 18 (one for every year we've been in business!), which is an amazing testament to the quality of work and service we provide for our clients.
Awards and accolades aside, Tigris has received some amazing press as well! We have been featured in dozens of articles over the past few years. To check them out, click here and scroll to the bottom of the page (and watch a few of our videos along the way!).
In addition, a couple of my own articles have been published. My article on Tips to Throw a Nearly Perfect Product Launch was published on Entrepreneur.com and two of my articles were published in the Globe & Mail's Leadership Lab including one on employee engagement and another on hiring brand ambassadors. Tigris was covered in a full page article in the Financial Post on our World Cup activation at the Toronto Eaton Centre on Jul. 7, 2014 and I was featured as the Notable Young Entrepreneur on Jun. 4, 2014.
So what's next for us at Tigris?
We moved to a new office in August of 2017. We outgrew the office we bought in December 2014 more quickly than anticipated. The new office will accommodate more than double the number of employees to manage all of the new bookings that have been pouring in.
Unfortunately, due to covid, we had to close the office and scale back our team towards the end of 2020, but we are still fully functional, operational and eager to bring your brand to life as we head into our 18th year in business!
Successfully Yours,
Serena Holmes
President & CEO
tigris :: personnel | promotions | marketing | events
bringing brands to life with the power of presence