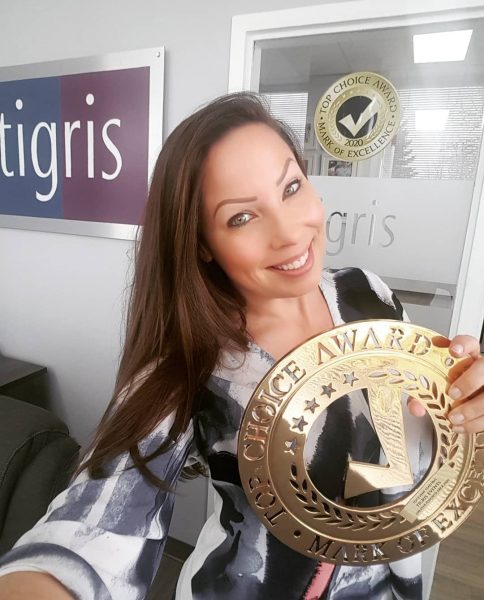 What makes Tigris different? Aside from creating, planning and staffing events that building up our clients brands and businesses – and giving talent on our roster fun, flexible, great paying part-time opportunities, Tigris has also received recognition for our efforts in the industry and the community with 18 awards and accolades since 2014. Read more about these acknowledgements below.

One of the Best Businesses in Canada, CBRB 2022
This award is presented only to businesses that have maintained a 4+ star Google review rating or equivalent proof of customer satisfaction. Representing the Best Businesses in Canada, the CBRB Canadian Business Review Board Inc. found that Tigris meets strong consumer satisfaction standards including strong vision, business leadership, a customer-centric approach and excellent customer satisfaction overall.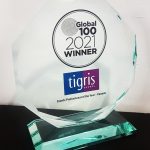 2021 Global 100 Event Professional of the Year – Canada
Consisting of only 100 of the world's leading firms and individuals, with votes received from readers in over 163 countries, the purpose of the Global 100 is to provide a comprehensive understanding of companies that are true leaders in their respective industries.
The annual awards program sets the benchmark for the most distinguished industry leaders, highest calibre teams and exemplary organizations. Winners are selected based on specific criteria including:
🌟 Complexity – firms that conduct work that meet the highest standards by meeting and exceeding client expectations.
🌟 Strategy – organizations who work displays significance in their market vertical, locally or globally.
🌟 Innovation – groundbreaking or innovative processes used during completion of work.
In each award category, 5 businesses are shortlisted then reviewed against selection criteria using their own proprietary method. The firm or individual whose performance and values exhibit the closest match within a given assessment period is chosen as the winner in their category.
Top Event Marketing Agency from the 2020 Clutch Global Awards
Clutch is a reputable and widely recognized business referral site. The Clutch Global Awards identify leaders using a methodology that evaluates companies on their industry expertise and ability to deliver. The 5 criteria include services offers, clients, case studies, awards received and social media presence further evaluated based on Clutch verified reviews, types of clients worked with, services offered and experience providing those services as well as brand reputation and visibility in your target market. Companies that receive high marks for industry expertise and ability to deliver have a greater chance of becoming leaders and award winners in their respective industry segments.

Canada's Best MICE Organizer of 2020 & 2021 from the World M.I.C.E. Awards
In its inaugural year, the M.I.C.E. Awards showcase the very best companies to the world with industries recognized ranging from hotels and travel to event organizers, conferences and destinations. Tigris was recognized among 5 other nominated agencies and is thrilled to take home the award.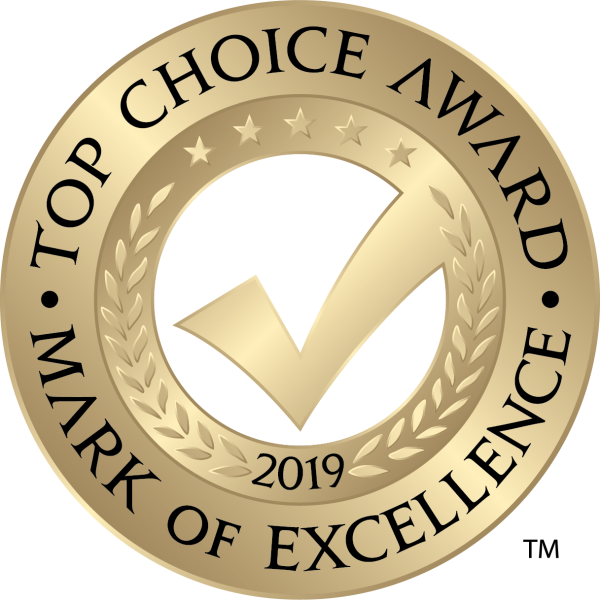 2020 Top Choice Award Winner for Best Event Staffing Agency in the GTA.
Cheers to 5 years on top! The Top Choice Awards collect and review the opinions of customers to improve customer satisfaction and business development – and to determine which businesses are the leaders in their industry. Tigris has received this prestigious award for 5 consecutive years straight from between 2016-2020.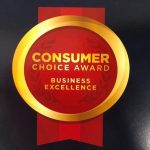 2020 Consumer Choice Award for Best Event Planning Agency in Toronto
The Consumer Choice Award is one of the most well recognized awards in the country. Winners are awarded based on data from multiple, reliable sources with the most up to date market research results. We are thrilled to be recognized for our event planning work with a 2020 award.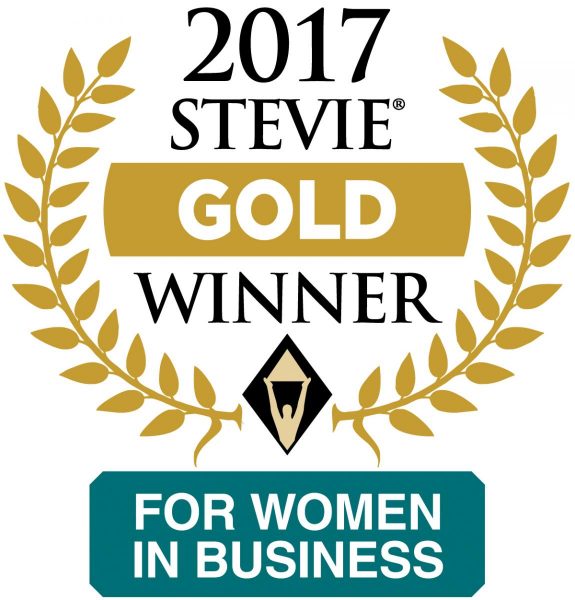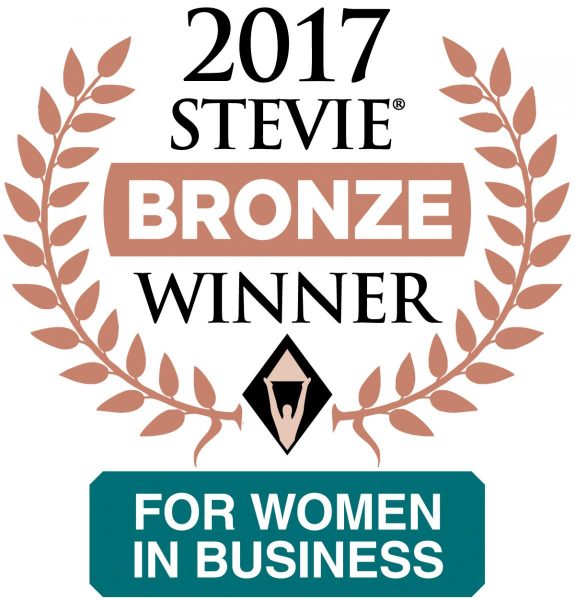 Canada Wake Up, Category: Viral Marketing Campaign of the Year Gold Stevie Winner & Serena Holmes, CEO of Tigris Events Inc. (The "Accidental Entrepreneur"), Category: Female Entrepreneur of the Year in Canada Bronze Stevie Winner
The Stevie Awards for Women in Business are the world's top honors for female entrepreneurs, executives, employees and the organizations they run. All individuals and organizations worldwide are eligible to submit nominations – public and private, for-profit and non-profit, large and small. The 2017 awards received entries from 25 nations and territories.
Nicknamed the Stevies for the Greek word for "crowned," the awards were presented to winners Nov. 19 during a dinner event attended by more than 500 people at the Marriott Marquis Hotel in New York City. The event was broadcast via Livestream. Details about the Stevie Awards for Women in Business and the list of Stevie Award winners are available at www.StevieAwards.com/Women.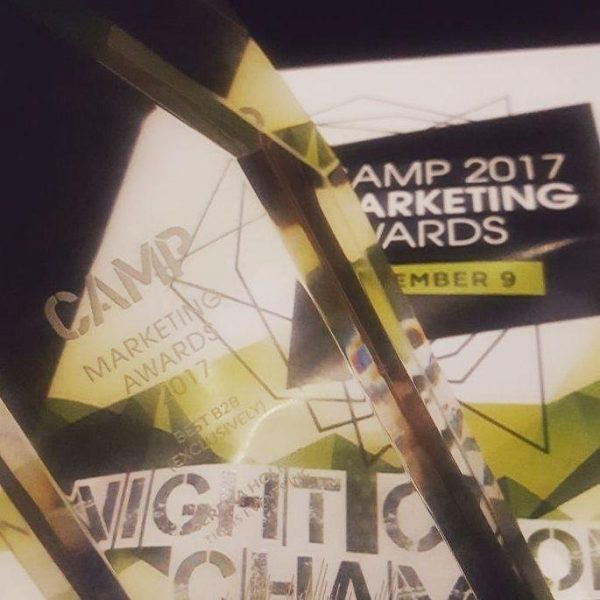 Canadian Association of Marketing Professionals Awards| Best B2B Marketing Award, Viral Video Campaign
The Canadian Association of Marketing Professionals (CAMP) Marketing Awards attracts the best and brightest of our industry and showcases individuals that go above and beyond their professional title in representing and shaping the marketing industry.
Tigris was thrilled to take home the Best B2B Marketing Award for "Wakey, Wakey Canada", a viral video campaign to promote Transferwise. To see the award winning campaign, go to https://lnkd.in/dp8EHTR and watch our acceptance video http://canadianmarketer.ca/serena-holmes/.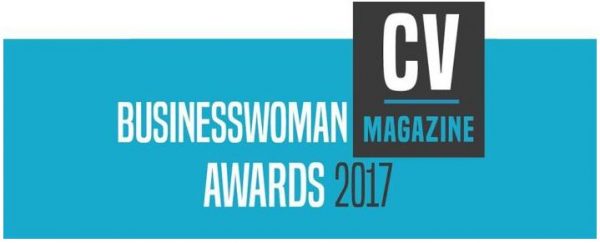 Corporate Vision Magazine Business Woman Awards | Canadian Events Professional of the Year, 2017
Corporate Vision is dedicated to working around the clock to shine a spotlight on the brightest, best performing and most deserving companies and individuals from around the business world.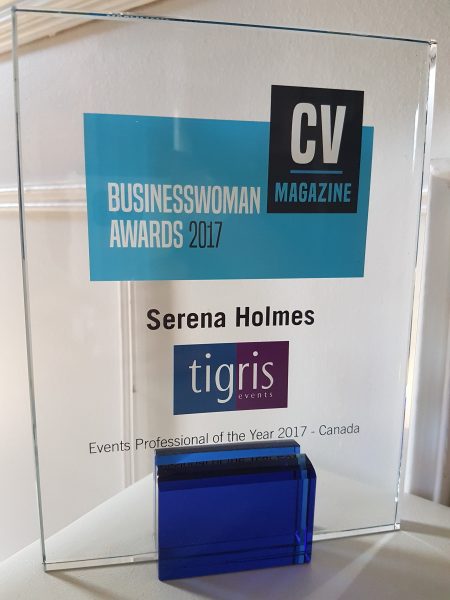 CV Magazine is fiercely passionate about recognizing outstanding achievement, game-changing innovation and stellar performance, and all of our awards are carefully tailored to provide detailed and in-depth analysis of the very best each market, industry, sector and region has to offer.
Winners are decided by a combination of votes gathered from their network of respected industry partners and their own rigorous in-house research, performed by our dedicated network of industry insiders and corporate specialists.
Each award is carefully scrutinized, from a nominee's region to their performance over the past 12 months, their commitment to innovation, their methods and even their competition to ensure that only the most deserving firms walk away with one of our prestigious trophies.

2017 Smartie Awards
Gold Winner for Best On-Site Marketing Campaign for the Icon Student Living Campaign
ICON knew they offered the best student living in Waterloo – they just needed to get their name out there and show students what they had to offer. To promote their new building, they hired Tigris brand ambassadors to bring their vision to life. Each day during the campaign, between 10 and 20 Tigris brand ambassadors would work onsite to tell potential students about the new building and its amenities, give unit tours, explain the leasing process, assist with signing leases, host resident parties and events, manage giveaways, and more. Learn more about this project.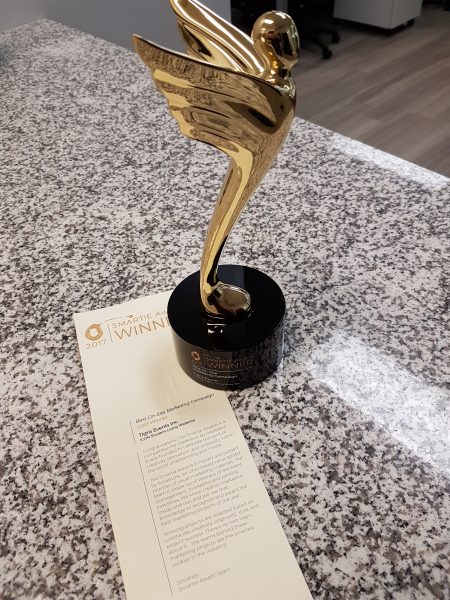 About The Smartie Awards
The Smartie Awards is a competition for marketers, by marketers. It was founded to celebrate the spirit of creativity, innovation, and originality within the world of advertising and media.
The Smartie Awards is hosted and judged by SmartLink, a Cdn/US based provider of visual marketing materials. Our team is made up of veterans of the event management, marketing and printing industries. We know creative marketing inside and out, and we use that knowledge to recognize and award the best marketing projects of the year. Winning projects are selected based on criteria like creativity, originality, style, and project success. There's no two ways about it – the teams behind these marketing projects are the smartest cookies in the industry!

Canadian Service Professionals Network |
Emerging Leader – Private Sector Award Nomination 2017
On Tues., Sept. 19, Serena Holmes was notified about a nomination for the Emerging Leader – Private Sector award at the 2017 Women in Leadership Awards held by the Canadian Services Professionals Network (CSPN). Several things are considered, including years of experience, leadership, and character, and your nominator believe you are worthy of this nomination. The awards will be announced at an event being held on October 26, 2017 at the beautiful Old Mill in Etobicoke.
Veuve Clicquot New Generation Award
Our CEO was recognized as the top 5 finalists in Canada for the 2016 Veuve Clicquot New Generation Award which was announced Oct. 4. While she did not win, it was an honour to be recognized among so many other reputable women who are doing such great things around our country.
This prestigious award evaluates finalists on the success and vision of up and coming female entrepreneurs between 25-35 years of age. They are audacious, innovative, fearless and driven! A passion for their industry, a commitment to their people and to social responsibility is also taken into consideration.
Rank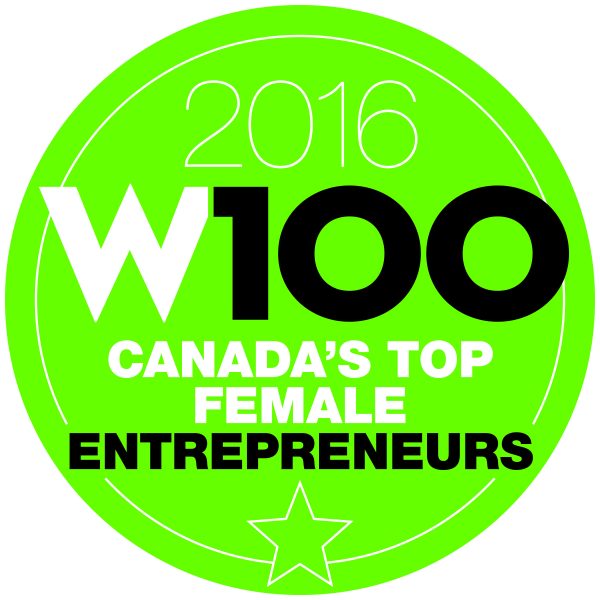 #95 in the 2016 W100 Ranking of Canada's Top Women Entrepreneurs in Canadian Business Magazine.
The W100 is an annual ranking of the country's top women entrepreneurs – and our company CEO, Serena Holmes, has made the list!
The W100 champions the achievements of women entrepreneurs who are not only inspirational figures, but also smart business people who have demonstrated the tenacity and creativity needed to be entrepreneurs.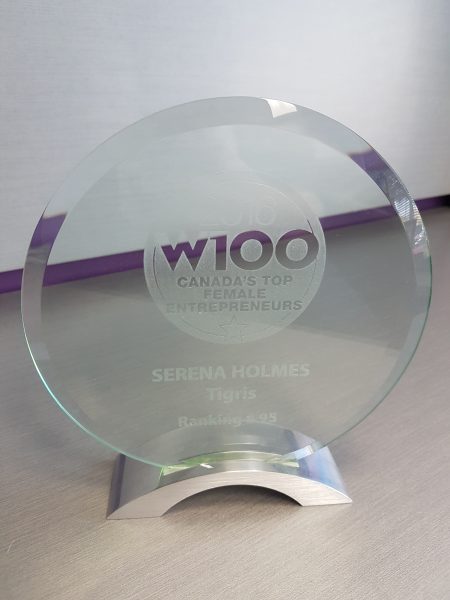 Recognizing female leaders and business owners is vitally important given women still earn 24% less than men and occupy only 16% of seats on corporate boards.
Among other criteria, to quality for this list, the business must earn a minimum of $1,000,000 in annual gross sales. The W100 list ranks women entrepreneurs based on gross sales, a three year growth rate formula and the profitability of their business.
For the complete list of 2016 winners, pick up the June copy of Canadian Business Magazine – or click here.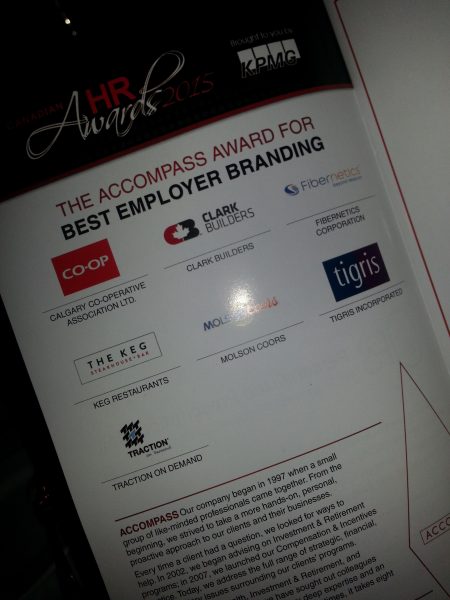 2015 Nominee for Best Employer Branding with the Canadian HR Awards.
While Tigris did not win this award (congratulations to Fibernetics!)m they were short listed among several amazing candidates including The Keg, Molson Coors, Fibernetics, Clark Builders, Co-Op, and Traction on Demand.
The award criteria for this category was based on:
– the types and variety of programmes and activities used for employee engagement,
– focusing on those developed, implemented or improved over the last 12-18 months,
– drivers behind engagement strategy, demonstrating ways the strategy is aligned with wider business strategies,
– communication behind the strategy,
– impact on employee performance/retention and the return on investment
The Canadian HR Awards brings together industry leaders to celebrate excellence in the HR profession, recognizing individuals, teams and companies for their outstanding achievements in people management.
Sales Achievement Award at the 2014 Ultimate Wealth Weekend.
Tigris received a sales achievement award at the Ultimate Wealth Weekend on Sun., Dec. 7, 2014 at the Allstream Centre. This award recognized Tigris for exceptional sales growth which doubled from 2013 to 2014. The Ultimate Wealth Weekend was planned by digital marketing company, Training Business Pro's and featured Brian Tracey as a keynote speaker along with 3 fulfilling days of intensive training – a business builder bootcamp, investment university and millionaire by design. Some of the other awards distributed at the event included "Best Customer Service Provider" and "Entrepreneur of the Year".
Nominee for Best Marketing & Advertising Professional in Ontario with the 2014 Notable Awards.
Our company CEO was shortlisted in the marketing and advertising category among 12 professionals in the industry. The Notable Awards celebrate Canada's most influential millennials across 35 industries and in 3 cities nationwide (Toronto, Montreal & Vancouver). Congratulations to Corby Fine, from Rogers, who won this award 🙂
Save