An event planning guide is imperative to create a successful, unforgettable event – and our Fab 15 anniversary celebration was certainly no exception! We were THRILLED to have the opportunity to officially celebrate our 15-year anniversary with clients, colleagues and friends on the patio of Palais Royale in Toronto the evening of Wed., Jul. 10.
Wondering what goes into planning a milestone celebration such as this one? Follow this event planning guide with the 6 steps below to ensure a phenomenal event! If you're looking for even more great information, you can see what we did for our last client appreciation event when we celebrated our ten year anniversary.
1. First Impressions
First impressions matter and they set the tone of an event. From the moment guests arrive, things should be seamless and organized. For our event, we arranged a step and repeat to give guests a VIP photo experience after collecting their name tag. Upon entering the venue, they were greeted with our sensational signature cocktail, a Kir Royal (sparkling wine and chambord, a raspberry liqueur). Our guests felt like royalty from the start!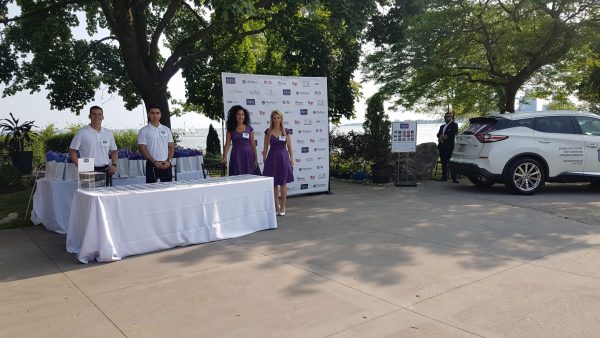 2. Organization
It's crucial to have a budget, critical path and run of show to ensure your event runs like a well-oiled machine. Your vendors should be given specific information on when, where and how to set up. Ensure all materials required for the event are line itemized in a detailed checklist and assign tasks to specific team members to ensure nothing is missed.
We staffed some of our top talent at registration to welcome guests. All name badges were placed in alphabetical order so guests could get their picture taken and into the party, rather than worry about where their name tag was. At this time, guests were also notified about drink tickets and our door prizes, which would take place a couple of hours into the event. An event planning checklist should not only focus on what you need to do – but what your guests need to know so they don't feel like they've missed out on anything.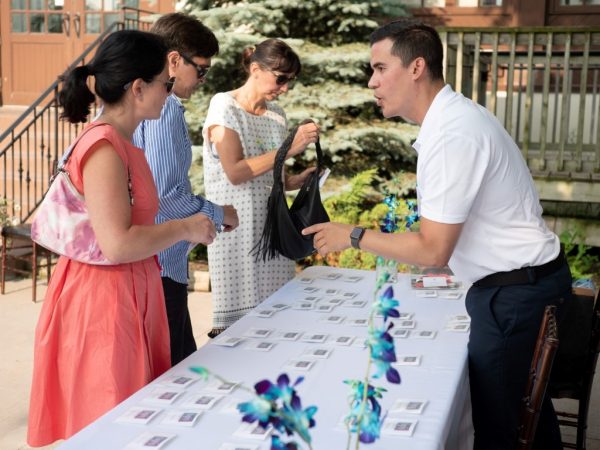 3. Branding
This is your opportunity to elevate your brand image by accenting various elements throughout the event. From a decor perspective, our bars were tastefully branded and blue/purple dyed orchids accented all table surfaces. An assortment of cushions in our company colours, complete with motivational sayings, were placed on the lounge furniture. We wanted our colours to pop without being overpowering. Posters featuring one highlight image per year from the last 15 years were placed around the venue along with silver '15' balloons. It was obvious what we were celebrating! 
Another important branding tip for your event planning guide! While branding is important for the company being represented, it's also imperative if you're recognizing sponsors who have supported your event. From social posts leading up to the event to onsite signage and our thank you speech, it was important to acknowledge the sponsors who helped make this event happen. They were prominently featured on our step and repeat at registration – great for pictures that will be posted to social – along with posters around the event, as is shown below.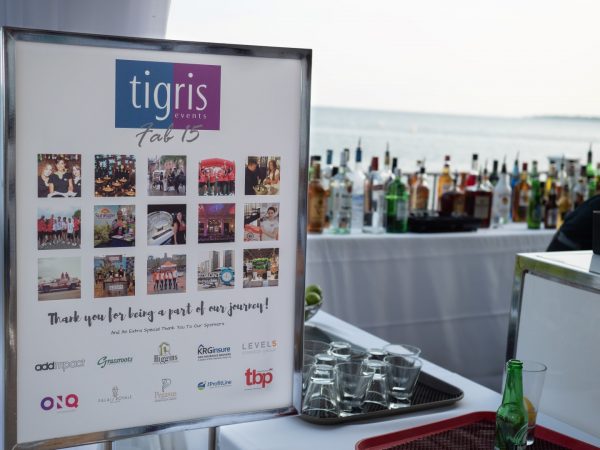 4. Food/Beverage
We'd be lying if food and beverage wasn't one of the most important aspects of any party. Since our event was taking place on a waterfront patio, the selection of passed apps and food stations were fun and whimsical but also a premium quality that guests were raving about. This included a decadent selection of passed apps ranging from Hawaiian burgers and chicken n waffles to fresh spring rolls and truffle scented scallops (to name a few). The food stations included a taquira featuring fish tacos, chicken and pulled pork as well as a poutine station with any fixing you can imagine! We even had a nitrogen ice cream and popcorn bar as well as Tigris branded sugar cookies!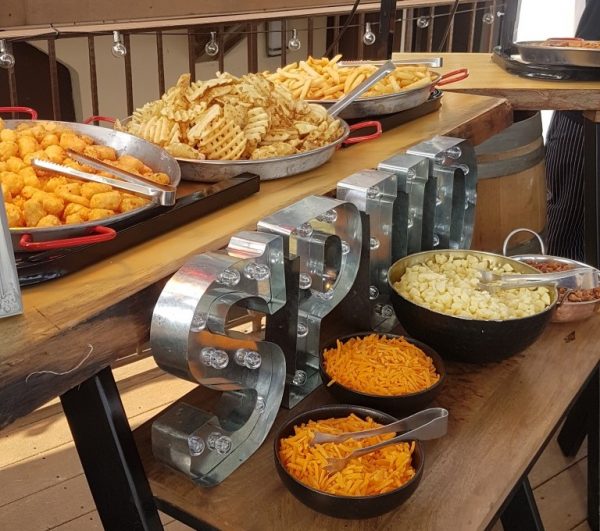 5. Entertainment/Ambience
A saxophone player and bongo drummer from ONQ Entertainment complimented the music from the DJ and enhanced the ambience at the event. Choose your entertainment wisely, as this affects the mood of the party. Since this event had a corporate focus, we also wanted to ensure music was appropriate and not too loud so guests could easily network and talk. An event planning guide shouldn't only focus on what has to happen – you should also consider why and how. All of this plays into the look, feel and experience of the event.
6. Excitement and Gratitude
At the midpoint of the night, our CEO formally welcomed our guests, thanked our sponsors and drew the door prizes. The theme for a 15-year anniversary is crystal, so all prizes were tailored around that – including a gift from Swarovski, a bottle of Crystal Head Vodka and a trip to Las Vegas, the city of lights! In addition, everyone left with a gift bag including an assortment of items at the end of the night.
We are so grateful to have had so many wonderful clients, colleagues, family and friends in attendance to celebrate us. From the sounds of it, they enjoyed the bash as much as we did. Below are a handful of guest testimonials:
Thanks again for a wonderful evening, it was a great night meeting old and new friends to celebrate such a huge milestone! I am so happy to see all of the success coming your way – you truly deserve it!
Thank you, it was awesome! Congrats on 15 years of business. That's quite a significant milestone, especially considering you started the journey in your early 20's. One word comes to mind is brave. The event was really top notch, location and food was awesome, more importantly glad we could celebrate this with you, your colleagues and friends.
Absolutely perfect evening. We were honoured to be a part of the celebration.
What a stunning event!!!  So happy to be a part of this milestone.  Congratulations to your team.
Thank you for inviting our team out! I can't believe how much time has passed. Thinking about when we worked together to where we are now is a bit crazy! I really thought about this a lot while I was there.
Congratulations on your remarkable success.
Thank you and congratulations on both your business success and personal success. 
I have been really busy and kept forgetting to say thank you! Congratulations on both your business and personal success. The party planning was extremely well done – and I'd say, very well received by everyone in attendance.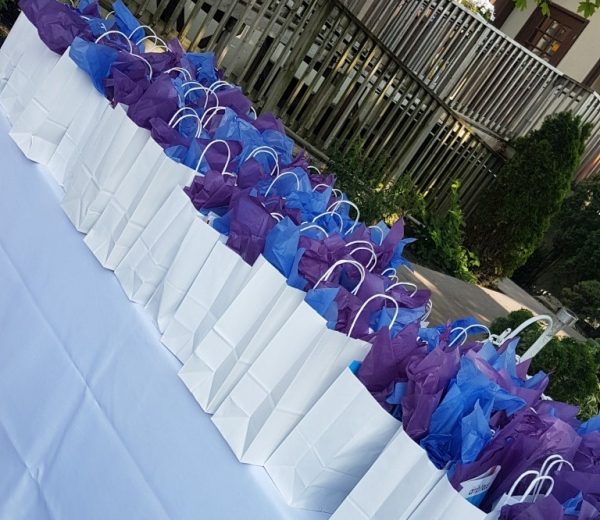 Last but not least, no event planning guide or work back is complete without taking the opportunity to thank your sponsors. As such, we wanted to formally recognize all of the companies that helped us put this event together. It wouldn't have been possible without you!
Add Impact,
Grassroots Advertising,
Higgins Event Rentals,
KRG Insurance Brokers,
Level 5 Strategy Group,
ONQ Entertainment,
Pegasus Hospitality Group / Palais Royale,
The Profit Line,
Training Business Pro's,
For more pictures from the event, head over to our fan page on facebook and click on the album titled Tigris Fab 15. To take you right into the unforgettable moments from the event, check out the sizzle reel by clicking on the image below!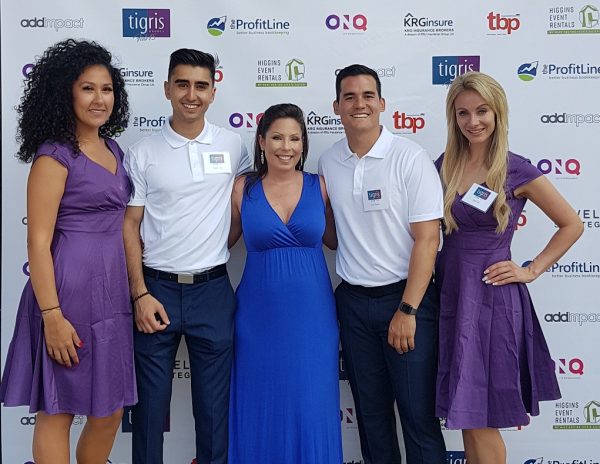 Looking to execute a fabulous party of your own? Contact Tigris today for a free quote on our event planning and staffing services, available nationwide across Canada. 416.283.9119 | [email protected]