One of my favourite stories to tell is how I wound up at Tigris. A story that might sound similar to your professional journey, I stumbled upon the company by chance (on Instagram!). After successfully applying to work as a brand ambassador, after a few events under my belt, I knew I had found my passion. Each brand experience I had the opportunity to bring to life left me feeling incredibly inspired.
They say if it doesn't scare you, it's not worth doing. When I sat down for my initial interview with Serena Holmes to work at head office, I was nervous (to say the least). An accidental entrepreneur who grew the business into a reputable Canadian brand experience agency, Serena was someone I already admired before meeting her in person. Today, I can honestly say Serena and Tigris have built me into the person I am today, and I know many others can say the same.
My professional and personal journey continues to progress, alongside Tigris'. As you may have noticed, we're going through a lot of changes. From changing our name from Tigris Personnel, then Tigris Incorporated, and finally to Tigris Events, we've landed huge opportunities that may have never been possible if prospective clients thought we were just a staffing agency.

Developing Young Adults with Brand Experience
Along with a new name, we've changed our mission statement to 'Creating Unforgettable, Award-Winning Experiences that Build Up Brands, Businesses & People'. Before, our mission statement was more focused on the brand experience, but this did not truly encompass our values as a company.
We always say people are our passion; without our team of professional events staff across the country, we would be nothing. Tigris' strives to hire young professionals, many of whom have worked with Tigris for several years. Throughout their journey with Tigris, we have seen many events staff grow as individuals. We provide references for full time employment, support their charitable causes, and acknowledge and reward their hard work within the company. We've grown staff from beginners to experienced Event Mangers, cultivating their confidence and work ethic. Therefore, it only seems fitting to include them in our mission statement!
Developing young adults is something we are truly passionate about, which is why we are working on a scholarship. It's currently under research and development but it's something we hope to roll out into the new year. Our CEO was a scholarship recipient herself back in 2000-2004 and first hand saw the value it brought to her educational pursuits and career aspirations. Ever since, she had it in her mind that she would eventually love to give something back to the young professionals who on our team who work tirelessly at our events.

Building Brands and Businesses
Our vision is to change the world and those around us, one positive brand experience at a time. We provide trustworthy, high-impact service to our customers and staff. We believe in influencing others positively, building a better place to live and offering services intended to help others – be it brands, businesses and/or people!
Thankfully, we've had the opportunity to work alongside brands to promote positive experiences across Canada. A few from this year include:
In addition to working with big brands, we have worked with many start-ups to increase brand awareness and sales. These include: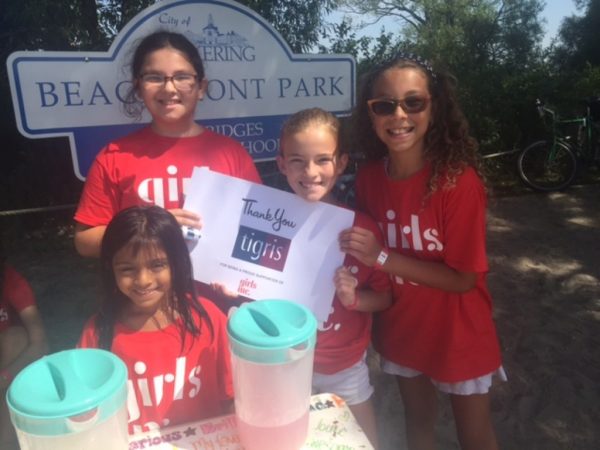 Donating Time & Money to Charity
In addition to focusing on building up brands, businesses and people, we've been busy developing our new website! This was just launched October 1, 2017. The new design is interactive, user friendly and jam packed with valuable information.
On our website, you'll also find some community causes we have supported over the years. As an organization, Tigris is a firm believer in supporting local and global community causes and environmental issues. Since 2008, we have proudly donated more than $20,000 from company profits to the various organizations (and people) indicated on our website.
In addition to funds donated, Tigris' CEO has also been donating her time to sit on the board with Camp Trillium, a camp for children with cancer and their families. She has completed 2 years of a 3 year board position and is chairing their new initiative, "Camp out for Cancer" which takes place Oct. 14, 2017. We would love your support. We have raised $1,800 of our $5,000 goal already. To donate to our team, click here.
Help us make a difference, one brand experience at a time. If you are interested in working as a Tigris brand ambassador, apply here.
Looking to bring an activation to life? Contact Tigris today to learn more about our event staffing and planning services. Click the button below for a free quote or call us at 1.844.4TIGRIS or 416.283.9119.