We love everything about this community event and we love #TORavines 💚 Tigris was thrilled to have the opportunity to plan not only one, but two community events for City of Toronto Forestry, Parks & Recreation this summer. These include Berczy Park Jun. 28 and Lower Don Trail Sept. 23.
The Lower Don Trail is a 4.7 kilometre section of multi-use trail for pedestrians and cyclists. The trail runs along the Don River, from Pottery Road to Corktown Common. For the grand re-opening, we created 3 activation zones along the trail to surprise and delight the community. Each area featured a combination of live music, games, giveaways, face painting, caricatures and complimentary refreshments. We also had yoga in the park at Riverdale Park East.
The day kicked off with some opening remarks from mayor John Tory at Pottery Rd. The festivities followed from 10am-4pm. If you haven't had the chance to enjoy Lower Don, we highly recommend it for a cycle or a hike. Watch the video below for a full recap of the event!
How to Host a Community Event :: Love #TORavines
As you probably already know, there's a lot of work that goes into planning a community event. Our project management deliverables for Lower Don Trail included:
Creating the master work back schedule, day-of-run sheets, site maps, function sheets.
Coordinating with the City of Toronto regarding safety/food/waste/noise plans for the event.
Booking and managing all vendors and supplies required such as AV, entertainment, giveaways, food and beverages.
Working with Evergreen Brickworks to plan schedules for day-of volunteers & vendors.
Day-of, onsite coordination/execution including overseeing set up, event execution, and teardown.
Post-event reporting on logistics including photos & recommendations for future events.
Because the trail is nearly 5km long, Tigris dispersed the event into three main activation areas. These included Cloverleaf (just south of Todmorden Mills), Riverdale Park East and Don Landing (close to Corktown Common). Each activation site had various vendors and entertainment that bicyclists and walkers could easily spot on their travels through the trail.
Vendors and entertainment are a large component of any community event. Since many community events are planned on a tight budget, it's important to ensure that entertainment is cost effective. Unfortunately, you won't be able to get Beyonce at your local event but there are still many ways to entertain your audience. Below are 4 affordable ways to ensure your community event is successful and enjoyable!
4 Affordable Ways To Have A Successful Community Event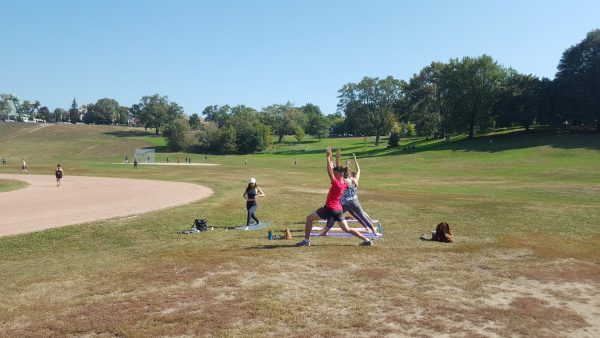 Include Free Activities
Since it is a community event, it's best to have most (or all) of the activities free. Onsite, we held 3 yoga in the park sessions and outdoor games. The games were targeted towards children such as badminton, hula-hoop, Frisbee, ladder ball and volleyball. Everyone was invited to participate and dozens of families, per area, joined in on the fun!
The games were purchased locally and yoga was generously sponsored by Vivkanyoga. We found that the traditional games were recognized and enjoyed by all, even adults cycling without children. It's always a good idea to release your inner child.

Food & Beverages
Although it was late September, it was an extremely hot day. In fact, it was the hottest day we've had all year with temperatures feeling close to 40 degrees! Regardless of the weather, your event must include food and beverages. Because of the nature of the event (pun intended), Tigris asked our friends over at Taste of Nature to sponsor a sampling station. Taste of Nature is a Canadian brand that produces certified organic, non-GMO gluten free snack bars. These healthy treats were extremely appreciated by all of the athletic event goers! We also had cold spritzers from Evergreen Brickworks available to hand out.

Sourcing Entertainment
Our entertainment was catered towards young children and families including a caricature artist, musicians, face painting, and story tellers. All of the entertainment was local to the area and many were able to provide their services at a reduced cost. When planning a community event, always consider your audience and their interests. Because the event was held on a Saturday, we knew many families would be in attendance with younger children. Ensure your entertainment creates excitement and encourages guests to share their experience on social media. Don't forget an event hashtag! This event was appropriately hash tagged #toravines.

Branded Giveaways
Who doesn't like free swag? Tigris included several branded items as giveaways to those who participated in the free games. Items included branded beanies, texting lives, shoelaces, lip balms and bike lights. In addition, Evergreen seeds and posts as well as popcorn spritzers were available. Branded items are a great takeaway; it's continuous advertising. Depending on the quantity, branded items are available at a discount if you purchase in bulk.
Event Planning Nationwide Across Canada
This event was a lot of fun to plan and we are thankful for the opportunity to create something so amazing for the city. Look out for more Ravine Days in the months to come!
Many of our clients are unaware that Tigris is more than just a staffing agency. In 2013, we legally dropped 'personnel' from our name and have officially re-branded to Tigris Events Inc. When anyone thinks about events, we want them to think about Tigris! Our core competencies span creating, planning AND staffing events. Our diverse portfolio includes non-profit events Toronto and nationwide across Canada. We also plan experiential marketing campaigns and promotional activations for clients big and small.
Contact Tigris today for a free quote on our multiple services. We have over 2,000 dynamic events staff nationwide across Canada to bring your brand to life!