Who wants to plan the Berczy Park Grand Re-opening? Sign us up!
We couldn't be more proud of the Berczy Park Grand Re-Opening event if we tried! Tigris had the tremendous privilege to plan the Berczy Park grand re-opening and was thrilled to win this business through a formal RFP process. This park is Toronto's beloved communal space in the heart of St. Lawrence Market, also known as the gateway to Old Toronto. Our team was tasked with creating a unique event experience to bring the community together. This includes children, families, seniors and of course, pet lovers, since the whimsical dog fountain is the focal point of the park.
Claude Cormier designs Berczy Park with a view to give people a beautiful space to be together. The grand re-opening was 3 months in the making and working with the City of Toronto was an amazing experience.
Event Planning for the Berczy Park Grand Re-Opening with City of Toronto
Tigris teamed up with City of Toronto in April for the planning and execution of 2017 Spring & Summer Parks & Trails Opening Events. The first event keynote event being the grand re-opening of the much awaited Berczy Park. Tigris tasked with creating the event experience for the event. Some of our project management deliverables included:
Creating the master work back schedule, day-of-run sheets, site plans,
Liaising with City of Toronto to coordinate safety/traffic/waste plans for the event,
Booking and managing all vendors and supplies such as AV, P.R., entertainment, souvenir giveaways, décor, food and beverages,
Working with BIA to plan schedules for day-of volunteers,
Participating in communications and meetings with the community partners,
Liaising with St. Lawrence Market and local businesses to participate in a mini-market on Scott St.
Day-of, onsite coordination/execution including overseeing set up, event execution
Post-event reporting on logistics including photos/recommendations
You've heard us say this before – no task is too big or too small for Team Tigris. Whether it's scheduling a team of brand ambassadors or turnkey event planning, we put effort and detail into all of our projects. The project requirements for Berczy Park are similar to our efforts on St. Joseph's Toronto West Halloween Fest we have planned since 2012.
Pageantry: Creating the Look & Feel of the Event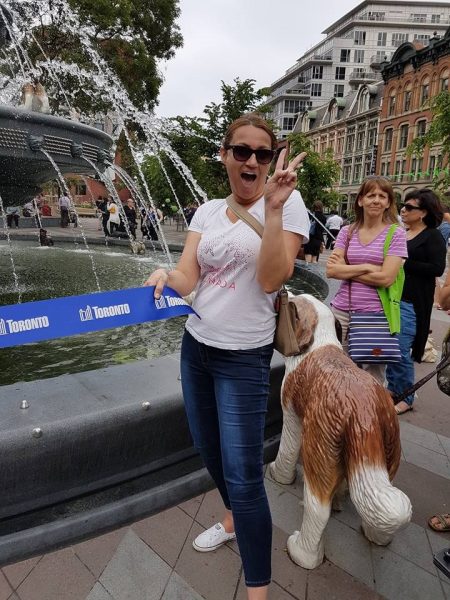 To add to the look/feel of the event, Tigris was tasked with sourcing themed décor including bunting/paper lanterns. In addition, Tigris sourced a PR agency to promote the event and manage the media. ON Q Communications was successful in landing several interviews the day of the event and the weeks leading up to it. City of Toronto coordinated speakers participating in the event including major John Tory and the late Deputy Mayor, Pam McConnell. The formalities concluded with a ribbon cutting in front of the fountain. Sadly, this was Deputy Mayor, Pam McConnell's last public appearance. She passed away on Thurs., Jul. 6 – just 8 days after the event.
Entertainment
AV, DJ and a Jazz Trio was provided by Bongo & B. create a fun atmosphere at the event. A caricature artist was sourced who had the ability to produce 15-20 drawings per hour! Guests were encouraged to have their portraits taken with their family or dogs. Even the mayor got his drawing done! Our event also included face painting, historical characters for photo opportunities and to talk about the history of the area. Their appearance was complimented by take-aways that were put into the branded bags featuring three "Then and Now" postcards.
You may have heard about the sheep that caused quite the stir. Les Moutons, a travelling performance group was in Toronto during the event and performed a wonderfully absurd routine as a flock of sheep. None of the guests could stop watching!
Because the event was family focused, Dulce Gomes from the St. Lawrence Library coordinated a puppet show and a story time for children attending the event. There was free popcorn available to the public and a refreshing lemonade stand.
Sponsors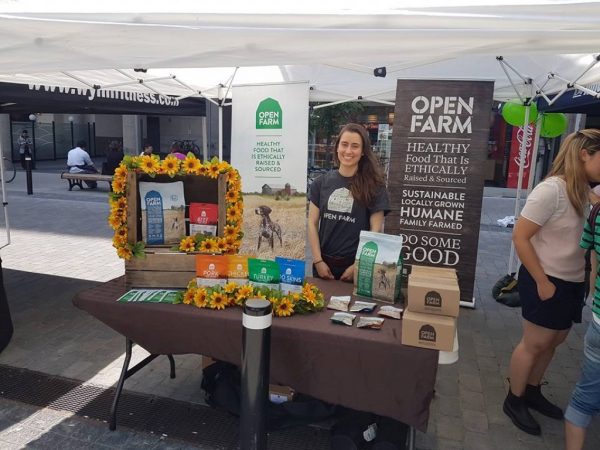 Thank you to all of our amazing sponsors for this event! Onsite, Friends of Berczy Park was able to promote their "Adopt-a-Tree" within Berczy Park, as well as discuss upcoming initiatives and programs. In addition, this sponsor was given branded lime green tote bags to hand out to patrons. These bags included "Then & Now" postcards showcasing the history's of Berczy Park, the Gooderham Building, and St. Lawrence Market.
Tim Horton's was happy to take part in the event. They had a steady flow of patrons who were given a choice of free coffee or fruit smoothies. Needless to say, they were a huge hit during the hot, sunny day. Everyone could be spotted with a Tim Horton's cup in hand. Tigris also created a lemonade stand for alternative refreshments, compliments of City of Toronto.
On Scott Street, a market was available to the public including Northern Biscuit, Wynn Fitness, Power Up Bar, Scheffler's Deli, Urban Fresh, Manotas Organic and Crude Café. Many of these sponsors had free samples and information for the public.
Testimonial for the Successful Berczy Park Grand Re-Opening
Our client from the City of Toronto was happy to pass along this testimonial;
"Many thanks for the tremendous job on the Berczy event yesterday, it was all around fantastic, everything was so well organized, the Park, program, set up, media and community turnout so great, honestly the best Park Opening I've been to. Comments from the Mayor and Councillors, as well as many community members were so positive". – Janie Romoff, General Manager Parks, Forestry and Recreation
This event was a lot of fun to plan and we are thankful for the opportunity to create something so amazing for the city. What's next for Tigris? We'll be working with the City of Toronto to plan the grand re-opening of the newly renovated Lower Don Trail in September.
Many of our clients are unaware that Tigris is more than just a staffing agency. In 2013, we legally dropped 'personnel' from our name and have officially re-branded to Tigris Events Inc. When anyone thinks about events, we want them to think about Tigris! Our core competencies span creating, planning AND staffing events. Our diverse portfolio includes non-profit events Toronto and nationwide across Canada. We also plan experiential marketing campaigns and promotional activations for clients big and small.
Contact Tigris today for a free quote on our multiple services. We have over 2,000 dynamic events staff nationwide across Canada to bring your brand to life!