Event staffing for a fall promotion is huge! Much like starting off a new year, fall is an opportunity to reinvent and set your intentions for the year. Cadillac Fairview wants to be a part of helping make your intentions a reality. Our events staff are taking over central, high traffic areas in 19 Cadillac Fairview malls across Canada Fridays to Sundays from Aug. 25-Sept. 17. While onsite, our event staffing teams will be encouraging customers to enjoy an interactive experience by selecting intentional quotes to place onto a personalized tote bag. Because tote bags are reuseable, your positive affirmations will be with you all day long.
So, how does the experience work? Choose your focus for fall: Self-Improvement, Giving Back, Finding Balance or Making Tomorrow Better (sponsored by WE). Once you select your focus, you'll be prompted to select your favourite statement and design. Tote bags will take approximately 15 minutes to hot press onsite, so in the meantime mall goers can enjoy exclusive offers from H&M, shop, eat and enjoy the mall while they wait!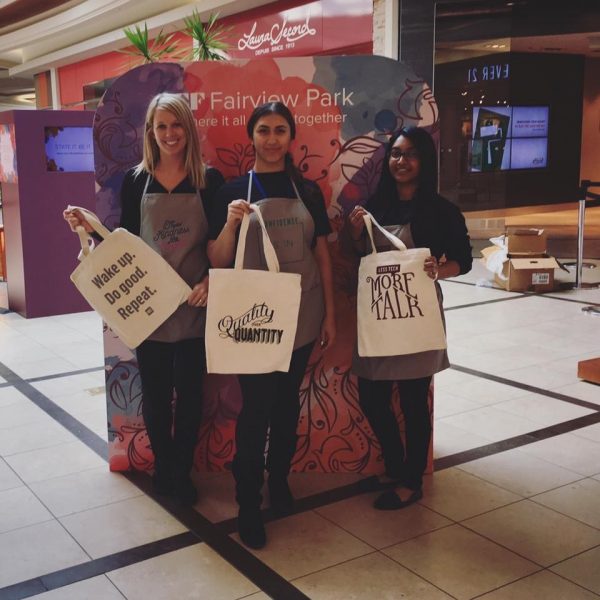 Where Can I Grab a Free Tote Bag?
As mentioned above, we are activating at 19 malls across Canada every Friday-Sunday between Aug. 25-Sept. 17. We have event staffing teams at the following locations so you can get YOUR free inspirational tote. Locations include:
Toronto Eaton Centre
Sherway
Fairview Mall
Fairview Park
Lime Ridge
Masonville
Markville
Shops at Don Mills
Rideau
Laval
D'Anju
St. Bruno
Fairview Point Clare
Champlain
Chinook
Pacific Centre
Market Mall
Richmond
Polo Park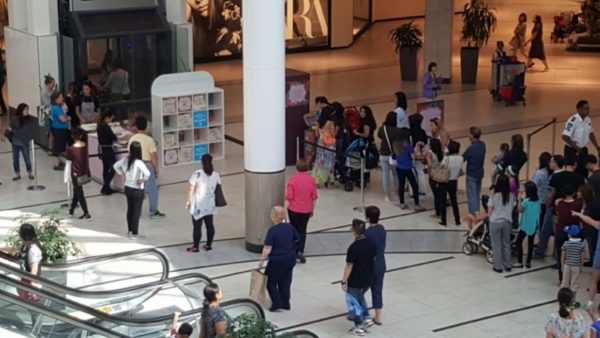 What Goes into High Volume Event Staffing?
Tigris was approached by Wright XM to support the event staffing component of their event experience. The ask included 1 Team Lead and 2 Brand Ambassadors each day per mall. With 19 malls, that's 180 shifts we are fulfilling every weekend! Our event staffing teams are responsible for encouraging and exciting consumers to participate in the CF Fall Inspiration Station. In addition, the team is promoting national partners by giving away coupons to consumers waiting in line for their bag. Although it may sound simple, there's A LOT of work that goes into providing the right team, training them, and meeting/exceeding client expectations onsite.
Presenting Candidates
Event staffing scheduling takes a lot of time and communication. Because we had to ensure we have enough staff to fill all 12 shifts per mall, Tigris presented a team of 6 per location. Staff are required to work a minimum of 2 shifts/weekend; this provides a buffer in case of emergency (i.e sick staff). The team per mall was presented with high quality photos and in-depth descriptions of each brand ambassador's previous experience, including why they would be a great fit for the inspiration station. The team was approved and schedules were solidified!
Training
Because event staffing includes booth set up, display management, operating the heat press and creating an exceptional consumer experience, training was mandatory. Each mall was present for a 1 hour webinar outlining key messaging, onsite responsibilities and troubleshooting. In addition, this gave the team the opportunity to ask questions and share their opinions.
Onsite Execution
As you probably already know, event planning always includes a little on-site trouble shooting. Our brand ambassadors and head office managers work within the clients guidelines to ensure the activation is a success. For this specific activation, our team has been trouble shooting with the tablets, line management and customer satisfaction. The launch week always includes some kinks to work out, but our team is proactive to handle anything that arises and communicate requests to onsite TL's quickly for a quick solution.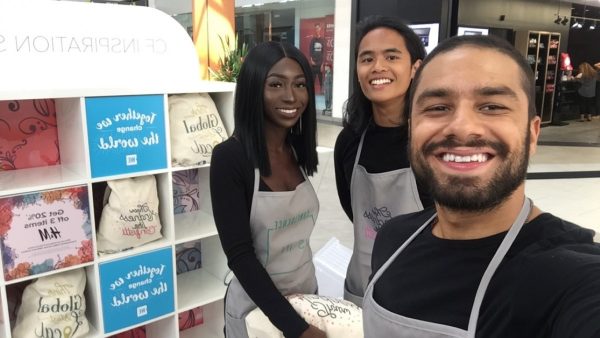 Reporting
Weekly reports outlining successes, challenges and consumer testimonials are provided to the client in addition to activation photos. With the events staff physically running the activation, their feedback is extremely valuable. In addition, this helps us improve the activation week after week. Post event, a final report will be provided outlining the entire booking/staffing process. By looking at customer testimonials from the launch weekend, we know this event is off to a great start. Below are a few reactions;
"I love the different slogans located around the mall. I took a picture to show my daughter. She loves the inspirational quotes."
"I cannot believe there is no catch and that Cadillac Fairview is just giving away free giveaways! I will comeback with my girls!"
"My daughter and I are really going to enjoy shopping with our Matching Tote Bags."
"I'm heading over to H&M right now to use my 20% off discount with my customized tote bag."
"This is such a wonderful event! I am truly inspired."
"Oh so this is what is going on that I've been seeing all over social media? Amazing!"
"Seems like the best job ever!"
Be sure to stop by one of the 19 Cadillac Fairview malls Fridays through Sundays before Sept. 17th to set your fall intention and get your free tote bag. While we wish the activation was all year long, it's only here for a limited time! Here at Tigris, we create unforgettable, award-winning experiences that build up brands, businesses & people. Contact us today to learn more about our event staffing services or to join our award winning team!