As you probably already know, exhibiting at a trade show can be expensive – and complicated. From registration and branding to booth design and rentals, there are plenty of details to consider and costs to budget for. When you're spending valuable time and money like this to exhibit, it's crucial your trade show booth is attractive, effective and most importantly, engaging. The pressure can be overwhelming, and with so many options, it's best to go with a trusted professional to help you create your dream booth.
That's why Breadner Trailers approached Tigris to assist in the planning and execution of their 60×30 trade show booth at Truck World April 19-21. In addition to planning, Breadner also required a brand ambassador to proactively engage with event attendees, distribute complimentary coffee and swag. Our management team was onsite to set up and tear down the trade show booth.
Trade Show Booth Design ::
Understand Your Client
When you're tasked with creating a trade show booth design, it's imperative that you understand your client and their objectives. Breadner Trailers is a full-service semi-trailer dealership, offering both new and used trailers since 1965. The purpose of Breadner Trailers exhibiting a trade show booth at Truck World was to announce their partnership with Hyundai. Since Truck World is Canada's biggest trucking industry event, it was the perfect opportunity to make a splash!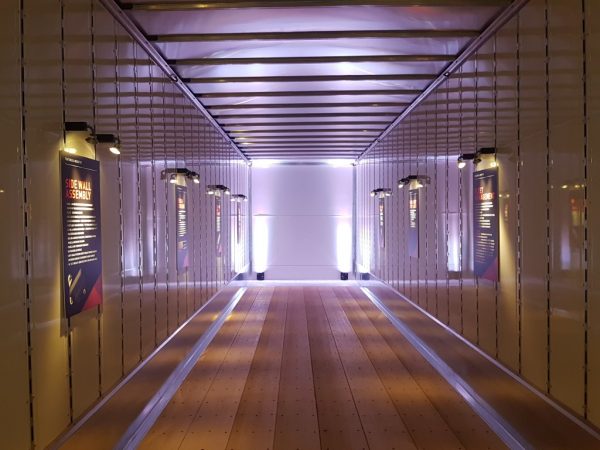 With a large space, there was plenty of room for big ideas. Onsite, Breadner provided an eye catching branded trailer for guests check out. Tigris provided Breadner with design inspiration for the trailer interior including dramatic lighting and posters to educate guests (shown above).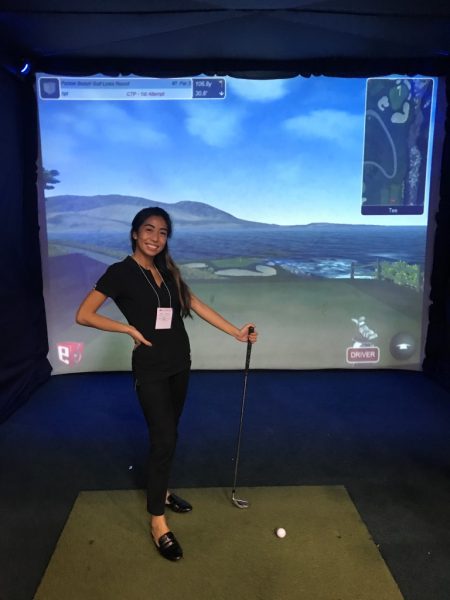 In addition to showcasing the trailer, Breadner wanted to create a trade show booth to attract attendees and encourage them to interact with their sales reps. How do you capture attention? While the options are limitless, we sourced a golf simulator 13'W x 13'D x 10'H along with a coffee/tea station. Top golf performers received a branded golf ball giveaway!
Below are a few attendee testimonials:
"This is the 3rd time I've said I'm going to the washroom just to come play some golf."
"This is by FAR the best booth at the show."
"Can I just hang out here all day?"
Because the trade show booth was intended to be welcoming, Tigris coordinated other components to further enhance the experience. These elements included tables/linens to showcase marketing material, branded pull up banners, literature / poster stands. Two TV's were on display to showcase footage from Breadner Trailers factory which guests could watch from the comfy lounge area or cocktail tables/chairs available within the booth. Last but not least, overhead signage was positioned on top of the trailer so guests to spot the booth from across the room!
Along with project management, our brand ambassador teamed up with Breadner sales reps to welcome guests to the booth and distribute coffee from Breadner branded cups. Whether the client is onsite or not, it's important incorporate events staff to attract and interact with attendees.
Project Management ::
From Inspiration to Execution
Our fabulous account manager, Wendy Blanchard, was responsible for designing the Breadner booth in tandem with our client. Her responsibilities included…
Event Planning: weekly meetings with the client, regular communication and reporting,
Branding: creating a branded floor for the 60×30 footprint along with pull up banners, posters and exhibit signage,
Coffee: coordinating coffee and required supplies to offer to guests along with coffee cups and branded sleeves,
Gaming: branded golf simulator rental,
Giveaways: branded golf balls to give to event attendees,
Lighting: overhead lighting and uplighting for the interior of the trailer,
Rentals: lounge furniture/TV rentals and literature/poster stand rentals
Shipping & Logistics: truck rental, set up and tear down onsite,
Staffing: collecting availability and selecting a brand ambassador to work the event,
Videography: booking a videographer to film during the first day of the trade show.
As you can see, creating a high impact trade show booth takes a lot of work, especially if you want to make a big impact. Breadner Trailers booth experienced high traffic over the three day show and all components were managed successfully. If you are looking to create the best booth on the 'block', contact Tigris today. We operate nationwide across Canada and offer event staffing support with our team of 2,000+ in North America.