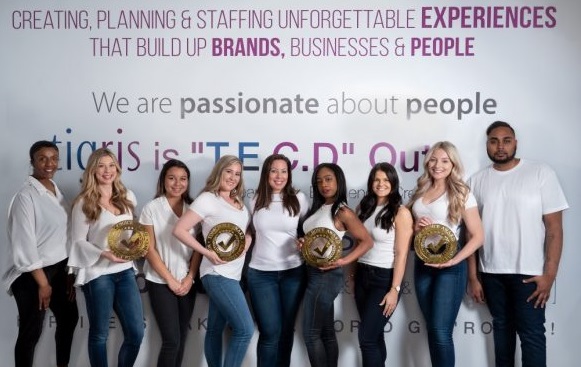 Tigris is a multi-award winning brand experience agency specializing in dynamic event staffing & experiential marketing. Our head office is comprised of a small but mighty team of leaders with over 50 years of experience combined. We pride ourselves on our passion for people, exemplary communication and attention to detail. Learn more about our team of professionals at Tigris and how our contributions makes this company not only successful, but award-winning!
Over the past few years, Tigris has won over a dozen awards and nominated for several more since 2014. We have taken home a Consumer Choice Award for Event Planning in 2020 as well as the Top Choice Award for Best Event Staffing from 2016-2020. Throughout 2017, we won the Best B2B Marketing at the CAMP Awards, a Gold Stevie Award for Best Viral Video of the Year and a Smarties Award from Smartlink US for Best Onsite Marketing Campaign. Our CEO was recognized by Corporate Vision Magazine as the Canadian Events Professional of the Year for 2017 and won a Bronze Stevie Award for Female Canadian Entrepreneur of the Year.
In 2016 we won our first Top Choice Award in the same category as 2017 and our CEO was honoured as one of Canada's Top Female Entrepreneurs by PROFIT and Chatelaine Magazine's annual W100 Ranking for 2016. In 2014, we were awarded a sales achievement award at the Ultimate Wealth Weekend. For a complete list of our awards and accolades, click here.
Serena H
President & CEO
Serena has been with Tigris for 16+ years and has 19 years combined industry experience. Her core expertise ranges from event planning/management and staffing to experiential marketing and logistics.
Serena is involved in high level project management for the company's biggest clients along with driving the company's online marketing and sales initiatives. Read more how she worked her way up from events staff to management to partner – then owner – in just 4 years by clicking here.
When asked why Serena loves working with Tigris, she says it's largely because of the diversity of the work we get to do. She also loves giving exciting, well paying opportunities to young adults. A fun fact about Serena is that she absolutely loves to travel and scuba dive! She was open water certified during a trip to Thailand in 2017.
Joanna B
Marketing & Sales Manager
Joanna graduated with a Bachelor's degree in Communications from York University. Utilizing her skills in communications and marketing she began her career as a Business Development Manager for a national franchisor. Looking for a new challenge, she joined the Tigris team as an account manager in July 2018 then transitioned to marketing and sales manager in March of 2020.
Within her marketing and sales role, Joanna is responsible for managing our social media, website and newsletters along with fielding incoming sales inquiries, producing quotes, event services agreements and proposals.
In her previous role, Joanna liaised with clients to coordinate and staff events both locally and/or nationally in scope including high volume staffing or logistics. Since joining our team, Joanna has been tackling sampling programs for YBVOCAL and Grassroots Advertising along with Chatterson Drive, Camp Quality and JTI.
Joanna loves working at Tigris because every day is different - we are constantly growing and evolving! She also loves that we are a family! Fun fact: she has a massive perfume collection and loves spending time with her dog Whiskey.
Wendy B
Senior Account Manager
Wendy joined Tigris in 2017 with several years of event management experience with Diabetes Canada and Habitat for Humanity. As a senior member of our management team, she is responsible for planning events locally and nationally including support on our event planning for St. Joseph's Health Centre, City of Toronto, Swatch, Breadner Trailers and Bell Media.
Wendy loves working with Tigris because of the wide range of events and projects we have on the go. She has had the chance to diversify her skill set substantially since starting in the office. Fun Fact - Wendy is a mother of twins!!!
Sarah D
Account Manager
Sarah joins our team with three years experience managing complex and logistically heavy XM projects nationwide. Some of her experience includes planning a national field tour for Johnsonville, as well as contributing to Capital One House at Elevate Tech Fest along with several other local projects.
During her time with Tigris, she has planned a summer long sampling project for Innis & Gunn, national events for McCann and Coty as well as a huge trade show booth for Breadner Trailers (to name a few!). Sarah is a diligent, detail oriented team player who works well under pressure and always has a smile on her face.
Her favourite part about working at Tigris is that no day is ever the same! From planning events, to client meetings, to staffing, she loves it all! Fun Fact: Sarah competed as a provincial gymnast for 10 years.
Danny H
HR & Office Admin
Danny leads our recruiting efforts locally and nationally. In addition, he supports our management team with niche recruiting requests in remote markets as well as securing talent with specific skill sets. Danny onboards new brand ambassadors and liaises with our bookkeeper to ensure payroll is produced and sent out accurately/on time. In addition, Danny takes care of recruiting and interviewing for full-time employees in the office .
Danny's favorite aspect of working at Tigris is getting to know our amazing brand ambassadors, whether it is through our initial interview, communicating through email or meeting them onsite. His favourite hobby is playing basketball!
Victoria S
Account Coordinator
Victoria is a student at Humber College pursuing her career in marketing and events. She was hired by Tigris as a summer marketing and events intern. During her 4 months with us, Victoria will be supporting our management team, working on our social media and staffing small local events.
Fatima M
Account Coordinator
Fatima thrives in a fast paced setting, managing multiple clients simultaneously across various time zones. She currently manages programs for Elemental, Hobbs Marketing, StorageVault, Spur Labs and more!