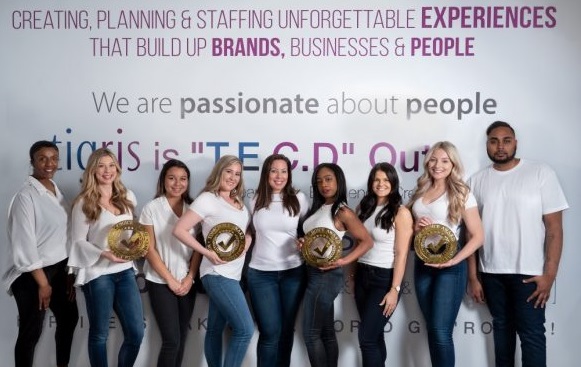 Tigris is a multi-award winning brand experience agency specializing in dynamic event staffing & experiential marketing. Our head office is comprised of a small but mighty team of leaders with over 50 years of experience combined. We pride ourselves on our passion for people, exemplary communication and attention to detail. Learn more about our team of professionals at Tigris and how our contributions makes this company not only successful, but award-winning!
Over the past few years, Tigris has been nominated for over a dozen awards, winning 11 since 2014. We have taken home the Top Choice Award for Best Event Staffing from 2016-2019. Throughout 2017, we won the Best B2B Marketing at the CAMP Awards, a Gold Stevie Award for Best Viral Video of the Year and a Smarties Award from Smartlink US for Best Onsite Marketing Campaign. Our CEO was recognized by Corporate Vision Magazine as the Canadian Events Professional of the Year for 2017 and won a Bronze Stevie Award for Female Canadian Entrepreneur of the Year.
In 2016 we won our first Top Choice Award in the same category as 2017 and our CEO was honoured as one of Canada's Top Female Entrepreneurs by PROFIT and Chatelaine Magazine's annual W100 Ranking for 2016. In 2014, we were awarded a sales achievement award at the Ultimate Wealth Weekend. For a complete list of our awards and accolades, click here.