The Top Choice Awards is an International Marketing Research Company, providing social market insights and customer satisfaction analysis and solutions. Each year, they conduct a public survey that allows consumers to vote and support their favourite businesses. For the 3rd consecutive year in a row, Tigris won the Top Choice Award for Top event staffing agency Toronto of 2018.
Have you ever wondered how Tigris trains for the Top Choice Awards? It's intense!
What makes us the top event staffing agency Toronto? Let's here what our voters have to say…
"I have worked for Tigris for the last 5 years and have had nothing but great experiences with their head office and events staff at the events I've worked. They really value their relationship with their clients and employees." – D.B
"Tigris has always acted with integrity and professionalism with their clients and staff. Staff are well looked after, asked for feedback, respected as part of a staffing agency and paid on time."– N.T
"I'm so proud to call myself a Tigris Brand Ambassador. Out of all of the agencies I have worked for, Tigris is absolutely, without a doubt, my favourite. Their employee roster, management, logistics, client base and execution of events is flawless. Each Tigris employee I have encountered, whether it be on a field level or out of office, has been so charismatic, kind and dedicated. Tigris' exceptional business standards, organization and care for their staff is what sets them apart from the rest! They absolutely deserve to win the Top Choice Award for the third year in a row." – S.T
"Tigris provides advanced logistics for any type of activation. They have extremely friendly employees working at the head office." – V.B
"This is a great company for self-sufficient staff who love to be independent and in charge of their own work." – L.J
"They are a fresh and innovative team creating promotional events that are fun for both brand ambassadors and consumers." – M.S
"They are professionals and it shows in all aspects of their planning, communication and execution." – M
Valuable Feedback and Results
We believe in open, honest communication when it comes to planning and staffing events with both our clients and staff. As our staff already know, feedback is extremely valuable. It's honest feedback that allows a brand, product and/or business to make adjustments to contentiously improve. In the end, not only do these results identify those at the top, but assist businesses on becoming even better. Discover what our CEO, Serena Holmes, had to say when first winning the award in 2016.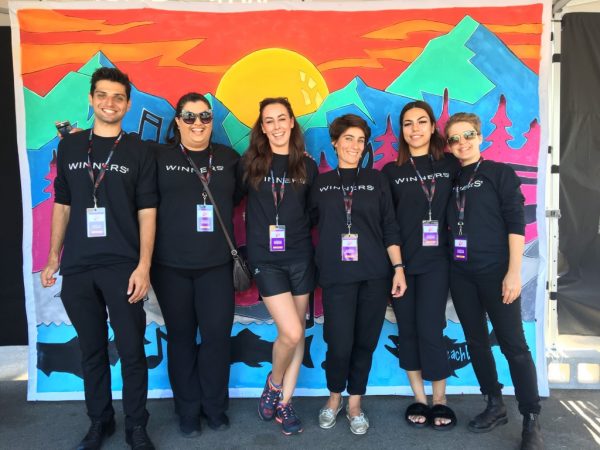 Benefits of Working for Tigris
In addition to the quotes above, there are many benefits to working as an events staff with Tigris. These include but are not limited to:
Company outings – Tigris' hosts annual holiday parties in each major market across Canada.
Compensation – we pay well, and quickly! Staff are paid 2 weeks post event.
Flexible hours & schedules – staff apply for events that work within their schedules.
Incentives for performance – these are distributed to top performing staff depending on the event/program.
Reputable name – staff will gain priceless experience with Tigris!
Unique, Experiential Events in Toronto
What type of events do we create, plan and staff? Watch the videos below for a few of our favourite events from the past year:
On August 30, thousands of commuters started their day off with a shock when they saw 40 headless children in yellow rain coats floating over the sewers. To bring this activation to life, 40 of Tigris' Toronto brand ambassadors were onsite with Rooftop Agency.
Tigris, in association with Bell Media, iHeart Radio and WINNERS created an unforgettable experiential marketing campaign across Canada that ran from the end of June through to Dec. 9/17. The purpose of the campaign was to promote WINNERS at 3 iHeartRadio concerts along with 18 radio remotes at WINNERS stores in Calgary, Edmonton, Vancouver, Ottawa, Halifax, Montreal and Toronto. As you can see, our event staffing agency Toronto does more than simply staff events!
The Lower Don Trail is a 4.7 kilometre multi-use trail for pedestrians and cyclists in Toronto. The trail runs along the Don River, from Pottery Road to Corktown Common. For the grand re-opening, we created 3 activation zones along the trail to surprise and delight the community. Each area featured a combination of live music, games, giveaways, face painting, caricatures and complimentary refreshments. We also had yoga in the park at Riverdale Park East!
Thinking of Working With an Event Staffing Agency Toronto?
Are you interested in creating a campaign with our brand ambassadors? Contact Tigris today! We specialize in innovative, turnkey, experiential marketing strategies. In addition, we have nearly 14 years experience exciting consumers and executing thousands of programs across the country. We've even executed a few in the United States and one in Singapore! You can depend on our experiential expertise to build you an unforgettable program while our dynamic events staff successfully execute it. Don't get lost in the crowd! Tigris promotes products and services with "the power of presence" so your brand doesn't go unnoticed.