Can you imagine organizing an event for royalty? Planning VIP events can be extremely overwhelming, but they aren't that much different from an event with a regular guest list. Bold Content Video, in association with the Campaign Against Living Miserably (CALM), recently organized an event for Prince William and other VIPs.
CALM is a charity aimed at combating male suicide in the United Kingdom. To increase awareness, Bold Content and CALM created a campaign called the #BestManProject. This campaign is designed to highlight the idea that you do not have to wait for a wedding to be a best man to your friend. In other words, you don't need a special event to be supportive to your male friends. This is something you can do year round!
3 Challenges When Planning VIP Events
There are several components that may be challenging when planning a VIP event, including:
1) Security: Because the event was meant to be kept confidential, the majority of the information was limited until the day before the shoot. Even the fact that Prince William would be attending was withheld; he was referred to as 'The Principal.' Tigris has had many similar situations where the information is limited until the day before the event. An example is the Google Pixel Launch for VIPs in Toronto; our team was trained the day before the exclusive event to ensure confidentiality.
2) Palace Approval: Everything Bold Content published online that contained footage or stills of Prince William had to be approved by the Palace. This is extremely common when working for elite or corporate clients. All images and video must adhere by specific guidelines. Although the images and footage may be your own, the client has final approval to ensure the content aligns with their image.
3) Logistics: This carries on from the security challenge. Since many times an event with a VIP will be busy, it is important to ensure your staff (or in Bold Content's case, crew) are readily identifiable. This way they will have no issues getting through security checkpoints. It is also crucial that staff have access to the location in a timely manner. Parking can be an issue in large cities such as London and Toronto. Equally, the equipment will need to be unloaded and set up.
Before you read on, here is a great behind-the-scenes video about how Bold Content prepared for their Royal shoot:
6 Tips for Planning VIP Events
1. Organization
We have found from working with other celebrities in the past, oftentimes their presence is extremely limited. This was no exception with Prince William: Bold Content had exactly one hour in which they could film all of the content required. Therefore, it's important to be organized to make the most of your time. A shot list and agenda are great tools to create efficiency onsite when filming.
2. Communication
As they say, communication is key. When working with multiple vendors and companies, it's easy to cross wires. Bold Content established a specific chain-of-command when it came to questions and/or information sharing. There was one person at CALM who communicated with the Palace, and one person at the Bold Content office that communicated with CALM. This streamlined any concerns or questions, and ensured that all queries reached the right person. In addition, Google Docs is a valuable tool to streamline communication while working with multiple parties. It's important to document communication and clearly outline all aspects of the project to ensure no overlapping.
3. Visit Your Space
As mentioned above, Bold Content had a very limited time with their VIP. They were to plan out where he would come in, who he would meet, where he would sit, how he would leave, and every second in-between! Practice makes perfect. Bold Content staff arrived hours early to run through equipment transitions that would occur during the Duke's visit. Rehearsing setups, whether it's for film shoots, weddings , awards, or any other event can help smooth out the flow of the day.
4. Dress Code
This is something you may not have thought of, but in fact the Palace requested a very specific dress code for Bold Content's staff. They originally planned to dress in business attire, out of respect for Prince William. However, a few days before the shoot, they were informed by the Palace to dress 'smart-casual', since that was the attire the Prince would be wearing.
5. Interview Style
Pre-aligning interview questions before the big day is common practice when working with a celebrity or VIP. For example, Bold Content was to check in with the Palace to make sure it was acceptable to speak about Prince Harry's recent engagement. Having this discussion is extremely important to avoid any awkward moments, or worse still, a VIP walk-out!
6. Staff IDs
Although Bold Content did not need to provide staff with IDs due to the set being in a secure location, ID badges or uniforms are a great idea for any event that involves a lot of people. This way, guests are able to identify your staff, and as we mentioned above with security, there will be no delays getting your crew where they need to go.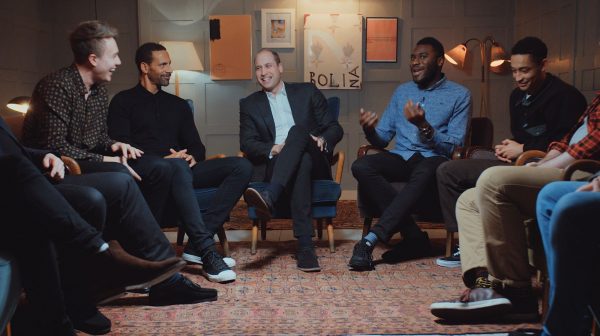 From left to right: Radio DJ Roman Kemp, former professional footballer Rio Ferdinand, The Duke of Cambridge Prince William, Reporter/Influencer Carl Anka, musician Loyle Carner.
Planning VIP Events: Prepare for the Worst, Create the Best
Those are our top tips for planning VIP events. There are an endless number of things to think about, but the more prepared you are, the smoother the day will go. With this advice in mind, brainstorm every possible scenario and think of how you can alleviate that situation.
Security, client approval, and logistics will be your main culprits. Organize these, and the details will begin to fall into place. Putting on an event with a celebrity, VIP, or even a royal will be challenging, but with these tips you will be able to orchestrate an event that will run smoothly and be enjoyed by all.
To learn more about the #BestManProject, click here.