Experiential Marketing Agencies in Toronto – Tigris Events. It's been a whirlwind of a year for this brand experience agency. In 2017, our 13th year in business, Tigris worked with over 120 different brands and businesses, staffed more than 33,000 hours and 4,808 shifts on 314 programs nationwide across Canada. We worked with new and existing Toronto clients and expanded by hiring a new Account Manager and HR Coordinator in September. There are now 8 full-time staff at the Tigris event marketing agency's head office in Toronto, the largest number we've ever had!
In addition, our experiential marketing agency moved into a new office space that allows us to nearly triple in size and is centrally located in downtown Toronto. Furthermore, it was a HUGE award winning year. Tigris' Event Marketing Agency received recognition for our efforts in the industry including;
2017 Top Choice Award Winner for Best Event Staffing Agency in the GTA.
Canadian Service Professionals Network | Emerging Leader – Private Sector Award Nomination 2017
2017 Smartie Awards Gold Winner for Best On-Site Marketing Campaign for the Icon Student Living Campaign
Corporate Vision Magazine Business Woman Awards |Canadian Events Professional of the Year, 2017
Canadian Association of Marketing Professionals Awards| Best B2B Marketing Award, Viral Video Campaign
Canada Wake Up, Category: Viral Marketing Campaign of the Year  Gold Stevie Winner
Serena Holmes, CEO of Tigris Events Inc., Category: Female Entrepreneur of the Year in Canada Bronze Stevie Winner
Pretty crazy, for experiential marketing agencies in Toronto, such as Tigris, to take home so many event marketing agency awards, isn't it?! In addition to recognition, our Toronto team continues to grow. We've expanded into the United States with a few events in Texas and California, and our social media following has remained steady. To date, we have 34,697 Twitter followers, 47,000 Facebook followers, and 49,975 Instagram followers – not to mention those we have on Linked In, Google+ and other channels. Our CEO even has over 8,000 connections on Linked In!
Experiential Marketing Agencies in Toronto Head Office Share Their Favourite Memories of 2017
When asked about her favourite event this past year, Account Coordinator Joanna Olaru exclaimed, "The Jingle Ball!!" without hesitation.
I was surrounded by music, energy, amazing team members and excited guests. Nothing was better than seeing everyone win a prize (and have fun winning them inside the FabGrab machine). The gratitude on their faces was priceless. All I can ask for in an event is high energy, a good group and an electric atmosphere. The Jingle Ball did not disappoint!
Our Toronto event marketing agency was thrilled about our WINNERS activation at the Toronto iHeart Radio Jingle Ball – the grand finale of our 6 month campaign for this iconic business with some of the biggest and best brands under its umbrella. Tigris teamed up with Bell Media to create, plan and staff this program which included 3 concerts and 16 radio remotes in 6 cities across the country.
Dockside Whitby Events with YellowHouse Events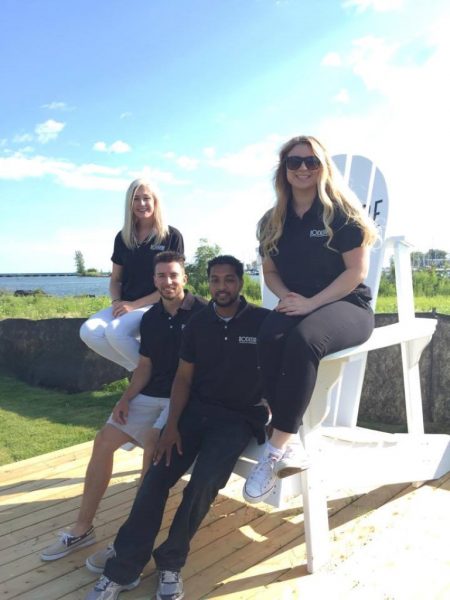 Dockside is Whitby's new lakefront destination, specially designed for exciting events, lifestyle and leisure. Within the coming years, a new living community will be developed on this property. Until then, YellowHouse events has teamed up with Tigris to create and staff free events for the community. These include fall and winter festivals, in addition to movie nights! Trellaney Opara, Account Manager, staffed these events throughout the year.
There are so many to pick from, but I would have to say Dockside Whitby with Yellow House Events is a favourite! It's always exciting and high energy. Our staff know that it is always thrilling and I receive an overwhelming response of staff who want to work it. They treat everyone with respect and there's always of food. YUM!
In addition to Dockside events, Tigris works alongside YellowHouse Events to staff the Kijiji Dealer Conventions across Canada. Experiential marketing agencies in Toronto provide top talent across the country to support large and small scale events.
Astrolab Grand Opening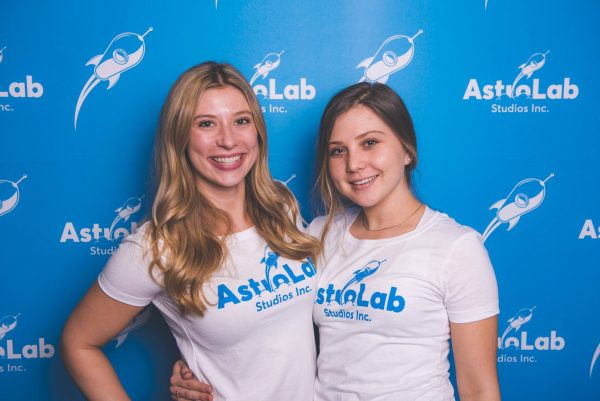 Astrolab Studios Inc was hosting a launch party in February. At the event, our team educated guests on the space and gave tours within the studio. The studio is Toronto's first on-demand film, photo and audio production studio. Space is available by the hour with all-inclusive gear packages for a low hourly rate. This was one of our Marketing Manager, Nicole Delorme's, most memorable events of the year.
I met the owner of AstroLab Studios while I was taking Content Strategy at George Brown. This event was extremely memorable for me because I was able to participate in the grand opening of a personal project of someone I truly respected. It was unforgettable to see my teacher/client surrounded by those who were truly excited to see this project come to fruition. I was proud to promote this establishment alongside my co-workers.
In addition to big brands and businesses, Tigris works with many start-ups and small businesses across Canada. Our services range from full-service experiential event planning to dynamic events staffing. Whether you need complete experiential marketing agencies Toronto support or simply the staff to bring your event to life, we've got you covered!
St. Joseph's 6th Annual Toronto West Halloween Fest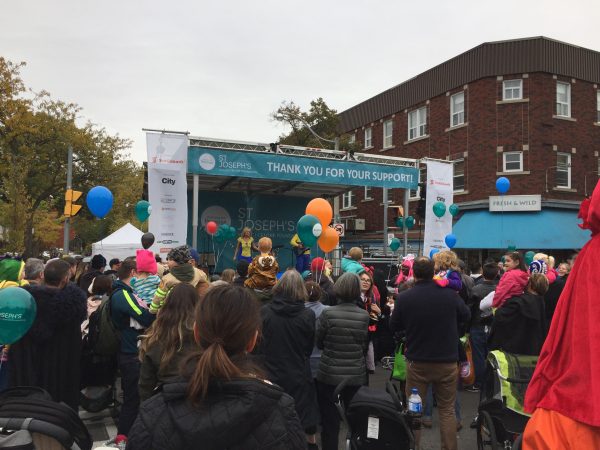 It was a ghoulish, ghastly, ginormous celebration this year at St. Joe's 6th Annual Toronto West Halloween Fest.  This was Wendy Blanchard, Tigris Account Manager's, most memorable (and first!) event with Tigris.
My favourite event of 2017 was the St. Joseph's 6th Annual Toronto West Halloween Fest! We got to watch this event unfold from the planning stages right up to execution. Bloor Street West was packed with little ones all dressed up in their Halloween gear excited to participate in all of the activations the event had to offer from pumpkin decorating, to a giant inflatable obstacle course, a bouncy castle, a creepy vampire layer filled with crafts, games along with tons more tricks and treats! Parents got right into the spirit of the event too – dressing up and participating in as many activities as they could. It may have been a cold one but the energy running through the event kept us going all day long! The best part of this event – a portion of the proceeds went to the new paediatric emergency wing at St. Joseph's Health Centre.
Over 10,000 people came together in their scariest, silliest and cutest costumes to enjoy games, giveaways, food and fun activities this year. The heart of the Toronto festival surrounds the main stage at Bloor and Durie but stretches east to west across Bloor from Runnymede to Willard. To kick start the Toronto event, close to 500 parents and children participate in a  1.1km costume parade for all ages from 11:15-11:45am. It is a bloodcurdling (but feel good!) sight to see. We can't wait until the planning for the 2018 festival begins!
LCBO Holiday Campaign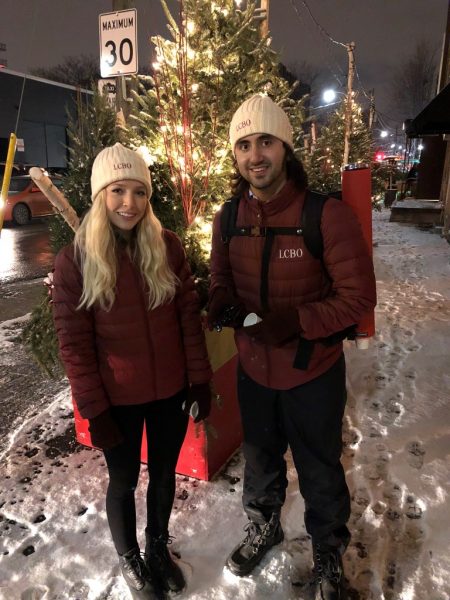 This year, LCBO treats you for planning ahead and choosing the responsible way home. Tigris, in association with Narrative PR, executed 4 LCBO Responsible Hosting Cider pop up stations (1 in Ottawa and London as well as 2 in Toronto) Dec. 8, 15 and 16, to surprise and delight passersby, who have chosen the safe way home.
Handing out free hot cider from a jetpack while talented carolers sing beside you, surprising pedestrians with free TTC tokens to encourage taking the safe ride home this holiday, while promoting responsible drinking/hosting, what more can you ask for?!
Tigris planned the high traffic locations in each city, sourced festive carolers, jetpacks, cider suppliers and staffing for the activation. This event truly got our team is the holiday spirit!
Lower Don Trail Re-Opening & Community Event
Tigris teamed up with City of Toronto to plan and execute the grand re-opening of Lower Don Trail on Sat., Sept. 23 – the first "Ravine Days" event – with many more to come. Tigris was tasked with creating an event to surprise and delight trail users including hikers, cyclists and families along Lower Don Trail. Tigris selected 3 activation zones as well as an area for formalities to kick off the event. The activation zones at Cloverleaf, Riverdale Park East and Don Landing included games, giveaways, refreshments, music and more. This was our HR Coordinator, Sandra Abdelmaseih's, favourite event this year.
What a great event for the city! It was awesome to hear the feedback from the bicyclists about the launch, and to see their excitement with the opening and activities we had planned out. The event also had some great vendors, including gelato on a bike to go!
In addition to the Lower Don-Trail event, Tigris had the tremendous privilege to plan the Berczy Park grand re-opening and was thrilled to win this business through a formal RFP process. This park is Toronto's beloved communal space in the heart of St. Lawrence Market, also known as the gateway to Old Toronto. Our team was tasked with creating a unique event experience to bring the community together. This includes children, families, seniors and of course, pet lovers, since the whimsical dog fountain is the focal point of the park. Learn more about event planing for the grand opening here.
Experiential Marketing Agencies Toronto – What's Next in 2018?
If you're on our roster, you may have noticed we are in the testing stages of our Tigris specific software platform to collect availability and book staff for events. This will be fully implemented in 2018! Just in time to support our U.S. expansion. Our next U.S. event is coming up in Florida Jan. 6-7/18.
Because our team is outstanding, we are up for our third Top Choice Award. Top Choice is based on votes and we need YOURS to win! If you haven't already, please spare 30 seconds of your time and vote before Jan. 2, 2018.
We've already completed over 42 quotes for new events in 2018 and 5 confirmed bookings. These events include the Calgary Home and Garden Show, an app promotion and the Western Crop Production Show. In addition, we will be getting starting on the event planning for St. Joseph's annual Toronto West Halloween Fest. This small business just continues to grow, and we'd love for you to be a part of it!
Experiential marketing agencies Toronto continue to evolve and create impactful, results driven events. Thanks 2017… we're happy to wrap-up another amazing year. Do you want to be a part of our year in 2018? If you are looking to work at our events as a promotional model or brand ambassador, click here. If you are interested in our events services, contact us today at 416.283.9119 for a free quote. We plan, execute and staff events and experiential marketing programs all across Canada (and starting in the United States)! Looking for an experiential marketing agencies Toronto? Let's take on 2018 – together!