Staff appreciation is a key component in keeping any team motivated, engaged and inspired, wouldn't you agree?
Tigris has over 2,000 events staff on our roster nationwide across Canada, but we strive to maintain a close bond with as many of them as possible. Although our events staff work on an event to event basis, they have the opportunity to shine and prove their capabilities through just one single event! We take into consideration their performance onsite and communication leading up to, during and post event. This includes their high energy and professionalism onsite and detailed reporting and wrap up post event. At the end of each year, our head office team comes together to select top events staff in our major markets across Canada who truly deserve staff appreciation awards and recognition.
Before you get too deep into our article, if you're looking to hire the best brand ambassadors in the country – give us a call at 647-286-9392 or fire off an email to [email protected]
Drum roll please – below are our 2017 winners!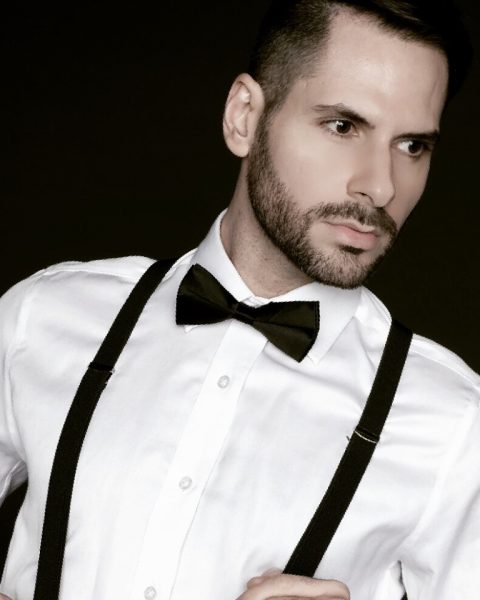 Staff Appreciation for Tigris' Top Brand Ambassador – Toronto, ON
Congratulations to Fady – he is a rock star! Fady has been part of the Tigris team since 2012. He has over 6 years' experience working in Event Management, Communications and Marketing Campaigns. He recently graduated from the Sport and Event Marketing program at George Brown College in Toronto. Fady has experience acting in commercials and movies along with modelling. He is an enthusiastic team player and excellent leader.
Fady is always a joy to work with; his positive energy is simply contagious. I feel confident sending him into a logistic heavy program due to his experience with event management. – Nicole Delorme, Marketing Manager
This year, Fady has worked several events with Tigris including our award winning our viral video shoot – TransferWise Canada Wake Up . His most outstanding role, however, was as a Team Lead for the Inspiration Station at Don Mills and Toronto Eaton Centre. Onsite, Fady was responsible for managing a small team, set up and tear down before, in addition to the overall flow of the activation. His communication throughout this program was impeccable, and his independent troubleshooting was smart and effective.

Staff Appreciation for Tigris' Top Brand Ambassador – Calgary, AB
Although Andrea has only been with Tigris for 2 years, she has proven herself to be an extremely valuable addition to team Tigris. This year, Andrea predominantly worked on the Great Western Brewery program, sampling and selling, Original 16. Her onsite sales skills and post event reporting is second to none!
Andrea was always eager to help and quick to respond. The ease in communication & booking along with her professionalism and positive attitude makes her a great BA to work with. – Amy Zhou, Tigris Account Manager
Originally from Costa Rica, Andrea showcases her patience, persistence and respect of others onsite. In addition to sampling and selling products, Andrea excels at market research programs and creating an exciting atmosphere for consumers. Congratulations, Andrea!

Staff Appreciation for Tigris' Top Brand Ambassador – Vancouver, BC
This year, Jake worked on our WINNERS campaign complete with radio remotes and a iHeart Radio WestFest in Vancouver. In addition, he worked as a brand ambassador for Cadillac Fairview's Inspiration Station and Metropolis at Metrotown Black Friday promotion. Due to the nature of these 3 very busy programs, Jake was able to demonstrate his talent with crowd and time management.
Jake is an outgoing, knowledgeable professional who shows a passion for building and growing relationships with fellow brand ambassadors, clients and customers on every event he's been on. – Helene Scime, Account Director
Jake has been on the Tigris team for just over one year. As you probably already know, life in the event industry can get quite crazy. Jake is extremely flexible, quick on his feet and works vigorously at each of his events. Congrats, Jake!

Staff Appreciation for Tigris' Top Brand Ambassador – Montreal, QC
Congrats, Pierre Lucien! Pierre Lucien was specifically recruited for the Cadillac Fairview Inspiration Station August-September. His dedication to this event and enthusiasm on this program (which was 4 weekends long!) was unwavering.
Always a pleasure to work with, Pierre Lucien is always on time with his best foot forward. He is always there to cover last minute shifts and makes any activation a success. – Joanna Olaru, Account Coordinator
Afterwards, Pierre Lucien assisted with the WINNERS campaign including 3 in-store radio remotes and was responsible for running a live contest with Virgin Radio. He took care of set up and tear down pre and post event, attracting participants and awarding prizes. Thank you for making these activations a success, Pierre Lucien!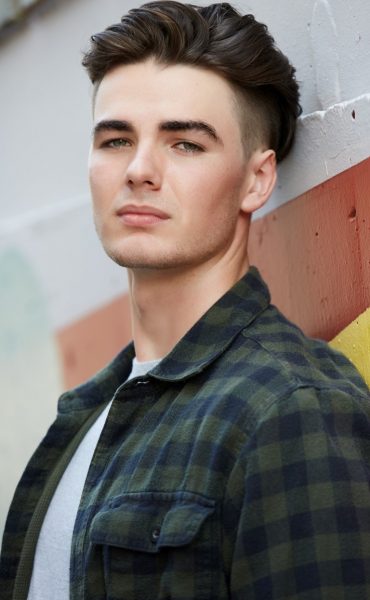 Staff Appreciation for Tigris' Top Brand Ambassador – Ottawa, ON
Bevan was hired onto the Tigris team this year and predominately worked an event for Siemens Canada, in association with YellowHouse Events. The activation, at the International Pavilion in Ottawa, ran from June 26 to July 28 with our tech savvy brand ambassadors.
Bevan is always extremely happy and energetic onsite. In addition, he is always punctual, arriving 15 minutes early for his shifts. – Trellaney Opara, Account Manager
Bevan is extremely successful assisting guests through a technology based activation. His expert social skills and enthusiasm make him a great addition to any program. Congrats, Bevan!
Staff Appreciation Awards Well Received
We love giving our staff something extra during the holiday season. This year, our top brand ambassadors received a personalized card in addition to a pre-paid VISA. This way, they can treat themselves however they like! Below is a photo from our Top Toronto Brand Ambassador, sharing his love and joy for being recognized as the star player he is..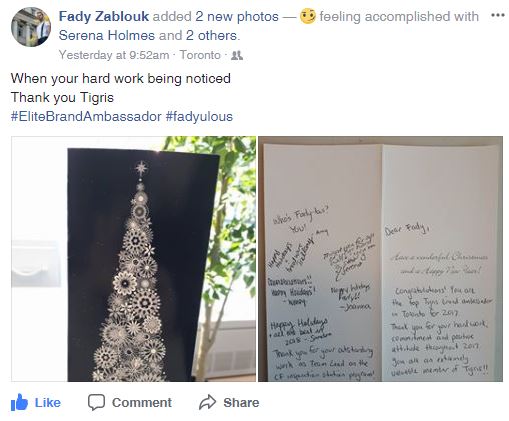 Are you interested in joining the Tigris Team? We are always recruiting top brand ambassadors and promotional models across Canada. To apply, please send 2-3 photos and your resume to our recruiting department. If hired, you will have the opportunity to work exclusive events in your city. Who knows- you may even be receiving one of our staff appreciation awards for 2018!