When the Presidents slogan is "We eat, drink and sleep beer", we figured we could get behind a company like that! As a fellow small business with a lot of passion, Tigris is pleased to announce our series of samplings with Original 16.
Product Promotion for A Unique Canadian Brewery
Imagine your workplace was about to close down, and everyone was going to lose their jobs. Pretty scary thought, isn't it? Thankfully, in most businesses, you are surrounded with like-minded individuals. When an impending closure spelt the end of an area and the loss of jobs for 40 employees, 16 brave men put their life savings together to start their own brewery (Great Western Brewery). They took a chance and founded Original 16. Today, Great Western Brewery is one of Canada's most successful regional brewers and an internationally recognised producer of world-class beer.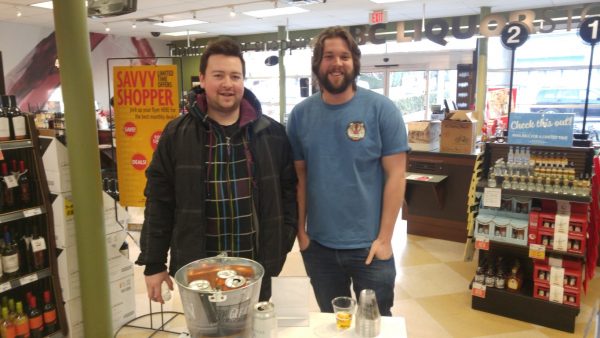 Brewed in Saskatoon, Saskatchewan, this is a Canadian success story we are proud to represent. Here at Tigris, we promote great brands and businesses to potential and current consumers. What's the best way to promote a beverage? In-store sampling!
GWB provided Tigris with a list of 25 stores to target throughout January 13-28. The samplings were only to occur on Fridays and Saturdays, which are known for high traffic within the selected stores. We reached out to our qualified brand ambassadors and created a team of certified individuals to rotate product sampling each weekend. Once we had the right people in place, our client was to send supplies to the staff.
Product Promotion is All About the Branding!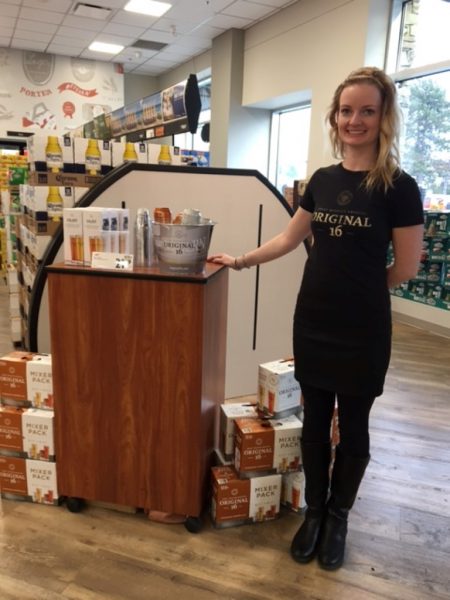 As you know, most people are usually in a rush to get in and out of stores. Especially within a liquor store on a weekend, because customers usually know what they want and aren't browsing around. To grab their attention, a brand must have an eye-catching product promotion. Original 16 sent our team Original 16 black t-shirts, plastic branded table covers and branded sampling cups. Doesn't Courtney look professional in her uniform?
Although our team looks the part, it's important that they are also able to sell the product. It's important to have realistic sales goal in mind while sampling. For each shift, our team was to sell a minimum of 12 Mixer Packs. That's 3 cases per hour, which is a reasonable goal! The purpose of the Mixer Pack is to give customers a deal for purchasing their two favourite products. The pack includes 6 Canadian Pale Ale + 6 Canadian Copper Ale.
Our team was able to consistently sample and sell the product to beer drinkers. As a result, Original 16 has selected another 25 stores for a sampling in February. Our team is excited to meet and surpass those sales goals!
Making Your Product Promotion Measurable
It's not enough to simply track sales. Because you need to know everything you can about the people purchasing your product. Our team observes and tracks down various facts about each person that samples the product. This includes gender, age and weather conditions. In addition, our team asks each sampler for feedback. They ask them about the branding, taste and price. All of this informative is documented into a detailed report for the client after each product promotion.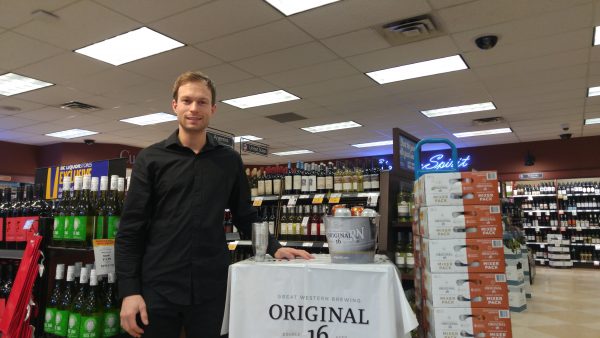 This information will help our clients learn more about their target demographic. As a result, you can see why product sampling is so valuable. You increase sales and new consumers while learning more about your audience!
Execute an Effective Product Promotion
Gain exposure, increase sales and collect valuable information with a product promotion. Tigris operates in over 15 markets across Canada including Toronto, Calgary, Ottawa and Vancouver. Contact us today for a free quote on our experiential staffing services.