Trade show season is upon us! At each trade show, there are hundreds of exhibitors, so it's crucial to develop a strategy to ensure you stand out from the crowd. Currently, companies are looking for promotional advertising strategies to build their brands. One company who is undertaking these initiatives is HP Canada.
As a leading technology company, HP Canada focuses on products and service, while offering a wide range of business solutions. Their recent promotion ensures users that printing from home is right the first time and every time.
You probably already know that even the simplest DIY project requires some effort. Anyone else spend hours on Pinterest? But with original HP Ink, Do-It-Yourself projects from home are completed effortlessly with high quality and performance.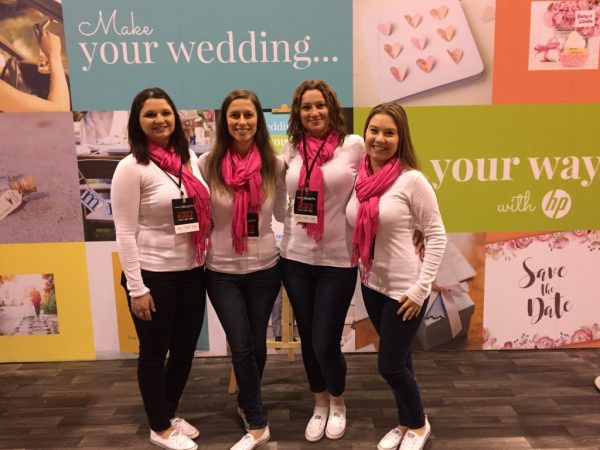 Promotional Advertising for Toronto's Brides
Have you ever planned a wedding? I'm sure you can imagine all of the work that goes into planning a day many have looked forward to their entire lives. This includes venue, wedding dress, caterers, musicians, invitations and more!
In a WeddingBells.ca survey of 2,309 Canadians, couples nearing or just coming away from the big day indicated they believed the average expected cost of a Canadian wedding should ring in at around $22,429 – or $27,899 with a honeymoon. – Golden Girl Finance
As you can see, weddings come with a hefty price tag. That's why many brides plan to DIY several components of their big day to avoid accumulating costs. HP Canada's promotional advertising initiative at the Toronto Bridal Show was to show brides they can use their products to print high-quality images at home.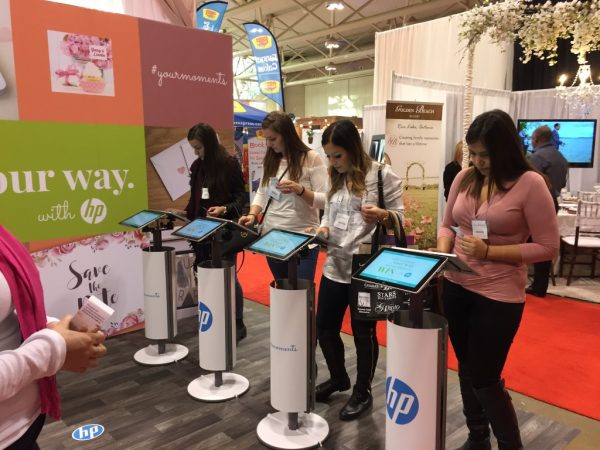 The Ultimate DIY For The Creative Bride
Tigris teamed up with Starshot and HP Canada to promote original HP ink. Other products on site consisted of HP Envy 7640 e-All-in-One Printer, HP Sprocket*, and HP Deskjet 3755 Wireless All-in-One Printer. HP Sprocket allows consumers to print photos from their smartphones instantly using Hp ePrint app. Brides and grooms are able to print all their wedding needs, such as, Save the Date, wedding invitations, shower decorations, and wedding photos from the comfort of home. By making your wedding your way, brides are able to customise and personalise their special day. Because we all know if we want something done right, we do it ourselves!
HP Contests & Giveaways for the Bride to Be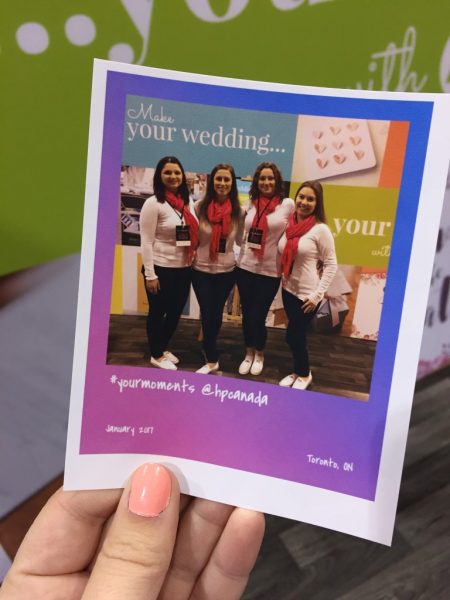 As mentioned earlier, it's important to make your booth stand out from the hundreds of exhibitors on site. You want people talking about your brand! You may be wondering how HP Canada maintained a busy booth for the entire duration of the trade show. Well, they offered a unique contest that any bride would love to win. Ten very lucky brides (plus their guests!) had a chance to win an exclusive dinner with celebrity wedding planner, Jeffry Roick. The dinner will be held on Valentine's Day, and he's there to talk weddings with the winners!
Now, if you've ever been to a trade show, you know it's all about the freebies. Contestants were able to walk away with a package of HP Social Media SnapShot Paper and a HP Original Ink postcard. The postcard offered $10 off of HP ink and $50 off on HP printers online. Coupons encourage people to buy and keeps them thinking about your product.
HP Social Media SnapShot Paper makes printing from your camera roll or social media fun and easy. By using the HP app, brides and grooms can print their favourite memories from their special day onto peel and stick backing paper.
Promotional Advertising At Your Next Trade Show
Look out for HP Canada at the Edmonton, Calgary and Ottawa Bridal Shows! Our Tigris team will be hosting their booths at each show.
As you can see, exhibiting at a trade show is similar to planning a wedding. There are many components to consider including contests, giveaways, engagement and promotional staff. Here at Tigris, we create, plan and staff memorable events for clients across Canada. Whether you need the ideas or simply the staff to bring your brand to life, we've got you covered! Contact Tigris today for a free quote on our experiential services.