If you go to Rogers Cup 2016, you'll see lots of Toronto promotional models. Large scale events, such as Rogers Cup, present a perfect opportunity for brands to gain exposure. From July 23-31, our Tigris team will be hosting the Revlon booth in the Aviva Centre. This tennis stadium has a capacity of 12,500!
If you're unfamiliar with Rogers Cup, it's a well respected tennis tournament, organized by Tennis Canada. Since 1892, the best players in the world have competed on Canadian courts. This event attracts the biggest stars in tennis year after year – and some of the biggest crowds!
Toronto Promotional Models: What Do They Do?
Of course, when you're attending Rogers Cup, the main attraction is the tennis matches. But there's so much more to see! In the Aviva Centre, you'll run into big, splashy activations with well-known brands vying for your attention. You may also find yourself distracted by all the beautiful people including our Toronto promotional models.
So what exactly is a promotional model? Promo models are the beauty and brains behind the brands at these activations. They are visually appealing, and are best incorporated into events where image is everything. This may include bar promotions, publicity stunts, product launches and more. They are responsible for representing a brand, attracting consumers and relaying key messaging to drive awareness and sales.
How Revlon Incorporates Toronto Promotional Models to Enhance Their Brand
Revlon is participating in an initiative with Rogers onsite at Rogers Cup 2016. They booked a gorgeous team of Toronto promotional models from our roster to represent their brand. While onsite, our team handles booth setup and tear down. They are also distributing flyers, coupons and samples while delivering key messages to fans.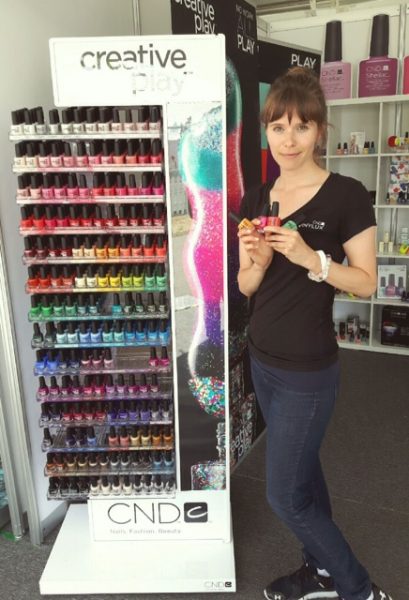 From the way their hair is styled to their make up and apparel, our promo models must maintain a specific image for the event. It's important that the team is not only attractive but that they image is aligned with the brand. This helps promotes a consistent look and feel for the event.
Although their sleek appearance will attract consumers, our team relies on their charm to engage them. Our Toronto promotional models strike conversations with as many people as possible to pump up booth traffic. They keep consumers engaged, relay key messaging and hand out swag – all of which contributes to the memorable experience a consumer will have with your brand.
At Rogers Cup, our Toronto promotional models are promoting CND Creative Play Nail Lacquer and American Crew. During the tournaments, our gals will hand out prizing and distribute samples of each product. Everyone loves free samples!
At first glance, it may seem strange to promote nail polish and hair products at a tennis event. but, it all makes sense when you learn more about the products at the booth. For example, CND Creative Play encourages 'playing' with different colours and celebrating different styles. Seems like 'playing' with fashion can relate to 'playing' on the court. The same can be said for American Crew. Their products maintain all types of hair for a smooth finish. This would be perfect for the players on the court!
Hire Toronto Promotional Models for Your Brand
Tigris has hundreds of promotional models on our roster. Not only in Toronto, but in over 15 markets across Canada including Calgary, Edmonton, Vancouver and Ottawa. From brunettes to blondes, bartenders and bilingual staff, we provide the best talent in the business for our client's brands.
If you're interested booking our team for your event, contact Tigris today for a free, no-obligation quote. We have dynamic personnel, promotions, marketing and events services available nationwide.

Are you interested in working as a promotional model for Tigris? We host group interviews nationwide every month! To apply, send 2-3 photos and your resume to recruiting@tigriseventsinc.com. For tips on how to ace your interview, read out blog post 'Get Recruited'. Our team continues to grow with talent – we have over 1,500 events staff on our roster across Canada.