Our Edo Elves are swapping their holiday costumes for a sushi summer sampling event! Edo Japan is teaming with Tigris once again. This time around, our sushi summer street team will promote their new summer menu. The menu includes 4 new sushi rolls and a sushi combo platter. Talk about a delicious promotion! The sushi summer sampling event will increase awareness and sales for the brand. Edo Japan believes the best way to get customers to order the new rolls and platter is to get them to try a sample! Sounds like a plan, wouldn't you agree?
Sushi Summer Sampling Event – Increase Sales by Building Trust
Tigris has been busy planning teams of brand ambassadors across Alberta for the sushi summer promotion. The sushi summer street team will visit local businesses to deliver sushi platters and refreshments from the new menu. For the second half of their shift, the team will sample the new product in-store and give customers the opportunity to try the new rolls. Each member of the sushi summer street team is responsible for working independently day by day. The program spans 6 cities in Alberta from June 17 – August 5. Cities include Red Deer, Calgary, Edmonton, Lethbridge, Brooks and Grand Prairie. The goal of the promotion is to motivate local businesses to stop by Edo Japan for lunch or dinner. The team will also encourage current consumers to try new items and keep them coming back for more!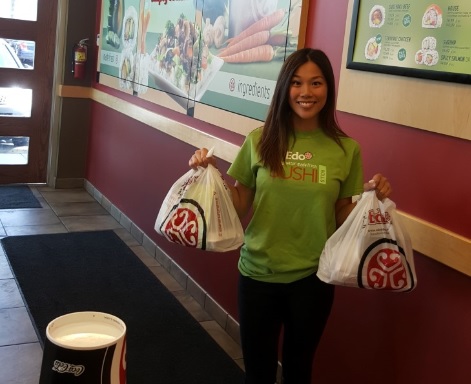 Selecting the Right Staff for a Summer Sampling Event
Brand Knowledge: Staff work independently so it's important that they are knowledgeable about Edo Japan's brand, product and target market. In order to effectively communicate key messages about Edo Japan, our BA's participate in a training prior to their first shift. The staff are also given a training package outlining key messages that the team can review on their own time. It's crucial that the brand ambassadors are confident executing the summer sampling event. After all, they need to educate consumers on everything Edo Japan!
Managing Onsite Traffic Flow: When putting together a team for the summer sampling event, our  account manager ensures the staff selected were mature, outgoing, and confident. The brand ambassadors are responsible for speaking to every consumer that fits the target market, so they can't be shy! It's their duty to engage consumers with conversation and key messaging (that they learned during their training call). BA's must be able to relay key messaging in a conversation so it appears casual, and not forced. No one wants to be "sold" to!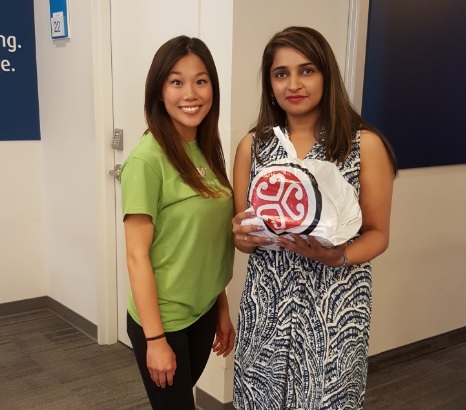 Consumer Interaction: Although the primary objective is to reach the target demographic, with a sampling program, there will be many people outside of the target demographic that will approach the staff. The brand ambassadors must be happy and excited to introduce Edo Japan to all consumers. A dynamic, cheerful sampling with a positive attitude is bound to get positive results. Like they say, you can attract more bees with honey than vinegar! 
Abundance of Collateral: Our staff are prepare with brand knowledge and a positive attitude to start. This said, it's also important to ensure they have an abundance of collateral. Our talent are given sushi brochures with an incentive for the local businesses to visit their closest restaurant. The brand ambassadors will visit each store with a fresh sushi platter and even beverages! 
Is a summer sampling event the right marketing tactic for your brand?
Sampling is an extremely effective way to increase sales. It's natural for customers to want to try before they buy! . Sampling can become very expensive however, so you must consider your ROI. Tigris has executed thousands of sampling initiatives during our 12 years in business. If you're looking to discuss a sampling program, or find dynamic staff to execute your campaign, contact us today! We operate in over 15 markets across Canada including Toronto, Calgary, Ottawa, Vancouver and Edmonton.