Utilizing Product Sampling Staff to Increase Sales for Soleterra
We were thrilled when Soleterra d'Italia reached out to Tigris for a team of product sampling staff! Soleterra is expanding into 19 British Columbia supermarkets and need support to get their quality products into the hands (and mouths) of shoppers.
Are you familiar with the Soleterra brand? Soleterra produces authentic Italian cured and cooked meats (who doesn't love prosciutto?).  The meat is made in Italy and they distribute the products in Western Canada. Their mouthwatering line includes prosciutto, salami, cooked ham, mortadella, speck, pancetta and coppa. Sounds delicious, doesn't it?
The Soleterra brand is built on the Simonini's family recipes and Sunterra's highest standard processing techniques. As a family-owned company spanning generations, they have a culture of doing the right thing. Better yet, the authentic Italian meats are made with clean, natural and simple recipes that are high quality, gluten free and lactose free. Needless to say, Soleterra produces meat you can feel good about feeding your family.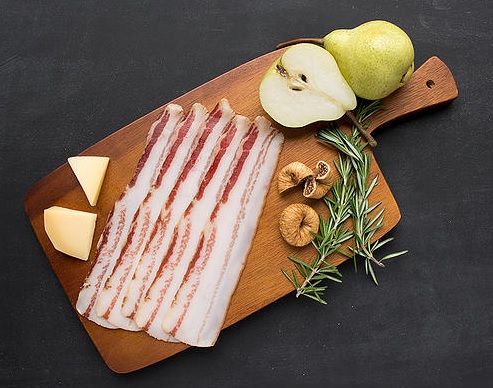 Product Demonstration Program Across British Columbia
When promoting a high quality product, you need top quality staff. Tigris has professional food handlers in British Columbia with vast experience. Our product sampling staff are confident in selling a wide arrange of products from food and beverages to alcohol and consumer packaged good.
At each product demonstration, our team focuses on sampling three meats in rotation. This includes Sliced Prosciutto, Sliced Milano Salami, and Sliced Napoli Salami. While onsite, the BA's count and record opening and closing inventory to track onsite sales accurately. Staff also record the quantity of samples distributed per product.
How to Give a Great Product Demonstration
UNIFORMS – For each Soleterra sampling, our staff dress head to toe in professional, black apparel and a Soleterra branded apron. Female brand ambassadors pull their hair back and apply makeup tastefully while men groom their head/facial hair. It's essential that our staff are well put together to represent the brand professionally.
DISPLAY –  Image is everything so the display is eye-catching, clean and well-maintained. Our samplers set packages of Soleterra sliced prosciutto and salami on the sampling stand to encourage and influence customer's purchasing decisions. Soleterra brochures are placed on the table and a pop-up banner is positioned behind the sampling table. The more branding, the better! All of the branding is relevant to attract potential consumers as they walk by.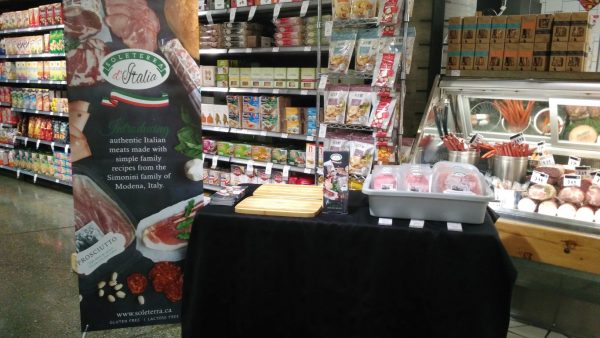 TRAINING – In addition to a visually appealing display, we train our product sampling staff on the products. We need nothing less than Soleterra brand experts who can speak to customers about their products confidently! Our BA's not only trained on ingredients and tasting notes but also on the company's unique history.
Along with key messaging, we train staff on consumer engagement. Standing idly waiting for shoppers to approach is not an option. When staff offer a sample, they leverage open ended questions to gain receptivity from customers. For example, "Hi there! Which Soleterra product is your favourite? The proscuitto or salami?" or "Did you know Soleterra's meats are authentic and traditional!". The goal of each activation is sampling but also sales. This takes us to our next point.
CLOSING THE DEAL – Although it's important to get the shoppers to try the product, the main goal is to sell! For example, our staff may say,"Did you like the sample? It's great, isn't it! Why don't you choose one (or two) to enjoy for the week?". Everyone loves free samples, but it takes extra encouragement to close the deal for a sale. Relaying key messaging about the natural ingredients, and sharing recipes are other great tactics to close a sale.
Increase Sales for Your Brand with a Sampling!
With so much competition on the shelves, it can be difficult for consumers to make a choice. Make it easy for them by providing the opportunity to touch, taste and feel your product before they buy. With dynamic brand ambassadors speaking on behalf of your brand, your product will be flying off the shelves!
Contact Tigris today for a free, no-obligation quote on our event staffing services. We operate in over 15 markets across Canada including Toronto, Ottawa, Edmonton and Calgary.