Did you know Tigris alcohol sampling promo models represent top brands across the country, for over a decade? We have hundreds of Smart Serve and Serving It Right certified promo models across Canada.
We provide top quality promotional models with sales experience for our clients. However, everyone loves to go down memory lane! Let's take a look at some highlight events throughout the decade. You may be familiar with some of the products we've sampled!
Successful Events Leveraging Tigris Alcohol Sampling Promo Models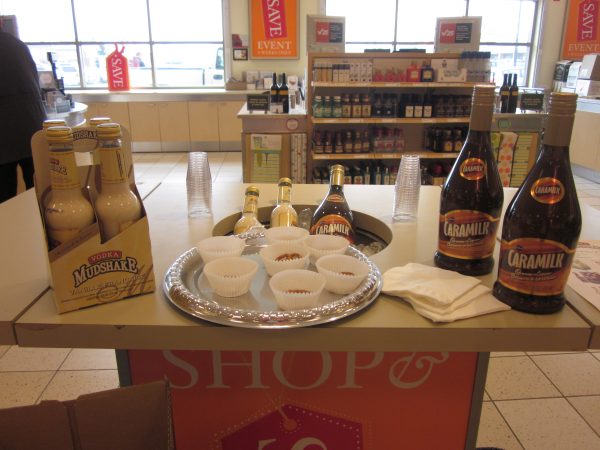 Churchill Cellars – If you've got a sweet tooth, you'd definitely like the cream coolers our team was sampling each holiday season. Caramilk Cream Liquor, French Vanilla and Chocolate Vodka Mudshakes were sampled at LCBO's across Canada. Incorporating a tasting into a holiday season is the perfect opportunity to increase sales. It's an affordable gift, and consumers can test the product firsthand.
The most important aspect of a liquor sampling is enticing new consumers. With so many options on the shelves, shoppers may never try a product simply because it's unfamilar. Most shoppers are interested in trying free samples, especially when the sampler is friendly and encouraging. In addition to spreading awareness, a secondary goal is to impact onpsite sales during and following a tasting.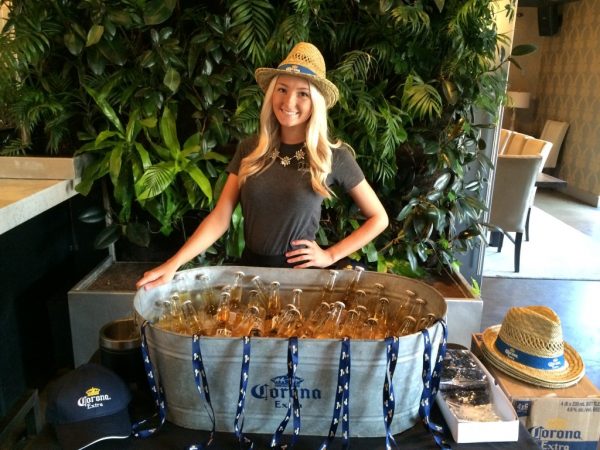 Labatt Brewing Company – Did you know Tigris has been working with Labatt since 2007? Labatt produces many products including Kokanee, Bud Light, Bud Light Apple and Corona. Because of the nature of the product, majority of these events are thrown at club/bar promotions and golf tournaments. We also host annual Super Bowl parties with Labatt, where guests can win a pair of tickets to the game and other great prizes!
Labatt products are well known amongst the public so our alcohol sampling promo models focus on creating memorable experiences for consumers. Of course, samples and sales are important. But each client has a different goal in mind. Our promotional models create a unique experience by handing out samples and free swag. At many events, the promo models join in on the fun by dancing, taking pictures and chatting with guests.
Appleton Estate Jamaica Rum & Phasion Estates Samplings with Promotional Models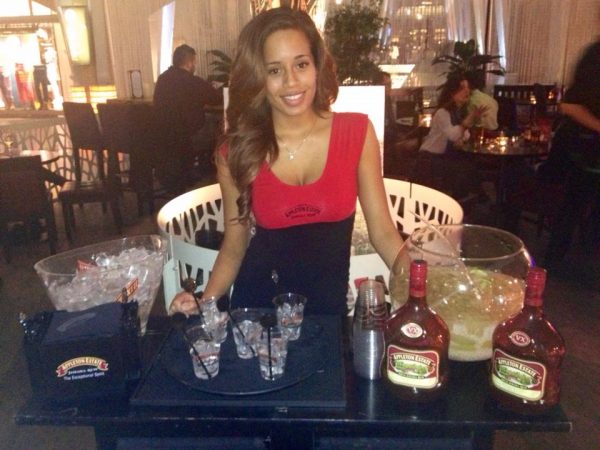 PMA Agencies –  For over two consecutive years, our alcohol sampling promo models were regularly representing PMA Agencies across Alberta and Ontario. These brands include Appleton Rum, American Honey, Aperol and Cabo Wabo.
The uniform for these events are especially important. Depending on the alcohol the staff were sampling, they were given eye-catching dresses and tops to stand out from the crowd. Everyone was excited to see the Appleton girls in their bright red dresses or gold shirts. The promotional models sold an image and lifestyle, along with the premium products.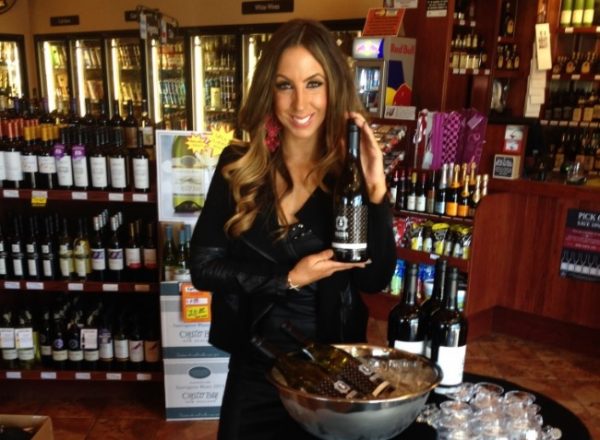 Phasion Estates – This brand wants you to "sip with style". Throughout 2014, our promotional models sampled for this one of a kind brand across Alberta and British Columbia. With wines named 'Tres Chic" and "Haute Couture", it was easy to get to get shoppers excited about the wine. Phasion Estates Winery combines wine and fashion, so it was crucial to create an elegant display, with an elegant promotional model.
Our promotional models created a stylish display to attract consumers. To go with the theme, a black table cloth is draped over the sampling table. In addition, acrylic diamonds were scattered next to the wine to create a dazzling display. People were attracted to the display immediately after entering the store.
How Our Alcohol Sampling Promo Models Prepare for their Sampling
To prepare for an alcohol sampling, it's crucial that the alcohol sampling promo model has a tasting kit for the event. What's in a tasting kit? This typically includes a table (if the store is unable to provide one), table cloth (in the brands colour and/or logo), sample cups, ice, and signage or decorations (such as acrylic diamonds). Some sampling events may require food pairing such as crackers, cheese and crackers to meet government regulations. In addition, the promotional models bring their smart serve certification and photo identification.
While onsite, a tasting report is completed. This report is used to verify the opening and closing inventory, less sample bottles used, to confirm the total sales. Calculating these numbers onsite allows us to report back accurately to our clients from event to event.
In advance of an event, our promotional models take extra time with their appearance. Hair must be clean, styled and worn down for every shirt. Makeup should be professional but not overdone. This includes eye shadow, mascara, blush and lipstick at all times. We want them to stand out from the crowd, not blend in! Think of them as walking and talking commercials. They need to look the part.
Securing Top Promotional Models for a Liquor Sampling
Whether you're looking to get your product into the hands of consumers at special events or liquor stores, having a consistent team to sample your products is important. This should include a similar appearance in staff along with their level of product knowledge, key messaging and sales experience. This will create a unique brand experience for your customers – and keep them coming back for more!
Start building your team of experts today. Contact Tigris for an event staffing services quote. We operate nationwide across Canada with over 1,500 events staff on our roster.