Retail brand ambassadors provide cost effective, scaleable solutions to businesses, especially when there are big sales opportunities like Black Friday! Canadians plan to break the bank this Black Friday and Cyber Monday as a new survey reveals spending among Canucks will be at an all-time high. According to the survey by coupon website RetailMeNot.ca, shoppers plan on spending about $1,400 per person – $653 of which will only be for gifts! Who says who can't treat yourself on Black Friday?
Canadians are looking for great deals, so it's important to make your offerings clear and enticing. Tigris is teaming up with Ivanhoe Cambridge and Metropolis at Metrotown (for the 3rd straight year!) to provide 20-25 brand ambassadors to host their annual Black Friday weekend. Due to the high volume of guests expected to visit the mall between Nov. 24-26, our team will play a key role in ensuring this is a great experience for all! Over 150+ retailers are offering amazing deals and tons of savings.
In addition, Tigris is also working with Mayfair Shopping Centre to provide retail brand ambassadors to help run their holiday promotion running from Nov. 24-Dec. 26. The aim of this event is to have an on-the-spot surprise & delight experience for Mayfair shoppers. As their current redevelopment campaign is "All for You", Mayfair aims to provide the best services truly for their customers. Having brand ambassadors available during the busy shopping season will help energize the mall and create a positive experience for customers.
How do you stay on top of the game and ensure consumers are spending money at your business?
Use these 4 strategies to create your own Black Friday frenzy!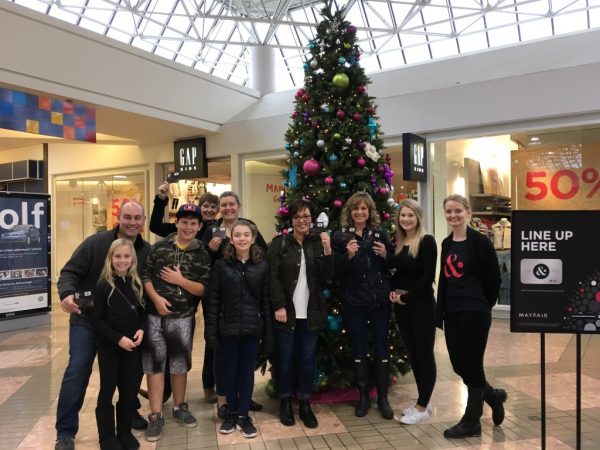 Create a Sense of Urgency
Why should consumers come to your store? Give them a reason to visit your business first, before anyone else. Include a door crasher to create a sense of urgency. A door crasher can be a limited quantity of gift cards for the first 200 guests, or a low-priced item of limited quantity offered on early-opening hours to attract buyers. Your door crasher can be completely customized towards your brand, product and/or service. No one wants to miss out on a great deal, let alone an exclusive one! You'll be surprised how many people line up early just to grab your incentive. Our retail brand ambassadors will man the lines and calm the chaos for you.

Pre-Promote
How will anyone know about your amazing deals if you don't pre promote them? Target potential, current and past consumers – no one is off limits! Below are 6 affordable, pre-promotion techniques you can incorporate into your Black Friday promotion or retail brand ambassador campaign.
Direct Mail – do not underestimate the power of Smartmail marketing! We promise it's not old school.
Flyers – create a street team to distribute flyers, engage with potential consumers and increase brand awareness.
Facebook & Instagram Advertising – this doesn't have to be expensive; hit your target audience with exciting social ads!
Newsletter – this is where you can take the time to be more descriptive with your offers and entice consumers.
Website – when consumers visit your website, the homepage should include details of your Black Friday Frenzy.
Radio Plugs – if this is within your budget, consider a radio advertisement.
On average, Canadian adults between the ages of 18 and 34, spent 12.5 hours a week listening to the radio last year!

Incorporate Retail Brand Ambassadors
Because it's going to get really busy, you'll want to incorporate retail brand ambassadors. You and your sales staff need to be in the store, catering to customers and making sales. Our team can assist your team in several ways by executing special promotions, managing lines, engaging with consumers and bringing in more traffic to your store. In addition, your customers want to feel valued – don't let a potential sale walk out the door because you didn't have enough onsite support. Retail brand ambassadors will give you just the relief you needed.

Keep It Simple
We're sure you've heard it before… keep it simple! If you are executing a special promotion, be clear about the rules and guidelines. No one wants to read the fine print, so make it obvious what you are offering, and how long the consumer has to purchase. As a result, the consumer will be well informed, understanding, and excited to shop in your store. In addition, too many sales may not actually be a good thing. Too many options can be overwhelming for a consumer, and you'll see them walking out the door with nothing! Stick to a percentage off the entire store, or have a few specific items on sale to decrease confusion.
Are You Ready for Black Friday?
Whether you are executing a Black Friday promotion or just looking to shop, we hope you have a successful Black Friday. If you work in the retail industry and would like to discuss the strategies mentioned above, we'd love to hear from you. Contact Tigris today for a free quote on our event staffing services. We operate nationwide across Canada with over 2,000 dynamic events staff on our team!