How To Create Results Driven Street Team Brand Ambassadors
Wouldn't it be amazing if you could create an exceptional street team of brand ambassadors to distribute, educate and promote your product? You probably already know that experiential marketing works best; allowing your consumers to directly experience your brand is the number one way to create brand loyalty and increase brand awareness. Using street team brand ambassadors to distribute your product or spread key messaging is a form of experiential marketing. The brand ambassadors that comprise of your street team are forming relationships with your consumers for a relativity low price compared to television and print advertisements.
Have you noticed yet that not all street teams are effective? Just think about that time an individual tried to offer you a free sample and you kept your head down or picked up your pace. You've got to wonder why some street teams are successful while others are not. We've outlined 5 secrets of a successful street team so your next outdoor promotion can achieve maximum results.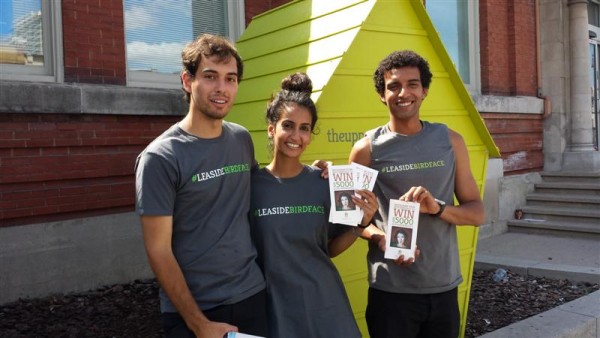 5 Secrets Of Successful Street Team Brand Ambassadors
Research The Perfect Location
You can't just stick a team in the middle of Timbuktu and expect them to distribute 300,000 samples of your product. You also can't place a street team for organic food in front of a McDonald's. It's crucial to select an appropriate time and location for your street team to appear. Figure out where your target audience will be and place the product directly in their path.
For example, Tigris is working with Maverick Brands to execute a street promotion for a pure organic beverage. They picked the ultimate location – outside of the Vancouver Convention Centre, during the weekend of CHFA.  The Canadian Health Food Association (CHFA) is Canada's largest trade association dedicated to natural health and organic products. The brand is aware of the event and realizes that their target audience will be in attendance. What better way to get noticed than to stop by an event where you know your consumer will be?
Select The Right Team
Age, gender, ethnicity, appearance, education, languages, and availability all play a role in selecting the right team of brand ambassadors to promote your product. An event staffing agency will assist you by creating a team that aligns with your brand, but it's helpful if you know what you're looking for. Be aware of your product and brand image to narrow down the perfect representatives for your product. Who does your target audience relate to?
A great example of a diversified team of brand ambassadors was for the Metropolis at Metrotown Black Friday promotion in November 2014. The client requested staff bilingual in Chinese, Cantonese or Mandarin because they knew their consumers base well and were able to identify an appropriate team for the special promotion.
 Design Eye Catching Uniforms
You don't need to cover your brand ambassadors in feathers and sparkles (although that may help draw attention!) but it's important to provide your street team with an appropriate uniform. You also need to be aware of the weather conditions! Do you need branded t-shirts and umbrellas? Or branded t-shirts and matching jackets? Your team will be impossible to miss if they are all clearly branded and matching. It will also increase the level of professionalism and their level of authority to the public.
If you want to go above and beyond branded uniforms, try a walking billboard promotion! Lightweight and comfortable, brand ambassadors are able to wear these backpack billboards for several hours at a time. The billboard will display your brand and literally turn heads. It's an effective method to get consumers to stop, and once they do, the street team can place your product in their hands! Speaking of which, we have events staff showcasing advertising using these billboards for Zoocasa and RBC in Toronto this month – so keep on the look out!
Provide Clear Product Messaging (And Conversation Starters!)
So now you've got the best looking street team ever. Here's the bottom line; if you're street team isn't well informed, they won't be able to accomplish anything. Be sure to tell the temporary staffing agency the main features and benefits of your product so they aren't simply handing out items they know nothing about. What makes your product unique? Why should consumers choose you? Relay this information to the agency so they can prepare your street team and make people desire your product.
Sometimes, for whatever reason, people don't want free stuff. They are too preoccupied, busy or afraid of the individual selling for them to accept the product. Conversations starters are super important and effective. Instead of saying "Would you like a free sample?" have your brand ambassadors say "Have you got your free sample of ____"? This is effective because it outlines FOMO (the fear of missing out). The consumer isn't given a choice; instead they automatically begin to think "Wait, no, I haven't gotten one! Who else did? What is it?" That's when the brand ambassador begins to relay the product information and create a memorable experience for the consumer.
Be Ready for FAQ's
Street team brand ambassadors are walking, talking advertisements for your product. They need to know as much as they can about your product to represent your brand as accurately as possible. Be transparent and tell the truth! Prepare your brand ambassadors for the tough questions. Do you test on animals? Where do you get your ingredients? What does fair trade mean? Your street team will engage with thousands of people per day, and some are bound to ask the hard questions. It's better to be prepared then have your team stammering for answers.
Are you ready to create an amazing street team, increase brand awareness, brand loyalty, and sales? Spring has just begun and this is the perfect opportunity to have a street team of brand ambassadors distributing your product. Tigris has brand ambassadors all across Canada, including Toronto, Montreal, Vancouver and Calgary. Call us today for a FREE quote on street teams, event staffing, or creative services at 647-286-9392 .