Can you believe it's only 1 month until Christmas? You may have noticed flashy e-mails and loud commercials displaying multiple retail promotion strategies for Black Friday. Black Friday (typically in the USA), is acknowledged as the first official day of Christmas shopping. To celebrate, retailers offer consumers special offers, and Canada has recently joined the celebration.
As a shopping mall with multiple sales and promotional offers, it's important to keep your consumer as happy as possible. With crowds, lines, and an overwhelming selection, shoppers can become easily flustered. Alleviate their stress (so they can continue to shop!) with these 3 successful strategies.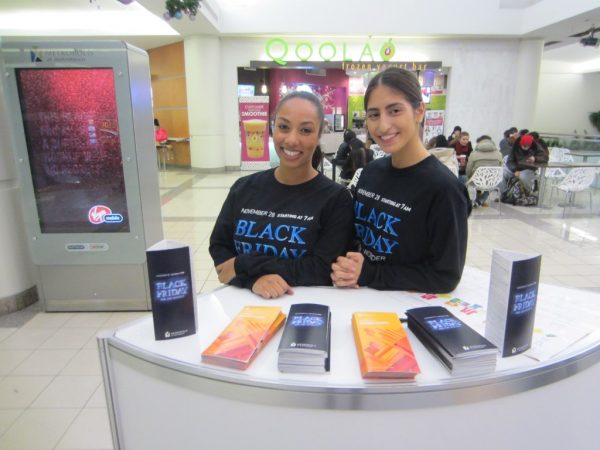 3 Retail Promotion Strategies to Please Your Consumer
Why is your shopping mall the ultimate Black Friday shopping destination? Because you've got contests, prizes, and great deals from the best retailers! As you read this blog post, we dare you to resist the Black Friday temptation.
Exciting, Easy to Win Contests
Our Vancouver events staff are assisting with several Black Friday Promotions. They will be at the following shopping centres: Northland Village Mall, Mayfair Shopping Mall & Metropolis at Metrotown. Each shopping mall has something different to offer their consumers.
We love the live, onsite contest hosted by  Kool 101.5 at Northland Village Mall Nov. 25th. Tigris brand ambassadors will be strolling the mall and anchor tenants, interacting with shoppers and encouraging them to fill out an entry ballot. There are 5 prizes to be won! Winners will receive a $100 gift card to the retailer of their choosing. At 1:45pm Kool 101.5 will do a live prize draw, onsite at Center Court.
A live, onsite contest is a great strategy to excite consumers. In addition, it keeps shoppers in the mall for a longer period of time – they can't leave without hearing the results!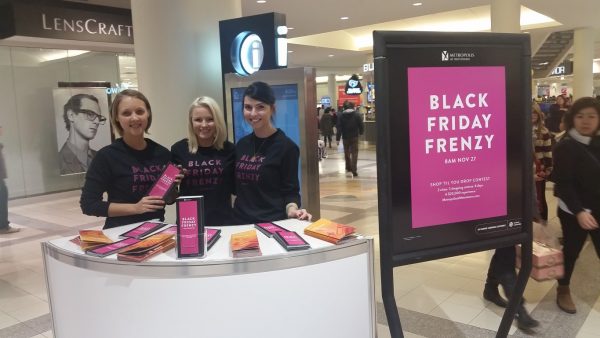 Valuable, Instant Prizes & Incentives
Did you know Mayfair Shopping Mall is giving away bonus gift cards? Starting at 8AM on Nov. 25th, guests can receive the following Black Friday Offer while quantities last: purchase $200 in Mayfair gift cards and receive a $20 bonus gift card!
In addition to managing the gift cards, our team will assist with line management, roaming the mall with cookies and providing directional services.
Helpful Brand Ambassadors Onsite
For the 3rd consecutive year, Tigris has been contracted by Ivanhoe Cambridge / Metropolis at Metrotown to provide a team of 25-30 staff to assist with their annual "Black Friday Frenzy" weekend. The client requested Cantonese and Chinese speaking staff to cater to their clientele. Due to the high volume of guests expected between Nov. 25-27, to ensure a great experience for all shoppers.
The staff are at kiosks with a list of over 5,000 Black Friday Deals, and mall maps. In addition, the brand ambassadors will be equipped with directions and a FAQ sheet. With over 150 retailers offering amazing deals, it's up to our team to ensure the shoppers are able to locate them!
Retail Promotion Strategies, Professional Brand Ambassadors and More!
Here at Tigris, we create plan and staff memorable experiences for consumers. Contact Tigris today for a free quote on our event staffing services. We operate nationwide across Canada with over 2,000 dynamic events staff on our team!