Plan an event for yourself, if you have the time and resources. If not, hire Tigris!
In September 2021, we had the pleasure of partnering with international brand, Wurth, for two grand opening events for the launch of their first Canadian flagship store! A week apart, we assisted with an invite only soft opening for Wurth employees as well as their public grand opening event on September 17, 2021. While the events themselves were rewarding and successful, they were a lot of work!
So, what goes into a grand opening? Let us help you plan an event! See for yourself exactly what it takes to plan a successful grand opening!
We take it you want to plan an event. Well, any successful event starts with a detailed plan. In fact, we've already shared our own event planning checklist. Once organized and you've sorted out budget and logistics, we suggest sitting down for a brainstorming session. This always helps us to get creative and bring the event to life. Any easy way to get started and to plan an event is to tap into the human senses. If you can touch on all the human senses (and yes, there are 7) then you are guaranteed to take your event from a simple launch to a memorable experience.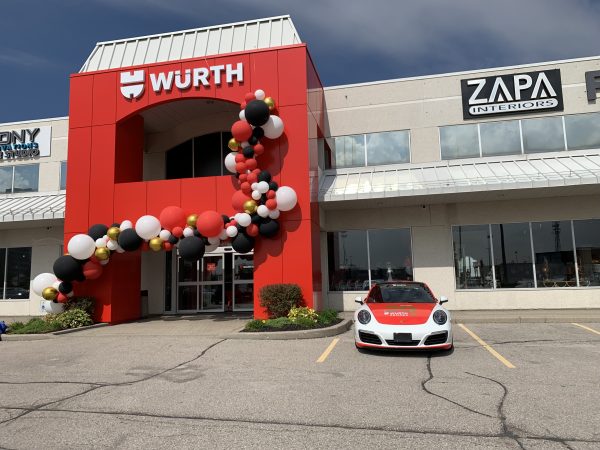 Taste, Touch & Smell
Our favourite senses to start with are taste, touch, and smell. Why, you may ask? Well, because they have to do with one of our favourite things: catering! Whether large or small, a successful grand opening should offer guests food and beverage options. For example, during Wurth's grand opening events a variety of beverages were available. For both the internal and public events, a complete coffee bar was available as well as various soda pop and bottled water available. In addition, a special occasion permit was obtained for the internal event only, so offer select wines and beer could be offered along with champagne to toast their success with! During the public event, beer, wine and champagne, was swapped for non-alcoholic Heineken (fitting since Wurth is a German brand), so all members of the public were welcome and able to enjoy.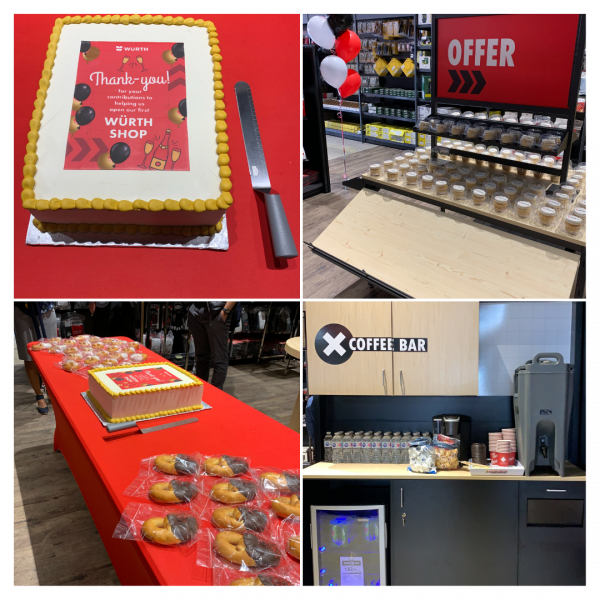 Sweet and savory food options were also available onsite at both events! Paying homage to Wurth's German roots there were fresh baked pretzels available. In addition to the pretzels, there was a selection of catered sandwiches. To tempt the guest's sweet side, there were a variety of sweet treats including a custom photo cake for the private event and pre-packaged branded cupcakes for the public event. It's safe to say guests went home satisfied! The store smelled great with so many appealing scents. However, if you're catering is perhaps prepackaged or in a different space, consider the use of diffusers. This is a simple, easy trick to delight the senses.
Sight & Sound
Just as important as taste and touch is sight and sound! Your event space should be visually appealing. The nice thing about grand opening events is you are literally activating within the new storefront. This automatically provides a clean and well decorated space. However, just showcasing the store is not enough, you want our guests' senses tingling! In order to highlight the décor instore as well as brand colours, Tigris set up several balloon bouquets throughout and had a custom balloon arch installed for the public grand opening event. In addition, there was a Wurth branded corvette parked outside as they were the sponsor for an upcoming race. There were branded giftbags, red tablecloths and of course a DJ! Guests were welcomed and waited on by Tigris brand ambassadors, making everyone feel like a VIP.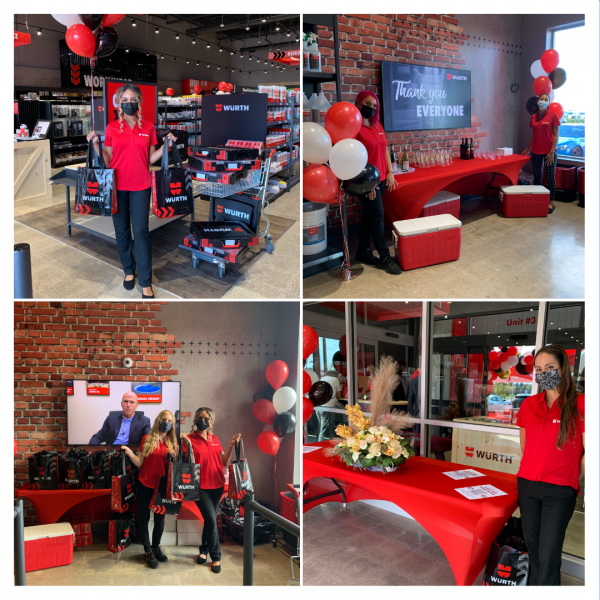 Movement & Position
Two senses are often forgotten, most people think there are only five. Well, at Tigris we surely consider them all, movement and position are just as important as the others. In fact, they may be even more important during the era of post-pandemic planning. You want to ensure extra square footage per guest, there should be enough room to socially distance. Spatially, each segment of the event space should serve a purpose.
For example, at the Wurth grand opening events, space was utilized both indoors and out. For the internal events, the front vestibule was designated as the sign in/contact tracing area. Next, employees were welcome by our brand ambassadors and offered a beverage. From there as they made their way throughout the store, there was a coffee bar as well as a middle section, with the cake and pretzels and cruiser tables to enjoy conversation and speeches.
During the public event, since there was a higher attendance, the event primarily took place outside! Under branded tents, the pretzels & non-alcoholic beer were available to enjoy alongside the DJ and a cruiser table area. Indoors, a swag table as well as more cruiser tables were set up next to sandwiches and cupcakes. Thus, ensuring employees could chat with the public, have them tour the space and offer them a treat on their way out!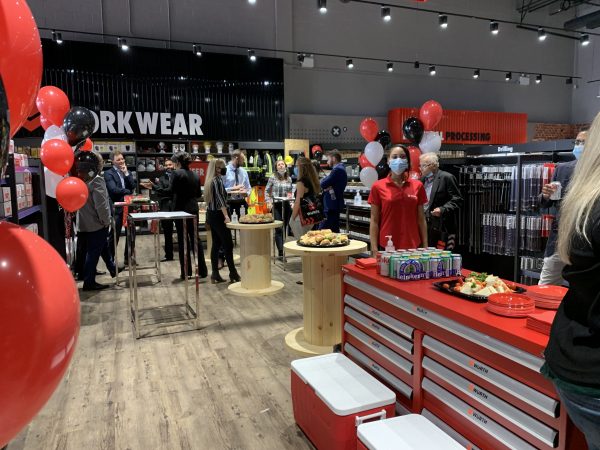 Bonus
While you want to ensure guest attendance at your events, be sure to advertise! Wurth had the honour of MPP Stephen Lecce join in the festivities, along with the CEO of Wurth to conduct the ribbon cutting ceremony and thank guests. Finally, all guests were given gift bags as a thank you for attending!
All in all, if you count happy guests, client, and media attention, it's no wonder these events were a success! The question is do you still want to plan an event? We hope we inspired you, but if you'd like a hand, be sure to click below and contact us for a free quote today, we would love to put together a proposal for you and bring your special day – whatever it may be to life! If you'd like to see some of our work, well we planned our own Fab 15 Anniversary party back in 2019, check out our video!