If you haven't already heard, this past August, we teamed up with Benefit Cosmetics Canada for a "high brow" influencer marketing event. This experiential activation was an invitation only, influencer event and product launch. The "Love Your Brows Lounge" took place in the Bellair Suite at the luxurious Four Seasons hotel in the Yorkville neighborhood of Toronto. With just less than a month of prep and planning time, we quickly got to work. Curious how we did it? Let us share with you! Even better, we'll show you exactly how an influencer marketing event can drive your brand's message directly into a larger market!
Key Messaging & Branding
Key messaging and branding are a critical part of any influencer marketing event. Guests were surrounded by Benefit branding the moment they entered the suite – from branded pillows and pink towels to custom decals and step and repeat walls. Even the smallest of details did not go untouched. For example, we had custom book covers, stickers and decals produced – even the hand sanitizer bottles were branded! In addition, Tigris had curated a dozen custom product displays, which were affixed with branded stickers on the back. This ensured Benefit's new line of brow products were on full display!
While it can sound like a lot of branding, the key is to make the brand shine, but in a tasteful and creative way. Each impression was fun and served a purpose. In addition to the branded assets, guests were invited to a product demonstration. There were also custom brand videos on looping on two tv's within the suite paired with music, to add to the ambience, and reinforce key brand messages.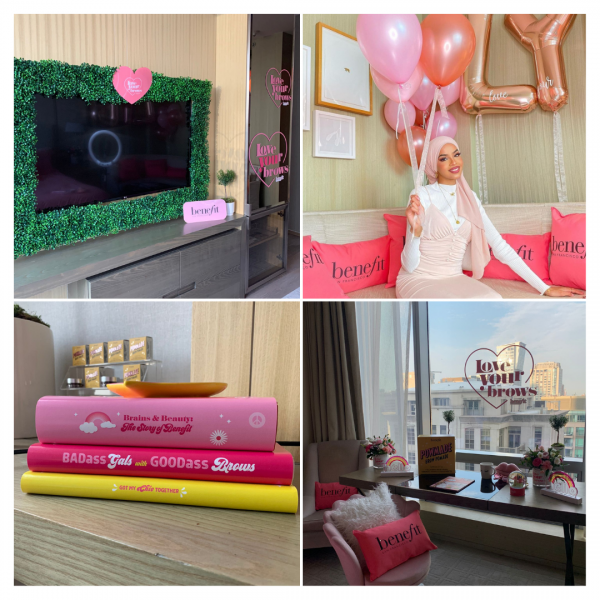 Make It an Experience
The next step to producing a successful influencer marketing event is making sure its memorable! Benefit came to us with inspiration, and it was our job to interpret that vision and bring it to life. How did we do this? Well, both Benefit and we agreed that each asset, material and piece of décor should serve a purpose. This made each room within the suite an experience in and of itself!
To turn the Love Your Brows Lounge into a 360-degree interactive experience, each room, each asset, and each piece of décor had to be well thought out and become a part of the experience itself. We started with each room, transforming them into something different from the next. Upon entry, guests were surprised with a whimsical, yet luxurious experience, with a ceiling covered by balloons and cascading chiffon ribbons. As they were greeted by staff and made their way further into the suite, they were exposed to several other surprise and delight moments.
Master Bedroom & Bathroom
The master bedroom was a fun and relaxing oasis. Custom pillows and pink bedding was set up alongside decaled balloons. Interactive product cutouts were available for pictures, in addition to florals, a pink desk chair, and even more décor. Next, as guests entered the en suite washroom, they were stopped by a greenery wall, topiaries and suspended "egg" chair. In addition, the floor length mirror was decaled, perfect for taking a flawless selfie. The washroom itself even had a unique set up. Satin pink robes, branded towels and decaled mirrors were perfect for a photo op. We even had the bathtub filled with pink, white and clear pit balls with heart shaped inflatables to match.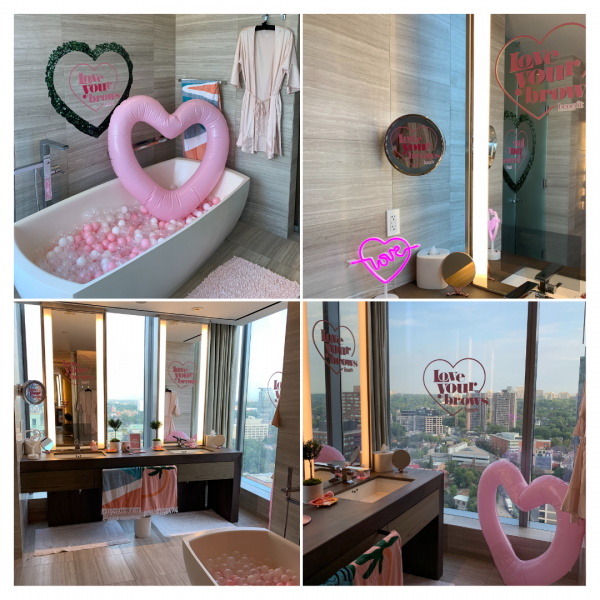 Living & Dining Area
As guests made their way into the living and dining areas of the suite, there were even more surprises in store! The living room and dining room each had their own step and repeats. The living room provided a cozy environment, giving guests a chance to relax and enjoy a selection of treats! The view had guests saying "wow", as did the custom decals/signage, heart shaped topiaries and even a claw game! In the dining room, the new product line up was on full display. The dining room table transformed using a branded table runner and custom displays. There was even a portable brow bar!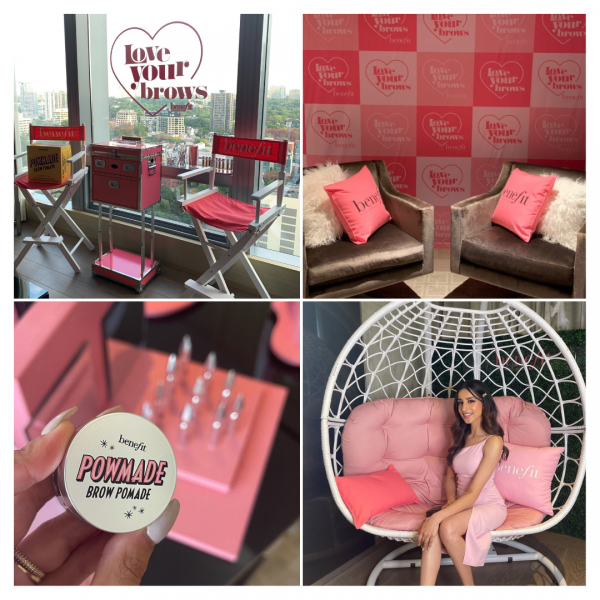 Treat Your Guests
No influencer marketing event is successful if your guests don't leave feeling like a VIP! From the very first moment, Benefit's guests were greeted by staff in the hotel lobby and personally brought up to the Love Your Brows Lounge. Utilizing pre-planned groups, this kept the event space from being overcrowded as well as covid-friendly.
Upon entry, guests were greeted with champagne and catered treats. Remember the portable brow bar? Well, it wasn't just for show! Guests were offered a complimentary brow service. That's right, they could get their brows waxed/shaped directly onsite! After engaging with all the unique photo opportunities and sharing the fun with their followers, guests were given presentation of Benefit's exclusive new product line up. And on their way out, they were gifted with custom tote bags including curated PR boxes along with a Benefit branded beach towel and makeup bag. Every little detail was thought of! Offering a once in a lifetime experience and white glove service had all guests feeling like a guest of honour.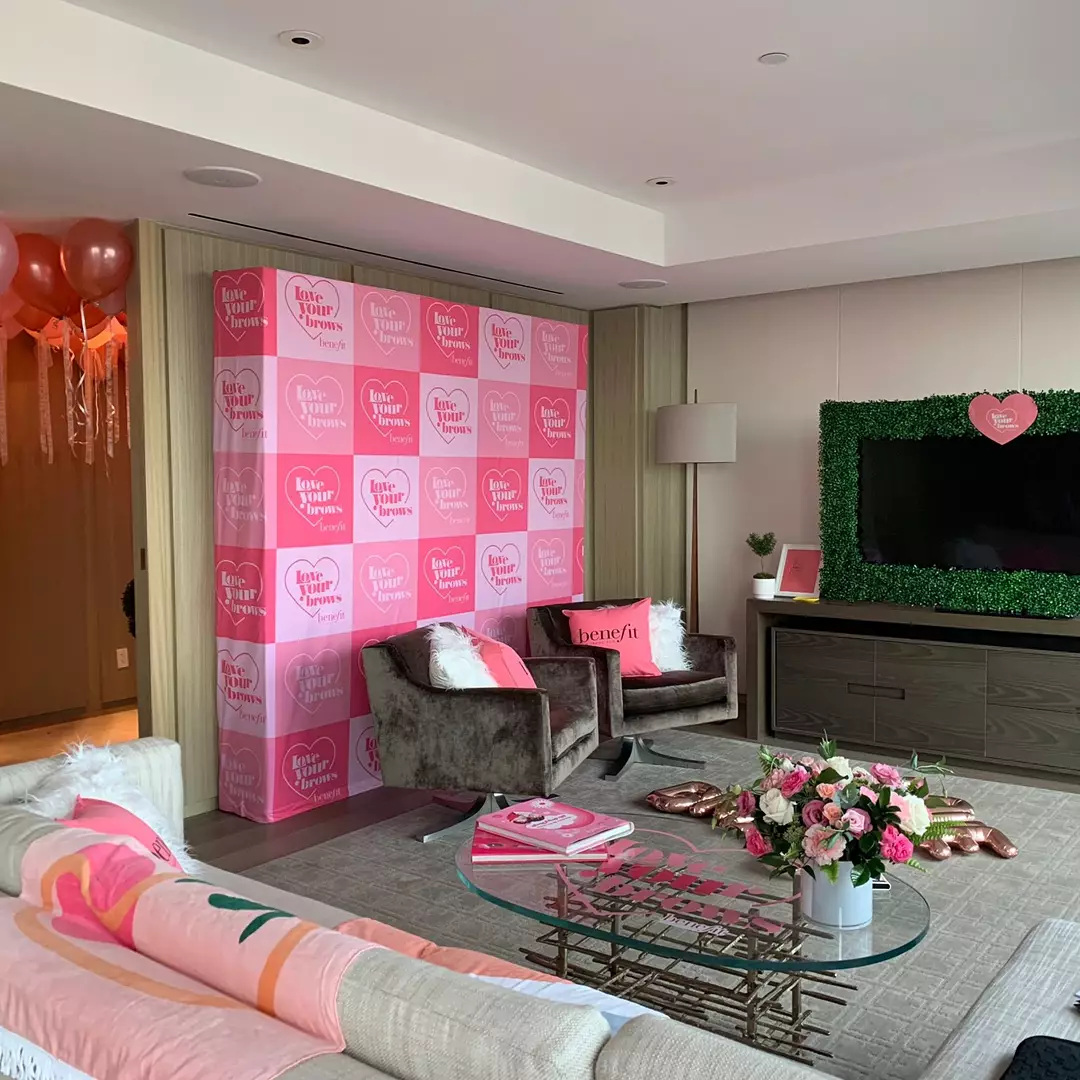 Takeaways
What truly made this influencer marketing event a success was our ability to utilize 3 simple, yet effective steps that we continue to recommend: visibility, incentive, and white glove service. The creative and interactive way Benefit chose to launch their product line is one to remember. By offering a unique experience to influencers within the beauty community, they were able to reach thousands (if not millions) on a global scale! Each influencer shared their experience with their large followings directly on their social media channels. The reach was incredible! It's safe to say Benefit's goal to launch their line to a larger audience was achieved. What a dream event to be a part of. We would like to extend a big thank you to our clients at Benefit Cosmetics Canada for this amazing opportunity! If you're feeling inspired or dreaming of similar results for your next launch, click below to contact us today.