Tigris' Tips for Planning Outdoor Marketing Events
Next time you're walking around the busy streets of Toronto, try taking in what's going on around you. Have you ever really stopped and given the time of day to someone who's handing out flyers, asking for donations, wanting to chat about a cause, or encouraging you to enter into a contest? All of these are various outdoor marketing events strategies. The range of how to execute an event is huge, and outdoor events are just starting to bloom with the beautiful weather we've been fortunate to have!
Outdoor marketing events vary from small to large scale – it all depends on what you're trying to promote! Over the past decade, Tigris has planned and staffed hundreds (if not thousands) of outdoor marketing events, so we have a few tips we'd like to share to ensure that your next event will be a success before taking it outside.
Type of Event
Did you know the difference between types of events? An event is deemed a Special Event irrespective of anticipated attendance, if one or more of the following is true:
1. The event will be selling or serving food to the public
2. The event will be using sound amplification (speakers, mega phone)
3. The event will require the construction /installation of tents, or stages
4. The event will be serving or selling alcohol
5. The event will use a hot air balloon
6. The event will have amusement type rides and games ie. Bouncing castle
7. The event is accepting donations, fund-raising, running a lottery, draw or raffle
8. Fireworks
9. The use of generator(s) in the park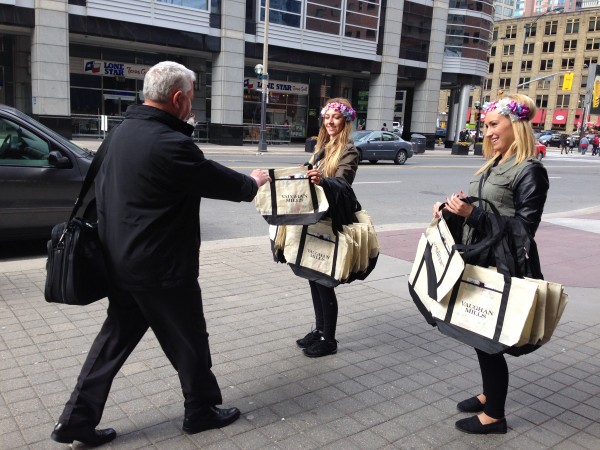 Location
Location, location, location. Figure out your ideal location and then look into permits, just to make sure you can make your event happen! Also, be sure to know exactly who your targeted audience is. Once you know the market that you want to hit, it will help narrow down locations to activate your outdoor marketing event. If you're looking for dog owners, try executing your event in a park; however, many government run parks have a special set of guidelines you need to follow – for example, the event can only be not-for-profit and open to the public. If this is not what you want for your event, you will need to consider a privately run facility or a federally run park vs. a provincial or city park.
Permits
Where are you planning on holding your outdoor marketing event? The waterfront, a local park, or right in the heart of the city? Either way, you're going to need a permit to execute your event, especially if it's large scale. Be sure that you have researched the city's rules and regulations and ensure yourself enough time to secure a permit. For the city of Toronto, permits should be submitted eight weeks prior to your event date – just an FYI. In the case that you're executing a massive event, you're most likely going to need more than one permit, and you will have to deal with different departments. Will your event require road closures? You'll need a permit for that. Will you be serving alcohol? You'll need a permit for that. The fastest way to shut down an event is to hold it without a permit. The list goes on and on, so be sure to research!
Interesting announcement from the City of Toronto: In conjunction with the Pan Am/Parapan Am Games, Parks, Forestry and Recreation has developed a Permit Reduction Program which will provide organizations/groups an opportunity to apply for this one time funding for Pan Am/Parapan Am Games related community events prior to and throughout the Games. Just another FYI 😉
Weather
Plan for rain! While we all hope for sunshine, there is a 50/50 chance (or higher) that the rain could spoil your day. How can you combat this? One of the best solutions for an outdoor event, depending on the type of event, could be tenting. Some companies require alot of time to get tents up but others are portable and can be set up in a flash. Again, this depends on the size of your event but it's always better to be safe than sorry. You can also buy weather insurance just in case you need to cancel your event due to a crazy thunderstorm that wouldn't be safe for guests to attend anymore.
Communication
Communication is key! All throughout your event, you'll need to have a communications plan. You need to have second and third plans prepared and the ability to pull through. If you're event is up north, there could be a risk that your cell phone(s) won't work – or could die mid-day. To combat this concern, you could arrange for walkie-talkies or head sets to stay in regular contact with your entire team (potentially on different channels for different groups) so everyone is 100% accessible, especially in an emergency situation. Depending on where your outdoor event is located, cell phone signal may not be strong so you have to plan on back up.
Working Outdoor Marketing Events
As a brand ambassador, you've probably been rained on a few times while working outdoor marketing events. It's important to not let the weather get you down though. Being a brand ambassador, it is your job to represent the brand to the best of your ability, especially if it's a rain or shine event. There are some things to keep in mind when working an outdoor event, because only Mother Nature knows what kind of weather we're in for!
Uniforms. Uniforms can be tricky with some brands – it may be 30 degrees outside, but you're required to wear black dress pants and a long sleeve shirt. Depending on how flexible the client is, ask the account manager if shorts could be an option. Never assume. If it's a rainy day, be prepared and embrace the weather! Bring an umbrella, a poncho, a sweater – whatever you think you'll need to stay dry for however long your shift is. At Tigris, we value our events staff and recognize that in order for you to be as outgoing of a brand ambassador as you can be, you have to be comfortable! On a hot sunny day, bring water! There were be complimentary water while working outdoor marketing events, but bring some just in case. Sunscreen and hats are also key. If not outlined in your protocol, please don't wear flip flops even though it's hot out. This is mostly for safety reasons – so trust us! For whatever the environment may be while working outdoor marketing events, be prepared! Outdoor marketing events are full of surprises. You never know what you're gonna get!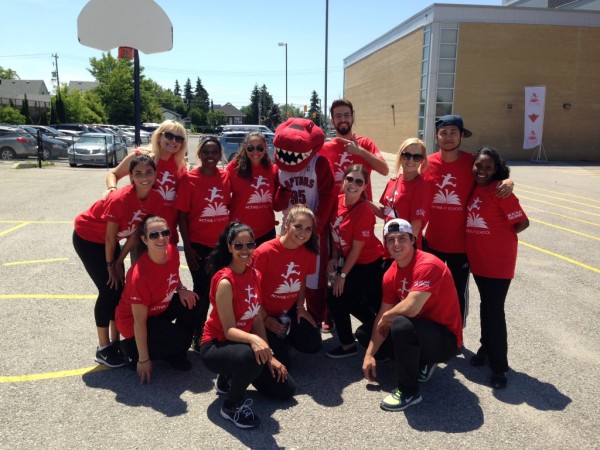 Summer isn't over yet! Are you looking into outdoor marketing events but need some help with planning and staffing? Tigris would love to help! Call us for a free quote today at 416.283.9119.