Embracing the Weather for Pride Toronto's Rain or Shine Events!
If you were at Pride Toronto this year, you were definitely no stranger to the rain! When I first arrived at Pride on Saturday morning, I remember saying to my friends, "don't worry guys, there's no way it can rain all day!" Well, I sure learned not to test Mother Nature because apparently when it rains, it pours – for over 12 hours straight.
Being a rain or shine event, Pride still delivered and the weather didn't stop the crowd from enjoying the festivities of the weekend. Although the crowd wasn't quite as large as it would be on a hot, sunny day, there was still a great turn out and a lot of fun was had.
We all know that so much work goes into Pride, so why let a little rain ruin all of that? Pride Toronto is a not-for-profit organization which hosts the annual festival in downtown Toronto, which takes place each year during the last week of June. Not only is there the Pride Parade, but Pride actually has a whole week dedicated to celebrating our diverse sexual and gender identities, histories, cultures, creativities, families, friends and lives. If you haven't gone, I urge you to go next year! There's something there for everyone.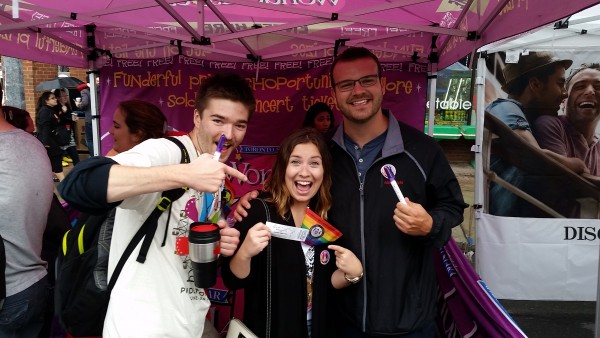 Pride Toronto includes a three-day street festival with over eight stages of live entertainment, an extensive street fair (where our event staff got to work), a special Family Pride program, a politically charged Dyke March, a Trans March and the famous Pride Parade (also where our brand ambassadors got to work)! All together,  Pride Week is a 10 day event and is one of the premier arts and cultural festivals in Canada. It is also one of the largest Pride celebrations in the world with an estimated attendance of over 1.2 million people!
As you can see, so much hard work and dedication from so many people goes into making Pride an amazing festival. This is why it's a rain or shine event – nothing can stop Pride and a little rain never hurt anyone!
Tigris Brand Ambassadors Work Rain or Shine Events Across Canada at Pride 2015
One of the major responsibilities of being a brand ambassadors with Tigris is that you are willing and able to work in various conditions. Obviously, this year's main concern was the weather. Luckily, Tigris has superstar event staff to got the job done!
Pride is a festival that's celebrated all around the world. As much fun as we had at Pride Toronto, we can't forget about our event staff out West! From June 26-28, our team of four outgoing brand ambassadors represented Pfizer's Viagra at the Alberta Rockies Gay Rodeo, which is part of the Canadian Rockies International Rodeo and Music Festival. This is the largest gay rodeo association in the world! During the event, our brand ambassadors had a blast giving out temporary tattoos to patrons who were visiting. Lucky for them, they had nicer weather than Toronto and people loved getting their "sleeve" of  tattoos!
Not only did Pfizer sponsor the Canadian Rockies International Rodeo and Music Festival, but they also sponsored the Toronto Pride Parade, and our staff had the chance to be a part of both festivals! For the Toronto Pride Parade on June 28th, Tigris staffed 12 brand ambassadors, including one event manager, that were 30 + years old to man the Pfizer/Viagra float. There were two men on the float waving and cheering to the crowd, four marching by the wheels of the float, two distributing Pfizer branded sleeves and temporary tattoos and four handling the larger than life size Viagra balloon.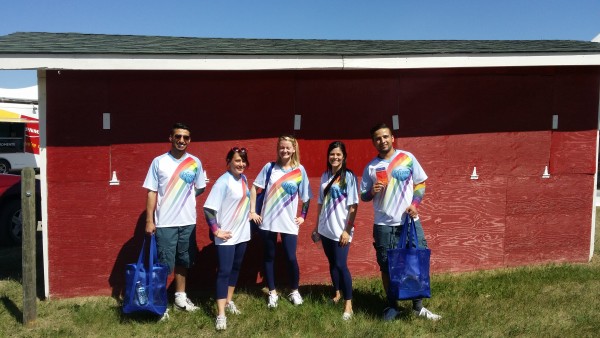 Along with our Viagra brand ambassadors, we also had three additional event staff working at Pride Toronto's street fair. From June 27-28, Tigris had three fantastic brand ambassadors promoting Toronto Star's Wonderlist. Our team was responsible for the set up and tear down of their booth and engaging people to subsribe to Wonderlist for the chance to win a meet and greet + tickets to Idina Menzel's concert! They also got to spin the prize wheel and win instant prizes including hand sanitizer and Jay's tickets. Despite the weather, they kept their energy up and the crowd pumped!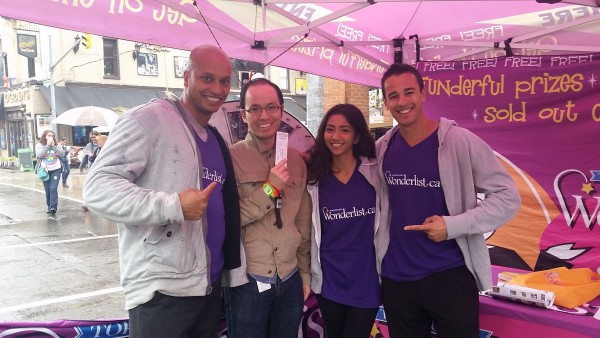 Depending on what type of festival you're attending, it's not always going to be rain or shine event. When the event does go on, despite the weather, you need to ensure that your staff are 100% committed and energized to deliver the best possible brand experience. This is exactly what our Tigris event staff do, and we couldn't be more thankful! So rain all you want Mother Nature, you're not stopping us!
…Well, some sunshine would actually be nice 😉