Checklist: 12 Questions to Ask Before Hiring Event Staff
Choosing the right event staffing agency is crucial to producing a successful event. Here are 12 questions to ask an agency that will help ensure you're making the best decision for your needs and goals. We suggest asking at least 4 of these 12 questions before signing on the dotted line!
How do you find your staff?
Whether the agency is actively recruiting new talent or sorting through an influx of online resumes, it's important to understand where the candidates are coming from. Are they using social media or job posting sites to attract new talent? How often are they replenishing and refreshing their current roster? Although it may seem unnecessary for an event staffing agency to continuously recruit, it's actually a huge part of the agencies role. Attracting top talent in major (and niche) markets is a talent in itself!
What type of questions do you ask candidates during the interview process?
Because working as an events staff is a role that accepts many personalities and skills, the interview process should differ from a typical interview setting. As an event staff, individuals are required to act as chameleons, adapting to multiple brands and audiences. Agencies should be testing candidates in a group setting with extensive role playing to ensure they are capable of the job.
How do you know who will be the best fit for my event?
Everyone has strengths and weaknesses; the same goes for event staff. Some may excel in a sales based setting with an hourly quota, while others are experts in registration technology. Event staffing agencies should know who the best fit for your event will be based on the staffs' working experience, related skills, and their personal experience working with the individual. Look for an agency that knows their team well, regardless of the size.
Can you share any similar experience?
It's important to know if an agency has previous experience supporting an event with your requirements. This may include the quantity of staff, languages spoken, aesthetics and more. If they don't have related experience, ask why they believe they have the capacity to support your event. In addition, don't be afraid to ask for references. It doesn't hurt to do your research!
What support do you provide throughout the planning process?
Don't just hope for the best when working with events staff. An Account Manager should be assigned to your account, who will walk you through the process of selecting, preparing and delegating tasks to the team. Knowing which deliverables to expect from the agency will help avoid last minute surprises and manage expectations from both sides. You're looking for an agency that's transparent with their timelines, capabilities and prices.
What is the course of action if the hired staff doesn't show up?
Unfortunately, this is a reality that you may encounter. As you know, life happens. Whether the staff are sick, stuck in traffic, or encounter a personal emergency, an agency must take these factors into consideration. Having a plan in place to deal with such circumstances is essential.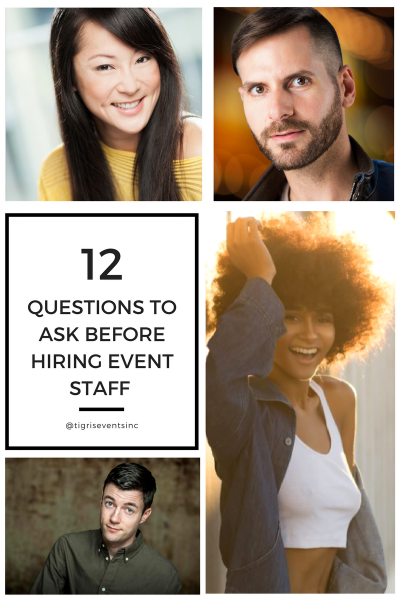 Do you have incentives for staff working sales based promotions?
Incentives encourage sales staff to go above and beyond your quota. Although it may seem expensive, you have to consider the ROI. It's important to ask the agency if they already have a sales incentive program in place and what they are comfortable implementing into your sales based program (if applicable).
What happens if I select a team and they don't perform well?
Argh! All that time and money spent training a team that doesn't perform well is definitely something you want to avoid. Sometimes, this can be a quick fix. If you've hired a team of staff to execute a week-long program, and a few staff aren't performing well, the agency can pull them from the program and implement new staff immediately. If it's a one-day event, ask if the agency offers any type of compensation for unsuccessful team members.
How would you manage a large team of 50+ staff?
Onsite management is crucial. With a large team of events staff, there must be someone onsite from the agency to delegate duties, oversee staff, manage breaks and be your main point of contact throughout the day. How many 'managers' do they provide per quantity of staff? What is the manager responsible for? These are all important questions to ask if you require a large team.
What do you provide post-event?
If an 'invoice' is their answer, you may want to keep looking. Although you may only require staffing support, the agency should still provide you with a detailed report. This report may include consumer testimonials and insight directly from the staff. It's important to learn from those who interacted directly with your consumer. This report may help you decide whether you'll execute the same event again, what worked and what didn't.
Can your company assist with logistics?
It's usually easier to deal with a full service agency instead of sourcing all of your event components from different vendors. Ask if the agency handles booth design, vehicle and storage rentals, staff uniforms, and promotional product giveaways, to name a few. That way their support is there if you need it!
Do you have a customer loyalty program?
Chances are you'll be needing staff again for another project, or for an entire years worth of trade shows! If you're offering continuous business, ask if the agency offers a discounted fee for long-term contracts or large scale events. In addition, some agencies offer a referral bonus for their current clients referring new clients.