Toronto event staffing agencies have event staff available year round – but demand for them is strongest throughout the spring and summer. While the warm weather is barely upon us, we're already looking forward to summer festivals with Grace Foods. Our relationship with Grace dates back to 2015; our very first event was at the Green Living Show in Toronto! This year, our Toronto event staffing agency will have event staff to support the Caribbean company at multiple festivals throughout the summer.
As a product sold in major grocery retailers, it's important for Grace to be out in their community to create awareness. Because shoppers have several options of coconut and jerk products, it can be difficult for them to make an informed decision. That's were our Toronto event staff come into play!
You'll spot our Toronto event staffing team representing the Grace brand and their delicious products this year at Taste of Lawrence July 6-8, Salsa on St. Clair July 7-8, JerkFest August 4-6 and Pan American Food & Music Festival August 12-13.
Toronto Event Staff to Connect with Consumers
Stephen Dupont from Pocket Hercules states, "There are three marketing rules you should always follow: 1) Connect with relevant messages, 2) Be likable, and 3) Go to where the people are." Grace knows where their target audience is, which is why they successfully attend the same festivals year after year (and add a few news ones into the mix!).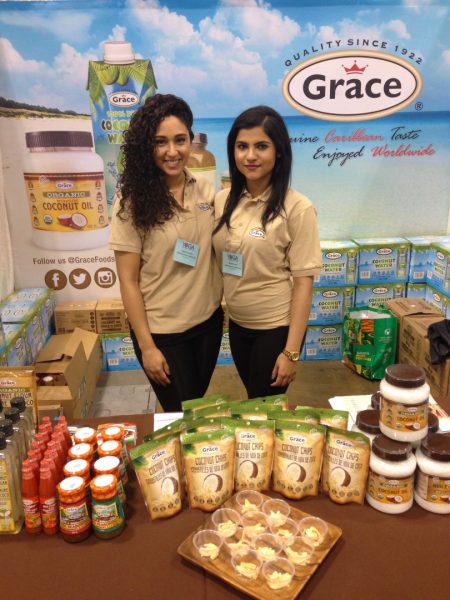 Because the majority of these events are community based, our Toronto event staffing team will be sharing relevant key messaging and establishing meaningful connections with attendees. The community is already very familiar with the brand and looks out for the Grace tent/booth each year. A great example of this is from earlier this year when Grace exhibited at the Toronto International Bicycle Show. Many guests exclaimed they were happy to see familiar faces represent their favourite brand of coconut water. As a result, over 1,000 samples were distributed within the 3 day show.
Brand Awareness is the level of familiarity that consumers have with a particular brand — its name, characteristics, logo, and anything else that might be strongly associated with it, as well as its goods and services (HubSpot). Become a household name in your community by participating in events that promise to draw a crowd within your target demographic.
Not sure where to start? There are hundreds of events in Toronto to choose from. Of course, you must take your budget and brand into consideration. Are any of these events right for you?
Toronto Trade Shows & Festivals
Canada Blooms and National Home Show (March)
Toronto Yoga and Conference Show (April)
Redpath Waterfront Festival (June)
Toronto Festival of Beer (July)
Canada's Bridal Show (September)
Whole Life Expo (November)
One of a Kind Show (November-December)
As you can see, there are plenty of options available for each and every brand. Take a look to see what other exhibitors have done and how your brand can make a memorable impression on guests. Don't forget to take the ROI into consideration.
Create your own Toronto activation with these 6 steps.
If you're wondering how to duplicate Grace's efforts to create brand awareness within your community, you'll need…
A list of events that match your target demographic.
Deadlines, requirements and specific details for each event.
Branded assets, such as a table, table cloth and tent.
Creativity – what will your booth encompass? Are you offering free samples, a contest or discounted items?
A dedicated, responsible, knowledgeable team of events staff to bring your brand to life.
As you can only imagine, these 6 steps take a lot of time to execute. That's where a team of professionals come into play. Whether you're looking for a partner to assist with all 6 steps, or only the final, it's important to have a team of professionals on your side. You may want to review our checklist, "12 Questions to Ask Before Hiring Event Staff" to ensure you find the best partner for your brand.
Looking for inspiration?
Watch our team in action at Taste of Lawrence and Salsa on St. Clair to give you a better understanding of how your brand can generate awareness at outdoor festivals
If you're not interested in exhibiting at a show or festival, go guerilla style with an impossible to ignore campaign! On Aug. 30/17, Tigris had the opportunity to team up with Rooftop Agency to bring a chilling activation to life. A team of 40 Toronto promotional event staff were stationed at busy street corners all over Toronto with floating Georgie dolls, to surprise and delight passersby, to promote the new IT movie. Pedestrians were encouraged to stop and take a photo with Georgie to post on social media for the chance to win a prize from Warner Bros. Canada. Talk about nontraditional marketing!
Looking to chat about how an event can create buzz to build up your brand or business? Give us a call at 647-286-9392 or 1.844.4TIGRIS (toll free in Canada).