There are hundreds (if not thousands) of trade shows each and every year. Nearly half tend to occur during the summer months, June to August. However, they run all year round, dependent on the industry they're related to. Whichever trade show you're interested in exhibiting at, we recommend starting the planning process at least 2-4 months in advance. Even more, if you're looking to execute an elaborate build. While we are always a fan of the extravagant, over-the-top, outside-the-box booths, that's not what's were here to discuss. That's right, this blog is dedicated to start-ups, mom & pops, and any brand looking to execute a successful booth that may not have access to larger budgets (yet). So, let's dive right in for our best trade show booth ideas for small budget.
Establishing Your Budget
If we're going to discuss trade show booth ideas for a small budget, then we should first discuss how to budget appropriately. Now, if you're completely new to this, then you're in luck. A trade secret to determining your overall budget is to multiply the cost of your trade show space by three. So, if you've booked a space that costs 5K to exhibit, then you'll want to budget approximately 15K for build, fabrication, and/or labour costs. This would give you a total budget of 20K. Of course, the better the location on the show floor and the bigger the footprint, the more your budget will increase.

Clean, Clear & Clutter Free
With this in mind, it's important to consider each and every element that your booth requires. Trust us when we say, less is more! Each and every element, branded asset or décor should serve a purpose. The best way to save money and stay on budget is not to overbuy. We're all guilty of falling prey to "bright and shiny syndrome", but don't let it fool you. Keeping your booth clean, clear, and clutter-free will keep attendees from feeling overwhelmed and actually entice them to visit your booth. Remember, we want to offer a unified and inviting aesthetic that feels approachable.

Banners & Branding
Next to consider on our list of trade show booth ideas for a small budget are banners and branding. Now, don't worry. We know this may sound expensive, but you can absolutely achieve an eye-catching and impactful presence without breaking the bank. This is especially true if you're considering multiple shows. Branded banners, tablecloths, or counters can all be reused over multiple occasions, thus driving the cost per show down. If you keep them in good condition, and transport and store them properly, you can use them over and over. Think of them as an investment versus a large one-time cost. Counters can be rewrapped and banner fabrics replaced, but if you keep your hardware, you have the bulk of the cost covered. Unlike special offer graphics and decals that you'll throw away after one use, if you take good care of them, they will last a long time.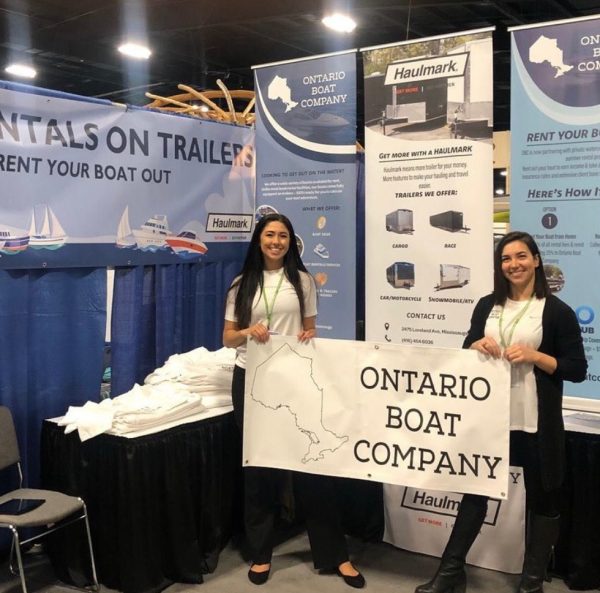 Low-Cost Technology
Before you ask how technology could possibly be on our list of trade show booth ideas for small budget, hear us out. Yes, if you purchase the latest and greatest technology or completely deck out your booth in touchscreens, high-tech games, etc., then it's very likely you are not only going to max out your budget but triple it. However, if you invest in technology strategically, it can help save costs. For instance, whether you purchase or rent, digital screens can be a good way to go! Think about it. Digital screens allow you to customize your feed. Instead of printing potentially several banners, leaflets, and setting up multiple stations, you can simply add any/all brand messaging into a looping feed. In addition, technology can offer free touch points post-show, such as access to a newsletter or a sales funnel full of new leads.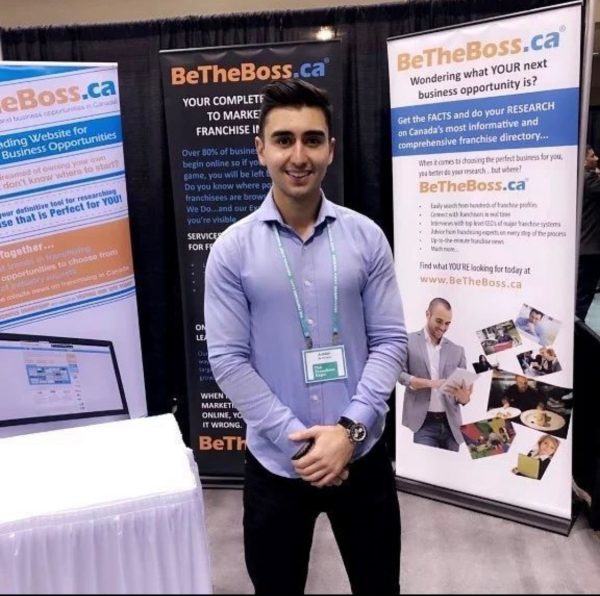 Shop Local
Despite being mentioned at the end, we may have just saved our best money-saving tip for last, shop local! Whenever possible, use local suppliers. You will save exponentially on labour, freight, and travel. Be sure to do your due diligence and shop around. There is nothing wrong with using trusted vendors (they're trusted for a reason). However, that doesn't mean there isn't another amazing vendor out there who is a fraction of the price. If you want to save, don't cut corners for convenience; get competitive quotes. And don't forget, use what you have on hand! Maybe there are TVs or iPads around the office you can borrow for the show or perhaps a branded sign or two. We promise, if it's just for a few days your conference room won't miss it and it will go a long way to keeping costs down. Finally, there are always rentals. Yes, rentals can add up, but if you're just planning on exhibiting at a show or two, they may be a better investment than net new assets.
Final Thoughts
And let us leave you with a bonus piece of advice. Any giveaways you provide, whether print material or branded swag, make sure it's relevant and is serving you. Remember, even if you're working within thrifty conditions, you can still create a beautiful, high-quality booth that attracts potential customers. And if you need a little help, we'd be more than happy; click below to contact us today!