Toronto event planning – it gets into full swing for the holidays but for event planners, the preparation begins long before the event itself. For Tigris, we have been busy planning an annual Halloween festival fundraiser for St. Joseph's Health Centre since April! We were thrilled to see the event come to fruition on Sun., Oct. 29.
It was a ghoulish, ghastly, ginormous celebration this year at St. Joe's 6th Annual Toronto West Halloween Fest. Our event planning Toronto team absolutely loves executing this event. Over 10,000 people come together in their scariest, silliest and cutest costumes to enjoy games, giveaways, food and fun activities. The heart of the festival surrounds the main stage at Bloor and Durie but stretches east to west across Bloor from Runnymede to Willard. To kick start the event, close to 500 parents and children participate in a 1.1km costume parade for all ages from 11:15-11:45am. It is a bloodcurdling (but feel good!) sight to see.
This isn't just any old Halloween event however. All of the onsite activations are sponsored, including Woody's Burgers, a Tim Horton's Truck and an MLSE trailer. Each activation and consumable item costs 1 ticket, which can be purchased for $2. In addition, an all-access wristband is available for $10. Everyone who attends is supporting St. Joseph's Health Centre. Proceeds will help revitalize spaces at St. Joe's, like a renovated Kids' Emergency Area.
Toronto Event Planning: What Does This Include?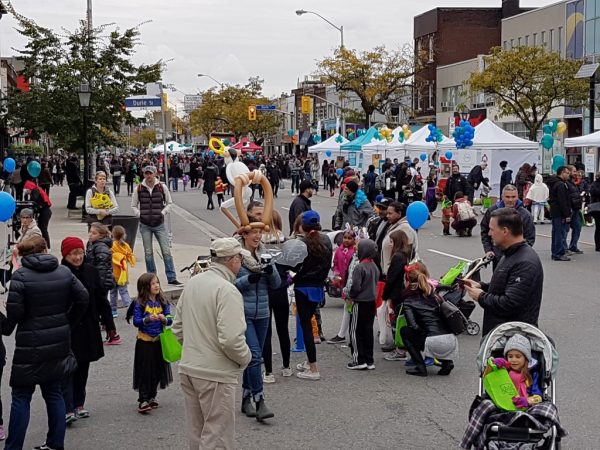 Altogether, project management deliverables included:
Creating the master work back schedule and site plans
Coordinating permits with City of Toronto, health/safety/traffic/waste plans for the street closure
Booking and managing all rentals required such as AV, staging, tents, mascots, port-a-potties, etc.
Working with St. Joe's staff to plan schedules for day-of volunteers
Liaising with sponsors to activate partnerships through onsite activities
Day of, onsite coordination/execution including overseeing set-up and event execution
Ensuring all city/permit requirements are met
Post-event reporting on logistics including photos/recommendations
Seems like a lot of work, but when you have Tigris' Toronto event planning team committed to the event, it's bound to be a success!
Activities, Performances & Munchies!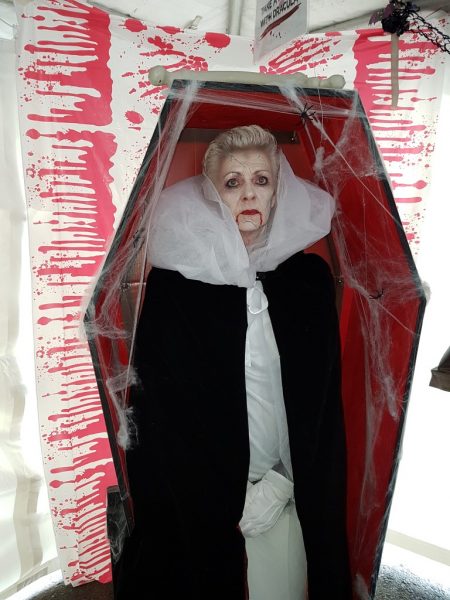 While onsite, guests have the opportunity to participate in 19 different activities, thanks to our sponsors. These include but are not limited to the Scotiabank Hockey Zone, Woody's Monster Munchies (Woody's Burgers), and the Bomb Squad Robot (Toronto Police Service). On stage, performances including Etobicoke School of the Arts, Swansea School of Dance and Splash N' Boots to entertain the crowd.
One of our special sponsors, Christine Simpson, turns to Tigris to design her activation space. Tigris once again transformed a 20×20 tent into a "Vampire Liar" and featured:
– A life-sized coffin for photo ops with fake vampire teeth to wear and keep.
– Activities, including a witch Hat Ring Toss, Tic Tac Toe, arts and crafts, face painting and a blood type fruit punch station. Treats and stickers were prizes for those who succeeded at each game area!
– Red, blue and orange single-serving Jello pack giveaways labels "vampire blood", "zombie blood", or "witches blood" and fruit punch in dispensers labelled with different blood types.
The booth was decorated with cob webs, dripping blood and bloody hand prints. In addition, signs were placed at the entrance and exit, as well as at each activity, craft or game. The booth was geared towards children and adolescents – about 500 kids participated throughout the day!
Toronto Event Planning AND Event Staffing – Tigris Provides Full Service Solutions to St. Joe's for TWHF
Tigris provided a total of fourteen event staff dressed in referee costumes to assist with various activations for the event including:
Trick or Treat Zone (collect tickets)
Atelier Kids Crafts Tent (collect tickets)
Main Stage (manage talent/stage itinerary)
Scotiabank Obstacle Course
Swansee School of Dance
Pizza Pizza Bouncy Castle
Pizza Pizza food tent (collect tickets)
Waste Management (empty garbage bins/toters)
Christine Simpson (collect tickets/manage activation)
Ticket Booth (sales)
In addition to Toronto, Tigris has a team of over 2,000 dynamic events staff on our roster. Their roles include but are not limited to those shown above, in addition to trade show staff, sales staff and promotional models. Learn more about our award winning team here.
Turnkey Solutions for a Successful Event
Many of our clients are unaware that Tigris is more than just a staffing agency. In 2013, we legally dropped 'personnel' from our name and have officially rebranded to Tigris Events Inc. When anyone thinks about events, we want them to think about Tigris! Our core competencies span creating, planning AND staffing events. Our diverse portfolio includes non-profit events Toronto and nationwide across Canada. We also plan experiential marketing campaigns and promotional activations for clients big and small.
Contact Tigris today for a free quote on our multiple services. And before you leave, check out highlights from last year's Toronto West Halloween Fest! Our services are available for Toronto event planning – or national campaigns from coast to coast.