Ever wonder what it's like behind the scenes at an award winning brand experience agency? As many of you already know, our head office is in Pickering, Ontario. Within this office our CEO and management team big, bright open concept office space. Our Account Director works remotely from Victoria, BC!
Starting the Week on a Positive Note
A regular work week begins with our Monday meetings. Because Monday is a fresh start to the work week, it's important to realign with your team to set goals for the coming week/month. These meetings occur in boardroom, equipped with a whiteboard for brainstorming sessions. As you can appreciate, brainstorming is essential to any brand experience agency.
Since a substantial portion of our events occur over the weekend, these meetings give us a chance to look back and discuss our activations in detail. We celebrate successes and dive deep into any issues that may have occurred so we can make improvements. Addressing challenges head on, in a group setting, can aid in the development of the entire team to prevent issues from recurring in the future.
In addition to discussing events that are wrapping up, we look to our 'calendar of events' to get started on what's coming up next. As a team, we work together to ensure each event is coming together smoothly. If any account manager has too much on their plate, we divide up the workload, and support each other, so nobody feels overwhelmed. When you work for a brand experience agency as big as ours, it can get hectic sometimes!
We like to wrap up our meetings with a question geared towards getting to know each other better. A few recent questions included, "how do you recharge?" and "when are you happiest?" These questions open a group discussion and close our meeting on a positive note. You don't become an award winning brand experience agency without starting the week with positive vibes!

Celebratory, Social & Wellness Committees
Wouldn't you like to work somewhere you feel appreciated? At Tigris, we love to celebrate birthdays and work anniversaries. This is organized by our Celebrations Committee. Their goal is to surprise and delight team members on social occasions and milestones. As a brand experience agency, we are not only focused on creating unforgettable experiences for brands – but also for each other.
It's easy to get bogged down by e-mails, calls and reports. Before you know it, the clock reads 5PM and you already have an extensive list of 'to-dos' for tomorrow. This can become quite isolating and draining. Our Social Committee proactively improves and enhances employee engagement, culture and relationships with social outings and lunch meetings. Previously, we've gone to the CNE, on a boat cruise, to the Rage Room and a Paint Nite! In addition, our Social Committee selects new restaurants for our quarterly business development meetings.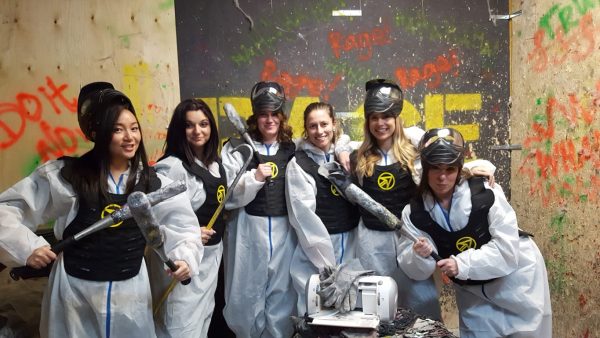 You may be wondering what our business development lunches include. Every 3 months, we select a restaurant and as a team, we review, act and implement items. These items may range from an innovative marketing tactic to implementing new staff awards. To become an award winning brand experience agency, you must constantly review your business and seek improvements.
Although we are an event planning and staffing agency, majority of our work and planning is done on a computer. Because of this, it's extremely important to get up and move! A healthy body is a healthy mind. Regular physical activity is important to keep you alert and inspired. Our Wellness Committee ensures our team takes time to get up and stretch every 1-2 hours, along with a daily lunch walk. In addition, the committee will organize physical activities. This includes yoga classes, local runs and spinning classes. Most importantly, this committee encourages healthy eating by bringing in nutritious snacks and sharing organic recipes to try.

Developing Relationships with Staff and Clients
Our people are our passion so and it's important to us that we continue to deepen and develope these relationships. Regarding our brand ambassadors, we acknowledge their birthdays on Facebook, promote #TalentTuesday on social media of top performing staff, and mail out Thank You Cards (shown below). These cards let our brand ambassadors know that their hard work is noticed amongst our head office and their fellow brand ambassadors. Near the end of the year, we award a top events staff from each region for their outstanding efforts within the Tigris community.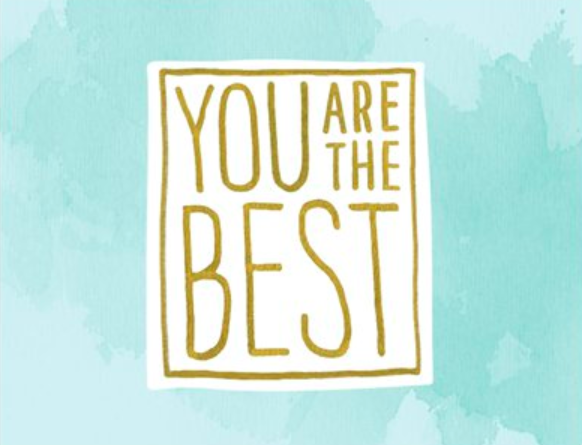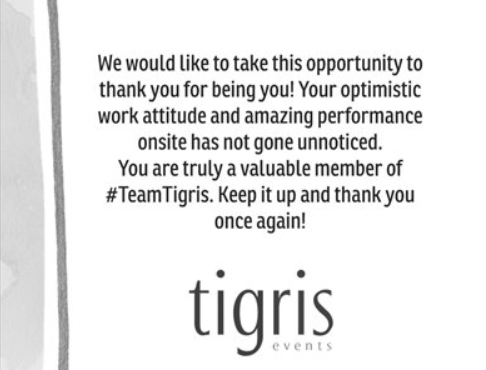 Did you know Tigris gives referral bonuses? Staff receive 10% referrals for successfully referring new clients and 5% for additional bookings after the first event for a duration of 1 year. We provide letters of recommendation for our team, bonuses for magnificent work and advice on their career goals. Team Tigris is a community we work to build, bring together, celebrate, and manifest personal and professional growth.
Our passion for people extends to our unique clients from Canada, United States, Europe and the United Kingdom. We offer a referral rate to our existing clients for helping us build new connections. Our relationships with our clients are strengthened by personalized gifts after a big event, lunch meetings and holiday surprises. Surprising and delighting your consumers is a wonderful way to build loyalty and a great way to showcase some of your other unique skills as a brand experience agency.
Working with an Award Winning Brand Experience Agency
We hope this glimpse into the lives of Team Tigris has inspired you! If you have any tips for creating a strong, successful business, please share them below. We are always looking for ways to improve.
What's next for Tigris? We recently had our first event in Texas and are continuing to expand in the US! Contact us today for a free quote on our experiential event planning and staffing services across North America.