Best Marketing Tools for Startups – Brand Ambassadors!
The best marketing tools for startups isn't a flashy marketing campaign – it's brand ambassadors! They are the key to getting your brand noticed and your product (or service) absolutely irresistible. Doesn't that sound great to you?
Earning consumer trust is the holy grail of a successful campaign, according to Nielsen's latest Trust In Advertising report. How do you earn your consumers trust when you're a new business? By putting real, honest people on the front lines to interact with potential consumers on behalf of your brand. Sounds frightening, doesn't it? Well, we're here to tell you why you should put your trust in brand ambassadors. If you're just starting out, you should take advantage of the best marketing tools for startups.
Two Bears Coffee – Natural, Delicious, and 100% Canadian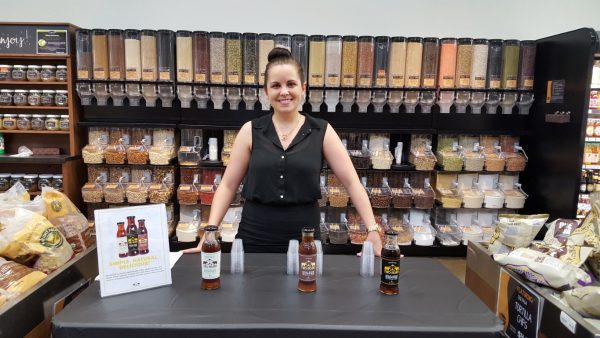 If you're like me, you can't start your day without coffee. There are many benefits to drinking coffee, but of course, that's before we add in all the extra sugar and cream! The great thing about Two Bears Cold Brew is that it's all-natural, with no added sugar. Delicious, organic and Canadian. Have you noticed you're already craving a sample?
David and Moustafa (co-founders) contacted Tigris for a series of samplings throughout Canada.  Samplings are simple and extremely effective – when done properly. This is where our brand ambassadors come into play. Above is a photo of Vanessa – she's mature, professional, and a passionate coffee drinker. Shoppers can't walk past her table without stopping to talk, sip and learn more. With the right people behind your brand, you'll notice your product flying off the shelves! The best marketing tools for startups should be doing just that.
Feast – Local, Creative, Healthy Lunches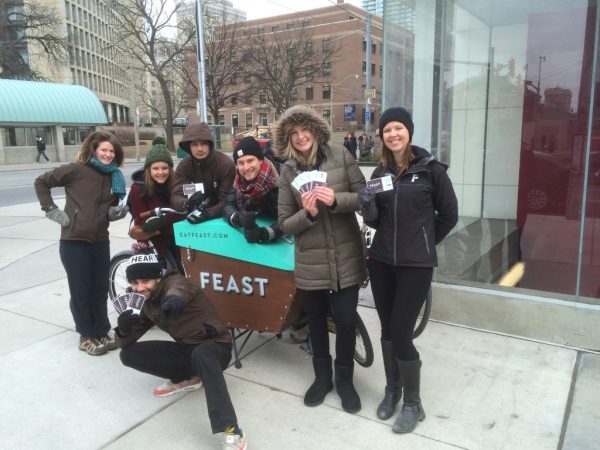 "Save $10 off your first FEAST order!" sounds like a great incentive, doesn't it? Feast, a mobile application that provides a fresh approach to meal delivery, launched its iOS app in December 2015. To promote their new app, our Tigris brand ambassadors hit the streets to engage with downtown Toronto foot traffic.
With bright branding, mobile Feast carts and flashy coupons, our team was hard to miss. They engaged with pedestrians, store owners and shoppers to inform them of the ease and convenience of the new Feast app. Why eat Feast? They deliver healthy, high-quality meals with top-notch customer service to people who lead busy and active lives.
With the success of week 1, Feast made a request to continue the app promo until September! (Yes, nearly 9 straight months of activating!!). Originally, the app was only accessible for iPhone users. After receiving valuable insight from our team however, Feast became available on Andriod devices. They also expanded their delivery zone to target a wider range of healthy Torontoians. Now only are our BA's effective on the front lines, they also provide valuable post-event insights. If that's not among some of the best marketing tools for startups, we don't know what is!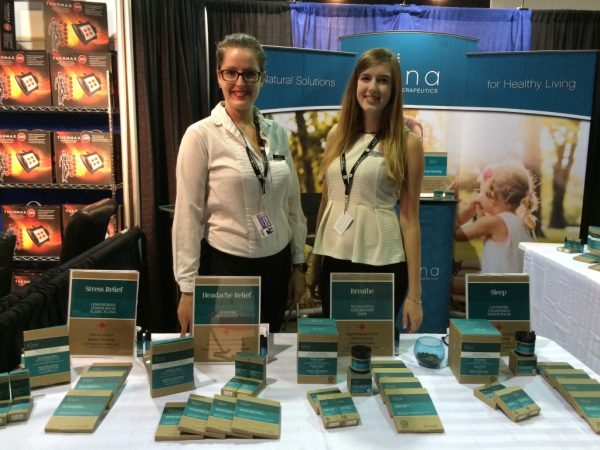 Sina Aromatherapeutics – Essential Oil Blends
Wouldn't it be amazing if you could be in two places at once? That's the great thing about Tigris brand ambassadors – our team expands nationwide across Canada. To increase brand awareness and drive sales, Sina Aromatherapeutics had a big vision for their brand. They wanted a booth at the Canadian National Exhibition, the Pacific National Exhibition along with mall kiosks at the Oakridge Mall and Richmond Centre in British Columbia.
Our team was to answer customer questions and suggest solutions, and sales. Product lines featured at each event include Sina Originals (sleep, breathing, headache and stress relief) and Sina Her (mood care, facial care).
The brand ambassadors representing Sina were required to be hard working, self-motivated and have sales experience (natural health or cosmetic products). For Vancouver, we also needed a handful who were bilingual in Cantonese or Mandarin. These qualifications may seem specific, but with over 2,000 brand ambassadors on our roster, Tigris was able to provide top sales staff for Sina. The best marketing tools for startups may have some similarities – but they can also get as specific as those qualities/needs detailed above.
Florastor Sampling at Zoom Fitness Facilities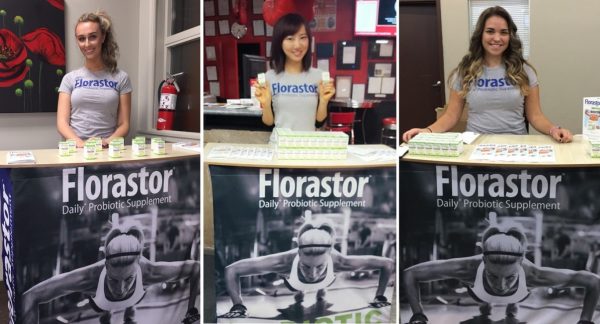 Florastor is an all-natural, daily probiotic supplement. We teamed up with them in Nov/15 for an interactive fitness themed promotion. Florastor had a goal to distribute over 15,000 Florastor Probiotic samples with coupon to gym members to boost awareness and sales. Tigris planned this activation at 60 fitness locations, through our relationship with Zoom Media, in Vancouver and Toronto.
Fitness facilities are the perfect location for Florastor to reach their target demographic – health conscious and active individuals. Along with a free sample, our team supplied an information pamphlet (that includes a coupon to use towards their next purchase) to gym members.
Brand Ambassadors chosen for this event were active, healthy and confident speaking ti gym go-ers about probiotics. Sometimes, all it takes is a free sample for someone to become a life long consumer! Isn't that what any startup ultimately wants?
Discover the Best Marketing Tools for Startups – Contact Tigris for a Free Quote today!
Wouldn't it be amazing if you could add award winning brand ambassadors to your arsenal of the best marketing tools for startups? Contact Tigris today for a free quote on our dynamic event staffing and experiential marketing services.  At Tigris, we create, plan AND staff events for our clients nationwide.