Non-Profit Events Toronto: Another Successful TWHF for St. Joe's!
Unsure about non-profit events Toronto happening in our city? Well, picture this! You're walking down Bloor St. West on a cloudy, chilly day. As you continue down the street, you spot skeletons, ghosts, and even a princess! Wait, is that the Argos Cheerleaders? And Duke the Dog from the Toronto Marlies? Turns out you're at the 5th annual Toronto West Halloween Fest for St. Joseph's Health Centre Foundation.
Thousands of people from the community found themselves in this scenario on Sunday, Oct. 30 in support of non-profile events Toronto! Parents, children, and pets came dressed in their most creative costumes to celebrate their favourite Toronto nonprofit events. There were minions, superheroes and "hot" dogs eager to enjoy the special vendors and performances.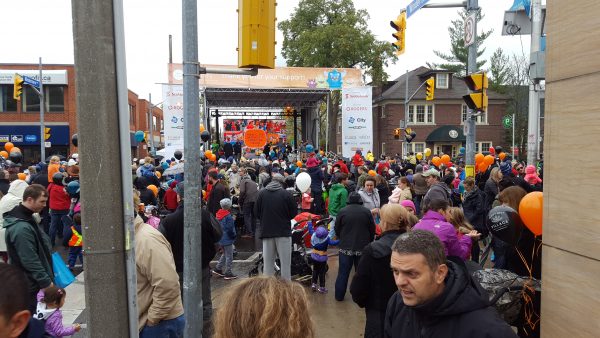 Although the sun refused to shine (in true Halloween spirit) that didn't stop the children from playing a fun game of hockey at the Scotiabank Hockey Zone. You probably saw the large line outside of the Trick or Treat Zone, where 1 ticket got you a wide selection of pickings including chocolate bars and chips provided by the health centre as well as donated NutriBars, Grace Sparkling Coconut Water, and Sun-Rype fruit to go bars. Thank you to our sponsors for these kind donations for our non-profit events Toronto for St. Joe's.
Spooky Sponsors and Ticket Sales
Next, imagine a dark tent with magic elixir you can mix with witches blood, monster slime or rocket fuel. To your left are cobwebs, spiders, and tombstones! You've found yourself in Christine Simpson's Spooksville. Over 700 people visited and participated in the Pumpkin and Tombstone Toss Games, Skull and Pumpkin Tic Tac Toe, Find the Finger in the Hay Stack Game and a Mad Science Lab.
If you're looking for something a little less spooky, next door was the Green Apple Kids Arts and Crafts booth. Remember how exciting it was to get your hands dirty with sparkles and glue? Well, nonprofit and fundraising events Toronto don't have to be boring – they can be downright fun – or scary!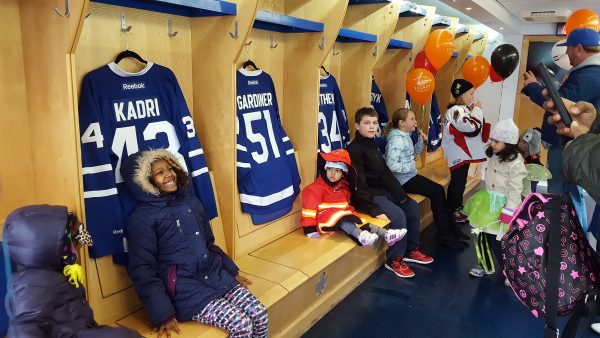 You're probably wondering how we raised money for this amazing event. The majority of the activations were sponsored, including Woody's Burgers, the Tim Horton's Truck, and an MLSE trailer. Each activation and consumable item cost 1 ticket, which could be purchased for $2. In addition, an all-access wristband was available for $10. Parents were happy to contribute. All proceeds will help St. Joseph's build a better Paediatric Emergency Department just for kids. What an amazing cause for nonprofit events Toronto.
Behind the Scenes: Planning a Non-Profit Event
Overall, the festival was a huge success. A memorable moment was at the end of the day, one child had thanked our events staff for 'the best day ever' with tears of joy streaming down his face. However, it takes many months to plan an event of this caliber.
Altogether, Tigris event planning deliverables included:
Creating the master work back schedule, day-of-run sheets, site plans
Coordinating permits with City of Toronto, health/safety/traffic/waste plans for the street closure
Booking and managing all rentals required such as AV, tents, tables, entertainment, mascots,waste management, ports
Working with St. Joe's staff to plan schedules for day of volunteers
Liaising with sponsors to activate partnerships through onsite activities
Day of, onsite coordination/execution including overseeing set up, registration, event execution
Ensuring all city/permit requirements are met
Post-event reporting on logistics including photos/recommendations
Seems like a lot of work, but when you have our national account manager and CEO committed to the event, it's bound to be a success!
Use Tigris Events Management to Plan Your Non-Profit Event!
Many of our clients are unaware that Tigris is more than just a staffing agency. In 2013, we legally dropped 'personnel' from our name and have officially rebranded to Tigris Events Inc. When anyone thinks about events, we want them to think about Tigris! Our core competencies span creating, planning AND staffing events. Our diverse portfolio includes nonprofit events Toronto and nationwide across Canada. We also plan experiential marketing campaigns and promotional activations for clients big and small.
Contact Tigris today for a free quote on our multiple services. We have over 2,000 dynamic events staff nationwide across Canada to bring your brand to life!