A summer garden party AND ten million reasons to smile! On Jul. 11/18, St. Josephs Health Centre announced a monumental donation from the Garron Family to buy two new MRI Machines for the health centre valued at $10,000,000.
To commemorate the occasion and recognize the donors, St. Joe's teamed up with Tigris to help bring the event to life. Watch the video below to see the beautiful summer garden party being enjoyed by all of the guests, including Mayor John Tory! Fun fact: the Mayor has been to 4 our events in the last year, including the Lower Don Trail re-opening.
How do you plan and execute a fabulous summer garden party? Below, we've listed 3 main components of any party that you must consider while planning an event.
Finding the Perfect Venue
For this specific event, St. Joseph's Hospital was planning to host the summer garden party in the hospital's 'backyard'. We created a site map to appropriately plan for the day. Because it's extremely important to always have a rain plan for an outdoor event, a large white tent was sourced. The tent provided protection from the elements (rain or shine) and elevated the experience of the event. It was a beautiful day so guests seemed more inclined to enjoy their time outside rather than inside the tent, but it was still great to have.
When you're looking for the perfect venue, it's crucial to do your research. Look for online reviews and physically visit each venue to ensure it's the right fit. We recommend considering parking, capacity, layout, accessibility and flexibility on date when reaching out to different venues. In addition, it's best to present your client with several options so they have the ability to select from your top 3 recommendations.
Delicious Food & Drink
The food was delicious and a great fit for the summer garden party. There were passed appetizers and food stations open for guests followed by passed desserts after speeches. Since there was an abundance of food, lots of health centre staff also got to enjoy a few delicious bites after the VIP guests had left. Who doesn't love left overs?
In some cases, the venue you select may have a preferred caterer that is mandatory to use. Otherwise, you have the option of bringing in your own caterer. When sourcing a caterer, ensure they are able to handle your specific type of event. You want a vendor who is flexible regarding menu options, references, and offerings a tasting. It's a bonus if the caterer is already familiar with the venue.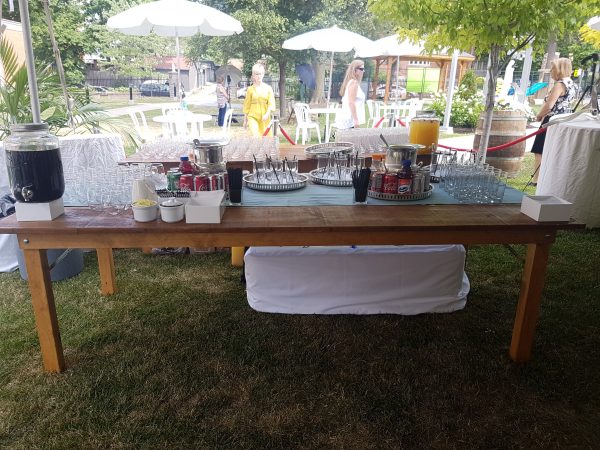 Themed Decor & Lively Entertainment
Distressed hardwood tables and matching chairs were rented along with wine barrels. To accent the decor, Tigris coordinated teal linens, blue and white flowers in birch and glass vases, along with garden ornaments/tin buckets with river rock to accent the tables as well as the cruiser tables and teal cushions to accent the white lounge furniture. All of these items were perfect for a sensational summer garden party.
St. Joe's booked Christopher Plock, an instrumental and vocal duo for the event and asked Tigris to book AV including 2 speakers, a wireless mic, sound board and cabling.
When sourcing live entertainment, it's important to take into consideration how long their sets will be – it's impossible for them to play the entire event! That's why it's important to split up live sets with a DJ to ensure there is always ambient music.
Events with St. Joseph's Health Care Centre
St. Joseph's Health Centre is a leader in caring for kids in our west-end community. Last year, parents brought their kids to St. Joe's more than 56,000 times and 3,250 babies were born. More people come to their Emergency than anywhere else in the city. Last year, St. Joseph's had more than 100,000 visits in Emergency – 19,000 alone in our Paediatric Emergency. This is one of the many reasons why the donation are so special and important.
Are you looking to execute a unique, themed event? Contact Tigris today to learn more about our event planning and staffing services. In addition to planning a luncheon, this isn't the only event we've planned for St. Joe's – we've planned their Toronto West Halloween Fest annually since 2012. The 7th annual event is coming up Sunday, Oct. 28, 2018. Contact us today to learn how you can get involved!