Ceridian Conference in Boston January 22-24
Near the end of January, we teamed up with TK Events & Ceridian to staff the Ceridian Conference in Boston. Onsite, our 6 energetic and engaging brand ambassadors were to assist with registration, as well as directional support.
Overall, attendees were happy and often thanked our team for our help. Additionally, they commented on how swift we were to provide them with their registration packet and/or information.
Ceridian Conference Testimonials:
"Thanks for getting my packet so quickly."
"Thank you for the help! I was confused on how to get to the Marina ballroom and you guys were super helpful!"
"I've worked really hard to make the 100% club, so I appreciate you guys being so excited for me."
"Thank you again for showing me where I need to go, now I'll get to my session on time!"
This was our first event in Boston, and it was a success! We look forward to growing the team in that area.
Goodfood Toronto Activation January 28-February 3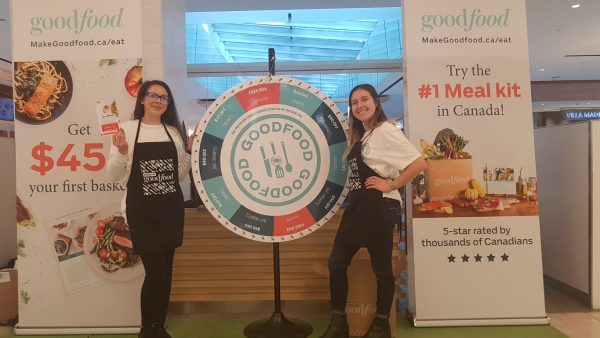 You may already be aware of our previous work with Goodfood; as you can only imagine, we were excited to support this brand in the New Year. Our team assisted with a 5 day pop-up activation in Toronto, as well as booth support at the National Bridal Show.
Prior to the events, our team was required to complete a short quiz and view specific videos in addition to reviewing a training package with key messaging. This was to ensure they were well versed in all things Goodfood! Our team was confident and ready to execute sign-ups onsite.
At each event, our team was to distribute flyers, encourage spin-to-win participation and generate leads. Below are a few consumer testimonials:
"I have been using Goodfood for about a year now and love it!"
"We hate grocery shopping, so this is very convenient!"
"This is a great deal, thank you!"
Overall, our team was able to generate and engage with hundreds of potential consumers throughout the activation.
Are you looking for registration or lead generation support? Contact Tigris today to learn about our event staffing services nationwide across Canada.