Brands and businesses incorporate lead generation solutions by sparking consumer interest through activations, sampling, promotions and special events. Tigris helps develop lead generation solutions by creating memorable customer experiences that form a bond between businesses and their customers. It's an excellent opportunity to educate potential customers about your brand or business.
Take a look at our recent events that initiate consumer interest and attracte potential clients.
Carat & Drive Maven
Onsite, Tigris supplied two professional brand ambassadors for Maven Toronto activations. The objective of the Maven Car Sharing event was to increase brand awareness, generate leads, and distribute promotional material. Brand ambassadors interacted with over 130 people delivering brand key messages (picture above).
Below are a few guest testimonials:
"This will be perfect for my 20-year-old daughter. She doesn't have a car and lives downtown."
"I've seen it around but didn't know what it was about!"
"When I travel, I will look into using the Maven app in New York or Boston."
Swatch in Whistler, BC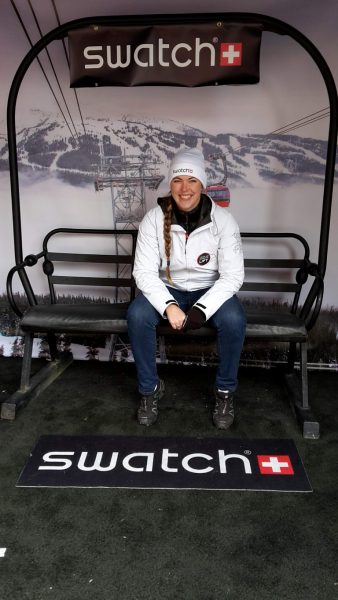 Whistler Village daredevils braved the cold to venture on the Swatch lift. Onsite, our brand ambassadors created a thrilling guest experience within a Swatch photo area and art station. The Whistler Village crowd had a chance to design their Swatch toque and model it on the branded gondola. Brand ambassadors encouraged participants to enter the #SWATCHWSSF instagram contest to win a free Swatch watch. Overall, Tigris staff were able to engage with thousands of Swatched-out people to generate leads and brand awareness.
The Chopped Leaf Promotion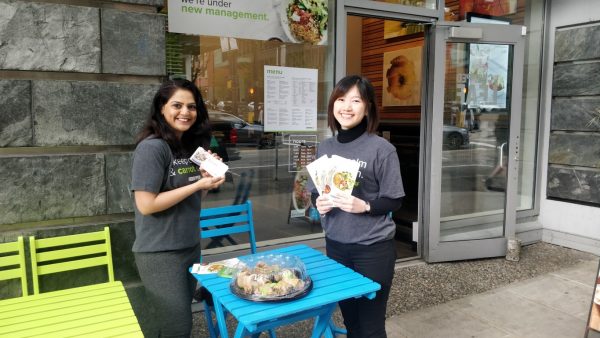 The Chopped Leaf aims to provide healthy food alternatives, offering salads, wraps, soups, bowls, and sandwiches. Tigris brand ambassadors helped The Chopped Leaf celebrate the grand opening of the Robson location in Vancouver. To drive lead generation, Tigris staff delivered key messaging, distributed coupons, food samples, and encouraged people to participate in the prize wheel game.
According to The Chopped Leaf brand ambassadors, 90% of customers were not familiar with the brand before the activation. They were very interested in trying out The Chopped Leaf products after learning about the vegan and vegetarian options. As a result, the dynamic Tigris team interacted with over 130 people.
Wirkn Lead Generation
Wirkn is the latest solution to the complicated and lengthy hiring process. Its mission is to connect employers and potential candidates on one platform. The program entails a video presentation and digital profile/resume. Wirkn requested two brand ambassadors to activate hiring managers accounts at different malls across Alberta.
Brand ambassadors received positive feedback from managers. Below are a few testimonials:
"I'm amazed that you could see the candidates' introduction videos prior to meeting them."
"Wirkn provides me with the opportunity to source the right candidate for the job."
"I love the fact that you can be offline and still able to see applicants."
"Do you guys realize how much easier my life will be with the use of Wirkn?!"
B2 Communications at WaterPark Place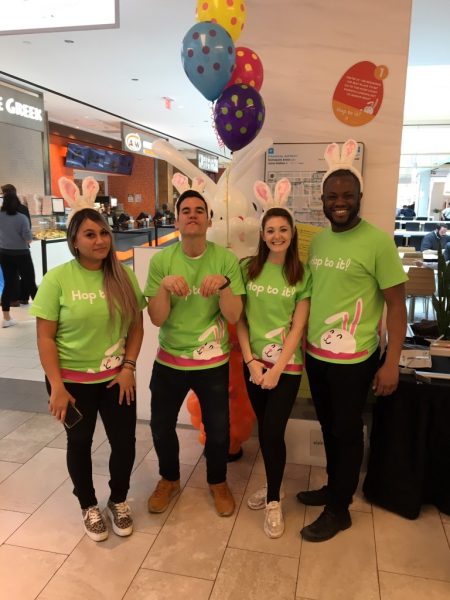 B2 Communications and Tigris brought Easter festivities to WaterPark Place in Toronto. The brand ambassador bunnies hosted an Easter Egg Hunt and awarded winners with grand prizes. People hopped at the opportunity to participate in the Easter fun!
The Easter Egg Hunt was to attract passerby's and convert them into leads. Overall, the B2 Communication Easter Egg Hunt had thousands of participants in the holiday spirit.
As you can see, Tigris supports lead generation solutions by providing businesses with brand ambassadors, event staff, and promotional models for unique activations. Its all about finding effective ways to host events that help attract potential customers.
Are you interested in creating lead generation solutions? Contact Tigris today to learn more about our event staffing services, nationwide across Canada.