We can't believe the summer is drawing to a close. Although we're already planning experiential activations for fall and winter, there's something about Labour Day Weekend that makes it official – summer is just about over!
However, to celebrate a successful summer with an outstanding team, it felt appropriate to discuss our favourite events from the summer. Who doesn't like to reminisce about the good times? Read on for our top summer experiential events from 2019 and discover our top trends for 2020!
Experiential Activations at the Calgary Stampede
Joanna, Account Manager, states that the most memorable event she planned this summer was the Oxford Properties CHROMA installation during the Calgary Stampede.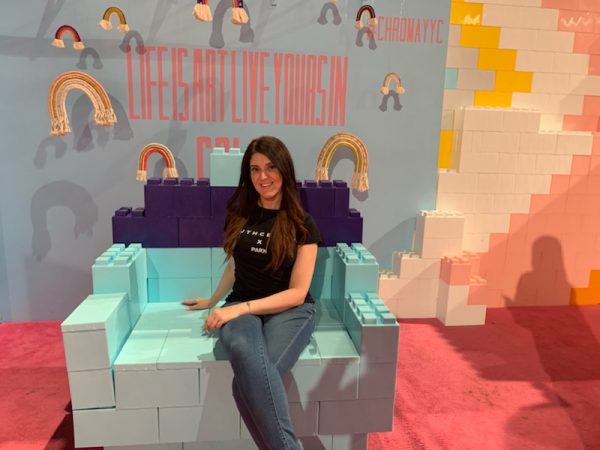 If you're from the Calgary area, you may be familiar with this popular installation. CHROMA is an immersive and interactive installation featuring original work from Calgary artists. It was created to encourage people to connect with each other through a shared experience, while showcasing the city's talent. It's visually appealing and extremely Instagrammable!
Tigris provided Oxford Properties with a team of dynamic event staff to encourage visitors to take photos at the installation and promote a contest with Southcentre Mall.
When asked why this experiential activation was her favourite, Joanna stated, "CHROMA at the Calgary Stampede was a unique opportunity for a client that would normally have a more difficult time trying to connect with their consumers, as Southcentre is a mall property. CHROMA was a great use of local talent and a beautiful and creative art installation. In addition, it was a unique photo opportunity, utilizing social media."
Based on the success of CHROMA, we'd love to see more local partnerships between major cities and local artists/vendors. It's a unique, specific and niche technique to engage with your target audience.
Consumer Appreciation Events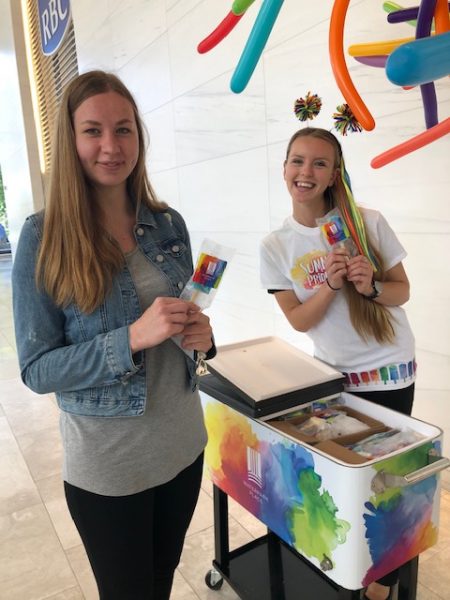 Victoria, Account Coordinator, says her favourite experiential activations are the ones that get our team excited to apply. This includes Ice Cream Days at WaterPark Place for B2 Communications.
WaterPark host lunchtime events to reward building tenants who had made a purchase on the property that day. For this event, tenants received a premium frosty treat for the first day of summer. In honour of PRIDE month, treats were available in a rainbow of colours!
Our Toronto brand ambassadors managed the giveaway event by increasing awareness, stamping receipts and distributing treats. Although we only had 4 brand ambassadors working, over 100 from our roster were interested in taking part!
What we love most about this activation is the branding. There were funky balloon setups, branded ice cream carts, fun headpieces, branded t-shirts, and old ice cream parlor hats. It was truly an eye-catching activation. We encourage branding for elements including branded charging stations, merch, banners and more. Every small detail counts!
Experiential Movie Promotions
Sarah, Account Manager, says her favourite event this summer was the Godzilla Movie Promotion with LexPR. This event was unique, interactive, and drew the attention of thousands of consumers within the Eaton Centre over the course of a weekend.
In addition to commercials and radio ads, consumers engaged with a large Godzilla 3D mural painted onto the floor of the Toronto Eaton Centre. Our Toronto brand ambassadors were encouraged to get consumers passing by to take a photo with the 3D mural and post to social for a chance to win movie tickets and other branded swag items.
Based on this event's success,we hope to see all brands create more accessibility friendly programs that allow everyone to participates and walk away with a memorable emotional experience with the brand.
Engaging Alcohol Samplings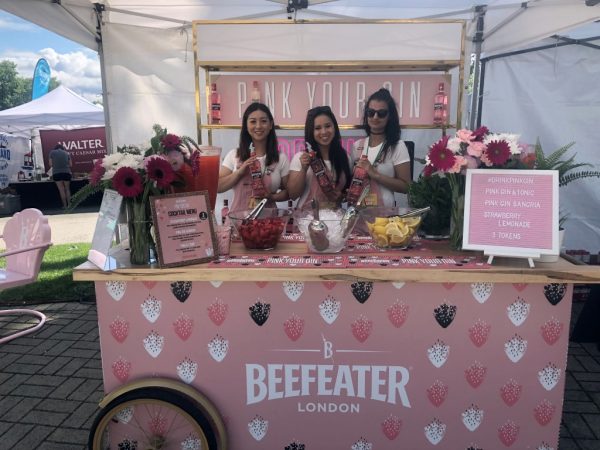 Fatima, Account Coordinator, says her most memorable summer event was the Beefeater Pink Sampling with VIB Events. We loved the layout and display of the booth – all components of the activation matched, including the creative brand ambassador uniforms.
The addition to detail really made this sampling stand out and draw in a crowd. As a product that was looking to rebrand and target a new consumer base, they really hit the mark with this one!
We would love to see this trend continue in 2020; creating a space that makes guests feel welcome and encourages them stay longer to engage with the branded elements and staff. It's the best way to create a memorable experience and get consumers talking about your brand.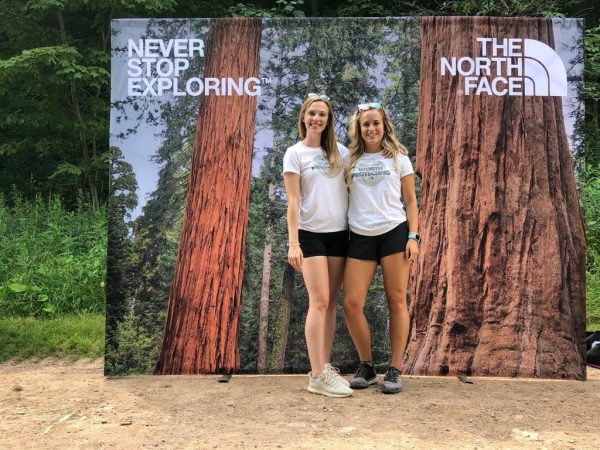 Savanna, Account Coordinator, says the North Face Hiking Event in Blue Mountain was an absolute blast! Our North Face brand ambassadors were positioned at a trail at the top of Blue Mountain, rewarding hikers for their efforts with free energy drinks and gondola tickets. There was also an opportunity for hikers to get their photos taken in front of a branded backdrop as well as enter a contest to win a North Face summer prize pack.
A "surprise & delight" activation, such as this one, gives a brand the opportunity to genuinely connect with its target consumer base. With their upbeat presence and generous giveaways, our brand ambassadors fostered positive, unforgettable experiences for everyone they encountered.
Because the brand ambassadors gifted consumers with a free immersive experience (gondola ride), the activation was unique and memorable (especially for exhausted hikers!). After taking part in the experience and taking photos with the branded backdrop, consumers were happy to continue the conversation via social media, further spreading brand awareness. They won't ever think twice about choosing The North Face!
Next summer, we hope to see more immersive surprise and delight activations in creative locations. Because this event took place in such an unexpected spot, it really sets it apart from other experiential pop-ups and allows for a genuine brand connection to be fostered with consumers. Other popular summer spots such as beaches, marinas, parks and drive in/outdoor movie theatres would be perfect for this type of event!
Inspiration for Your Experiential Activations
We hope our favourite summer experiential activations inspired for you your next marketing campaign. From the events listed above, it's evident consumers want to be engaged and appreciated. Stuck on how to incorporate these methods to target your audience? Contact Tigris today for event planning and staffing support. We'd love to take your event to the next level!