How to Execute an In-Store Sampling to Reach Your Audience and Increase Sales
Get your product into the hands (or mouths!) of your target consumer with an in-store sampling. Not only will sales increase on the day of the sampling, but also increase sales of the product line for several weeks following. There are many factors to consider before executing an in-store sampling such as location, time and day, professional certified samplers, as well as aesthetics.  Review the 3 steps listed below to ensure an effective in-store sampling of your product.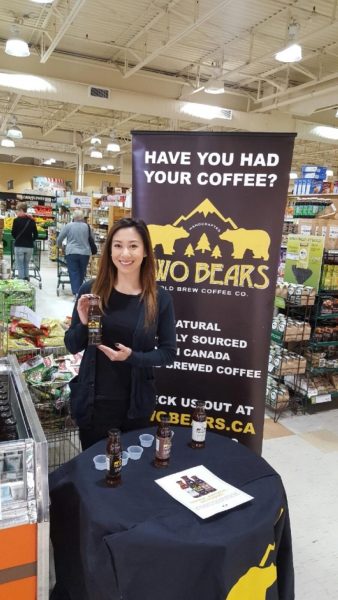 1. Selecting a Store & Time of Day
Have you tried Two Bears Coffee? This bottled, cold brew coffee comes in Original Cold Brew, Hazelnut Sea Salt and Sweet Cacao Coffee. The recipe uses premium direct trade beans, is all natural, 75% less bitter than traditional coffee and lasts up to 6 months. As this cold brew business begins to expand, Two Bears Coffee has teamed up with Tigris to provide promotional models to sample the product.
Where will the sampling occur? At various Goodness Me locations in Barrie, Brantford, Guelph and Toronto. Goodness Me is Canada's health store that provides the cleanest green and natural foods. These samplings all take place on weekends from 11AM-3PM. Saturday is by far the busiest grocery shopping day of the week, which means it is the ideal day to execute a sampling and reach hundreds of potential consumers.
Be sure to have the store manager announce hourly through the intercom that the sampling is taking place. It's also crucial to take into consideration where your sampling will be set up in the store. Ensure this is a high traffic location that relates to your product. For Two Bears Coffee, the sampling was executed in the dairy isle of Fiesta Farms. This location made sense because most people pair milk with their coffee.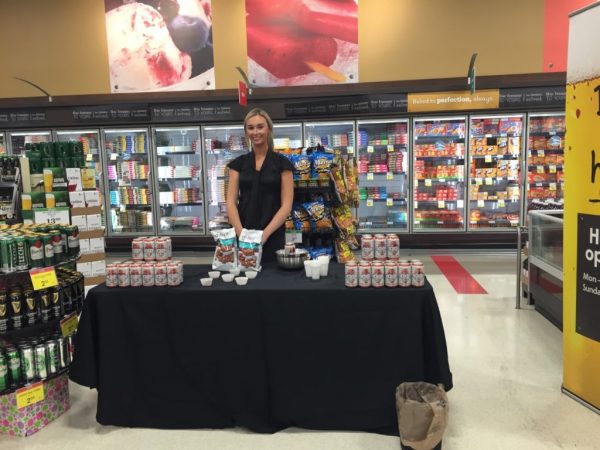 2. Using the Right People and an Attractive Display
When reaching out to a temporary staffing agency for a trained food handler or smart serve certified individual, take the time to think about what type of person best represents your brand. For a series of samples for Minhas Creek Brewing Company, Tigris has provided attractive female, smart serve certified promotional models to sample their Boxer Gluten Free beer. The staff selected to represent the brewing company all lived close to the assigned stores, had experience sampling and were comfortable selling and working independently.
The primary goal of the program is sampling the product with new customers and directly impacting on-site sales during and following the tasting. Along with selecting the right person to represent your brand, the appearance of the sampling station is just as important. Be sure to always bring a cover for the table; this can be branded or simply all black. Set up the products in an organized, attractive arrangement that attracts and intrigues shoppers. If possible, a branded roll-up banner behind the sampler can be included. This helps make the sampling stand out, and can also highlight key information about your product that will influence the shopper to stop and sample your product.
3. Turn Samples into Business
So you've given away hundreds of samples and interacted with as many people as possible throughout the sampling. How does one ensure the samples are turned into sales? By sampling your product to as many people as possible in person, you know that the potential consumers will receive the most compelling information about your product, and be able to ask questions and receive answers they wouldn't receive through a traditional billboard advertisement.
Once a new customer can taste and experience your brand, it's more likely they will look for it in the grocery store. Worst case scenario, the shopper doesn't like your product due to the taste but has had an overall positive experience with your brand by engaging with the experienced sampler. Our staff also take an opening and closing inventory to track onsite sales, so our clients know right after the shift how successful the sampling was.
Execute an Effective In-Store Sampling with Tigris!
There's no better time than now to get started on an in-store sampling campaign for your product. Tigris operates in over 15 markets across Canada including Toronto, Montreal, Calgary, Vancouver and Edmonton. Give us a call at 416-283-9119 or send an e-mail to info@tigriseventsinc.com to get a free, no-obligation quote. We have over 1,500 promotional models and brand ambassadors across Canada to represent your brand. Start turning samplings into sales today!