Tigris Brand Ambassadors Pump Up the Crowd at the Backstage Studio Pop Up Tour.
Looking for something fun and free for the children in your family this summer? Check out the Family Channel National Pop Up Tour! The pop up tour promotes a new show on Family Channel, Backstage. Backstage "follows a group of very talented teenagers as they sing, dance, and perform their way to the top at the famous Keaton School of the Arts". Guests are encouraged to experience the dance, music and fashion of Keaton School of the Arts at the Backstage Studio Pop-up Tour this summer. Seems like the perfect opportunity for a family outing!
.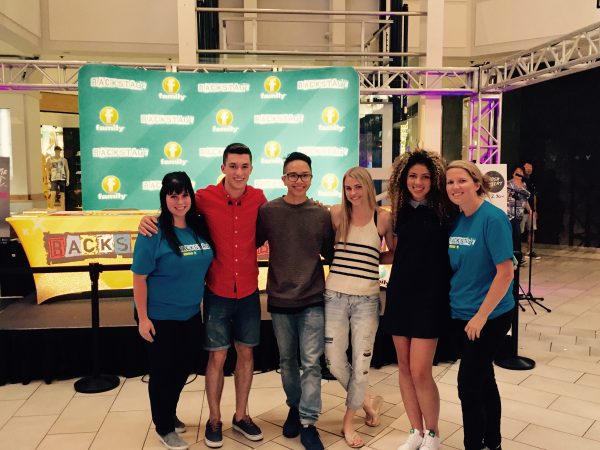 The first stop of this family friendly event, presented by Family Channel and Krista Slack, is at the Pickering Town Centre May 28th – 29th. Tigris provides a duo of energetic, professional brand ambassadors to assist in each city. Fans are encouraged to visit interactive stations where they can learn new dance moves and  listen to hit songs from the show. In addition, they can play a fashion game, purchase merchandise, and watch scheduled musical performances from cast member and recording artist, Mckenzie Small!
In each city, autographs from talent are first come, first serve. Because of the high demand, there is a limit of 250 wrist bands. Therefore, be sure to grab a wrist band prior to the event if you'd like to snag an autograph from your favourite character!
Check out when the Backstage Studio Pop-Up Tour will be at a mall near you!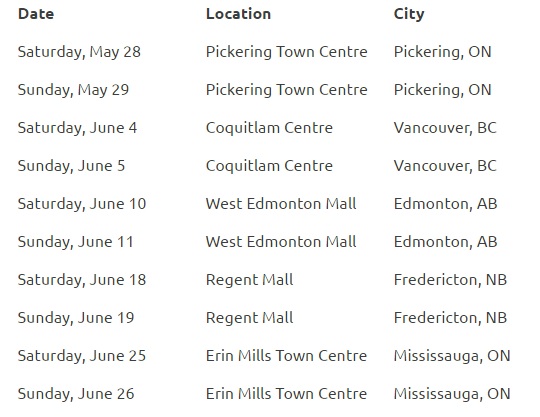 For tour details including mall hours, performance, autograph times and wristband distribution locations, please visit Family.ca. New episodes of Backstage air Friday's at 7PM on Family Channel and can also be seen on the new Family Channel App.
Providing Top Talent for a Nationwide Pop Up Tour
Our Tigris brand ambassadors are responsible for encouraging guests to use specific hashtags when posting and sharing their photos. In addition, they encourage overall participation in the interactive stations, and manage merchandise sales. In each city, Tigris has provided our top talent that work well with children and are able to pump up a crowd!

You may be thinking, why not use the same staff that worked at the Pickering Town Centre in Vancouver, Edmonton, Fredericton and Mississauga? Because it's cost effective! Below are 3 reasons why we have provided different staff to assist in each city of the Backstage Studio Pop Up Tour.
COST EFFECTIVE :: Businesses and brands save big bucks when they use talent native to each city. If Krista Slack/Family Channel wanted to use the same staff for the entire Pop Up Tour, extra costs would be involved. This would include travel costs and per diems, in addition to the staff hourly rate. As a result, the cost can add up fast! By using staff that live in each city, our client is able to avoid the extra travel cost. Because Tigris has supplied different events staff in each city, each group of brand ambassadors must be trained for an hour onsite before the weekend event begins. This one hour of training per staff in each city is a very nominal fee compared to the cost of accommodating staff from province to province. 
TOP TALENT IN EACH CITY :: Tigris has Regional Account Managers in our top markets across Canada that manage events onsite. They also recruit and hire top talent in each city. We rely on our Regional Account Managers to hire the best of the best for our roster. Today, our team has grown to 1,500 events staff nationwide in over 15 markets across Canada. Our clients can rest assured that the staff in Edmonton will be of the same caliber as our staff in Toronto. 
FAMILIARITY WITH THE CITY :: By using talent that are local to the city the event is taking place, our clients are able to use the staff to their advantage. For many of our staff, the malls they are working at are the same malls they've been shopping at for several years. They know the area inside-out, and are able to assist our clients onsite with any additional support they may need. 
Dynamic Staff for a Pop Up Tour and other Nationwide Programs
If you're looking for professional, talented events staff to represent your brand in various cities across Canada, contact Tigris today! Here at Tigris, we create, plan and staff memorable experiences that build brands and business. Give us a call at 416-283-9119 or send an e-mail to [email protected] for a free, no obligation quote.