Wedding Themes, Venues, Decor and More
Tigris is heavily involved in event staffing but over the last 12+ years we've been in business, we've also planned lots of events from start to finish. This includes inspired wedding themes! While our business is corporate focused, we have planned surprise birthday and anniversary parties. More recently, we planned a post-wedding reception for our very own CEO, Serena Holmes! Her and her husband were married in Thailand on their 9 year anniversary. Because they eloped, they wanted to plan an amazing reception for friends and family when they got home.
The wedding industry is a special beast, isn't it? There are so many emotions flowing, family dynamics (or drama) to work through, a budget to manage and a relationship to keep healthy. Weddings are beautiful but they can also be stressful. From wedding themes and venues to catering, decor and a DJ, here are a few things our CEO learned along the way.
Nautical Inspired Wedding Themes at The Avalon Lounge!
When our CEO and her husband made the decision to elope in Thailand, their respective families weren't exactly overjoyed that they couldn't be involved in their day. This couple is a unique pair. They believe that marriage is about the two people involved. As a result, it was an easy decision to go on a whirlwind trip of a lifetime, saying "I Do" on an 11km long private beach in Khao Lak. They also toured 5 cities to create irreplaceable memories to build the next step of their life on. They love their families but thought it would be really cool to plan their wedding day in a tropical destination. They saved photos from the private beach ceremony and intimate candlelit waterfall dinner for a post-wedding celebration. In a nutshell, the post-wedding celebration was the exact same thing as a wedding reception without the stress of a ceremony the same day. Like any event, the first step in figuring out wedding themes – or anything else for that matter – is finding a location.
VENUES :: there are tons of venues in the GTA to choose from but they widely vary in size, cost, location, etc. With so many years of event planning under her belt, our CEO decided to book the party at The Avalon Lounge in Whitby. This is different from most halls because you're only renting a room. This means you need to hire your own caterer, stock the bar, hire bartenders, get a permit – and set up/tear down – all by yourself. While this may sound like a lot of work, it cuts your costs in half (if not more!) and you still get everything you need. This includes a beautiful, open concept room with a bar, kitchen, indoor and outdoor space. Best of all, it's on the waterfront in south Whitby. Guests had a GREAT time sprawling out on the patio, picnic tables and roaming the docks checking out the boats. With a location like this, it lent itself perfectly to nautical wedding themes. The location already had lots of great decor so this didn't require nearly as much effort as it would have by choosing a regular hall. which adds to the savings.
Back in 2012, Tigris planned a couple of Moulin Rouge themed corporate parties. The marketing company that hired us booked the venues before hand which created some issues. Given the theme, the events required major installation of staging/drapery. This comes included with select venues in each city. Had they thought it through before hand, they could have cut their costs significantly by allowing Tigris to research and submit these venues for consideration in advance. However, since they did not, nearly $15,000 was spent re-creating what is readily available at some venues. In addition, they were forced to absorb a $10,000 cost to cancel one venue and switch to a better one in Calgary. It's important to read the fine print before signing on the dotted line – that was a very costly cancellation!
DECOR :: pay close attention to the decor when you are checking out different venues. Some may have what you need already! For Serena, she noticed that The Avalon Lounge had lots of great decor already which would compliment the nautical wedding themes. The venue already had boating inspired paintings and a marlin on the wall behind the bar. They even a table with a ships wheel as a base along with a book shelf, with books on boating.
To enhance the venue, white chair covers and navy satin table cloths were rented. Navy/white runners were also purchased to set the tone for the guest tables. LED lit wire-framed lanterns were purchased as centerpieces. Vases were filled with 2 white hydrangeas and decorated with white rope, burlap string and anchor prints. The front table featured the same table linens along with a decorated gift jar. In addition, name tags were placed on a wire framed board and lots of sea shells. It's safe to say everyone was aware of the theme!
FOOD STATIONS & BAR :: the catering company selected offered an array of delicious passed and stationary appetizers followed by 3 food stations. Keeping in mind guest preferences, Serena and her husband chose a variety of options. This included a carvery with prime rib, chardonnay chicken, spring salad and rolls, a Greek souvlaki station with chicken skewers, gyros, traditional salad and spanokopita and a mashed potato bar. The potato bar was a HUGE hit! Following dinner was a coffee/tea service and dessert – 3 mini cakes (turtles tart, caramel crunch and molten lava), a flaming crepe station and even a Lithuanian wedding cake.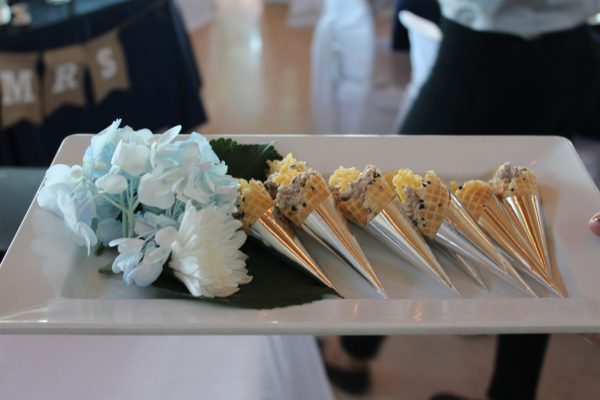 One key learning from hiring the caterer was not to assume you'll get to keep any left overs. This caterer in particular had a clause indicating all left over food is disposed of to ensure there are no risks of food poisoning from spoiled food. Unfortunately, this was one detail that wasn't clearly communicated. Therefore, all left overs went into the garbage including the dessert – and the wedding cake that had been provided by Serena's mother in law 🙁 Needless to say, it was a little disappointing.
The bartenders dressed in wedding themes to further enhance the guest's experience. The navy and white striped shirts were perfect! The bar featured a decorated lemonade dispenser, 3 floral arrangements and 4 fish bowls with themed candy and snacks (peanuts aka "fish food" | gold fish crackers "catch of the day" | shark gummies "shark bites | gummy rings "life preservers"). Even the patio tables outside had small LED lanterns for ambient lighting after the sun went down.
INVITATIONS / GIFTS :: the theme was revealed with invitations a few months in advance of the party including a ship's wheel on one side and an anchor on the back side. While return RSVP cards were provided with a stamp, quite a few guests didn't RSVP on time and had to be contacted by phone, email or social media to confirm. When you're dealing with a large number of people, confirmations can be a bit of a moving target. Keep calm and be flexible… it's not ideal but it's to be expected there could be changes – even up to the day of the event.
Given the nontraditional nature of the event, lots of guests had questions about what to wear. They were encouraged to dress in summer casual apparel they would be comfortable in so they could enjoy the indoor and outdoor space afforded by the venue. Not everyone may understand your vision so be patient and be as clear as possible when providing information.
Gifts were sourced for guests with the nautical wedding themes in mind. They included nautical wine stoppers with an anchor on top and glass coasters etched with a ship's wheel. Both items were wrapped in white paper bags, stamped with an anchor in navy ink and decorated with royal blue curled ribbons.
When all was said and done, the event went off without a hitch and guests had a great time – some of our Tigris staff included!
No matter what kind of event you're planning – from wedding themes to birthday parties (for dance lessons you're on your own), be mindful of details as they are all interconnected. Keeping this in mind may cost or save you down the road. For all of your event planning needs, give us a ring at 416.283.9119 or email us at