As we're sure you already know, Tigris does a lot more than provide great talent for events. In addition, we create and plan all the logistics behind some of the amazing events we staff. Heading into 2017, one of our 'New Years Goals' was to team up with more clients to plan high-impact, newsworthy events. Experiential marketing Toronto is one of our greatest talents. We want the world to know what we are capable of!
Coincidentally, at the end of January, we received an inquiry from a UK based film company looking to "produce a PR Stunt / Experiential activation in a few months' time and need an agency to guide and support us." He was flying from London to Toronto and wanted to meet up with Tigris. Our CEO was away so our account director and marketing manager met with him and his client from TransferWise the same week.
Seal the deal – boutique style
Bigger isn't always better. Our friends from the UK were happy to hear we're a boutique style agency, with 6 staff in head office and 2,000 part-time events staff across Canada. What you see is what you get. Our clients had the comfort of knowing they would be working directly with who they were meeting from start to finish. With other experiential marketing Toronto agencies, our clients were concerned they would not get the same quality of service as Tigris could offer. We pride ourselves on our ability to build strong relationships with our clients and make sure they feel like a priority, no matter the size or scale of the event. From the get-go, we were eager to share our ideas with our potential clients – they left with pages full of notes which they were extremely appreciative of.
Executing the idea
TransferWise developed an idea for their Canadian launch, and it was nothing short of big and splashy. TransferWise enables customers to transfer money abroad quickly and easily with low-cost money transfers. Banks and other providers often add a markup to their exchange rate while advertising low fees, which means you could be paying huge hidden charges. TransferWise transparently displays its fee upfront and deducts it before conversion. No nasty surprises and more money in YOUR pocket. What could be better than that?
In 2016, Canadians sent over CAD$30 billion out of the country. More than CAD$1 billion of that went into banks' profits due to misleading fees and bad, often undisclosed, exchange rates. TransferWise was born out of frustration with how the financial system is bogged down by such unfair practices. This does not need to be the norm. Newswire, 2017
To bring their concept to life, Tigris was required to cast a huge group of talent to dress in pyjamas and sleepwalk throughout the Toronto financial district. Tigris sourced 10 beds and a larger than life sized alarm clock (10 feet and 500 pounds, to be exact) to leverage as props and decor.  At the end of their destination, the sleepwalkers 'woke up' and realized the bad exchange rates and hidden bank fees they were being charged by the big banks. Let's skip to the final video to show you exactly what we're talking about.
#WakeyWakey Canada.
So, how did we pull this off logistically?
As you can see, there are a lot of components to this video – even for an experiential marketing Toronto style shoot. Helene, our creative mastermind and logistics guru, had a lot to source in a tight timeline, all while finding the best rates possible. She sourced the following for the shoot – 10 twin bed frames with mattresses, bed linens (10 sheet sets + 84 branded pillowcases), 114 feather pillows, slippers, and a 10ft to-scale clock. We also rented a hotel room for staff to get changed in over the 2 days of shooting.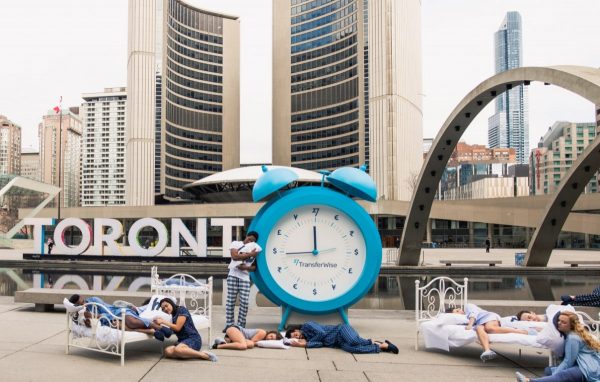 Our head office assembled the beds (shout out to anyone who has ever assembled IKEA furniture) and we worked with our vendor to design and develop the clock. We sent weekly progress pictures of the clock to TransferWise for them to approve any and all artwork. When the clients saw the clock for the first time in person on April 4th, their faces were priceless. The photos simply don't do it justice!
And how did you select those enthusiastic sleep walkers?
In addition to decor and logistics was talent! As you can imagine, sourcing and selecting 80 staff for the stunt took some time. Experiential marketing Toronto is no joke! On the pre-shoot day, April 5th, 10 extremely daring and enthusiastic staff were required along with 70 staff and 6 assistants for the grande finale the following day. When reaching out to talent, we asked them the following questions:
Are you extremely outgoing/daring and willing to:
wander into a supermarket in their boxers and climb into the frozen pea section and fall asleep?
fall asleep on a stranger's shoulder on the subway?
sleepwalk to the front of a queue in a shopping centre?
brave the cold on some of the skimpier outfits (tank top silk nightie/boxer shorts)?
As you can imagine, we got some mixed reactions from our team. We worked on compiling a mix of ages, talent and ethnicities that would be suitable for the event. The talent selected for April 5th (pre-shoot day) were required to sleep in random places around Toronto including Union Station, Nathan Philip Square and outside of the big banks. Needless to say, security was not enthused.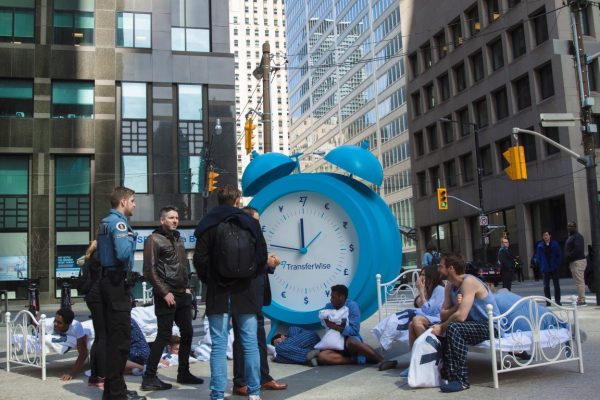 On April 6th, the sleepwalkers walked through the underground PATH during morning rush hour to their destination, Brookfield Place. Once there, they listened for their cue (a large air horn) and broke out into a massive pillow fight – playing their part of 'waking up' to hidden banking fees – to a tee. Can you image a pillow fight with 70 people in pyjamas? We've got the footage to show you – and yes, we were live on the news!
You always need a backup plan.
Because our clients aren't local, and due to the high volume of staff, our dates were set in stone. Therefore rain or shine, this was happening.  Thankfully, the sun was shining on April 5th for the pre-shoot outdoors. Initially, the long-term forecast had said 3 degrees celsius with snow! On April 6th, the original plan was to shoot outdoors, but this was scrapped when we saw the call for rain. A new plan was developed and we believe it made even more of an impact to do the pillow fight indoors – what do you think?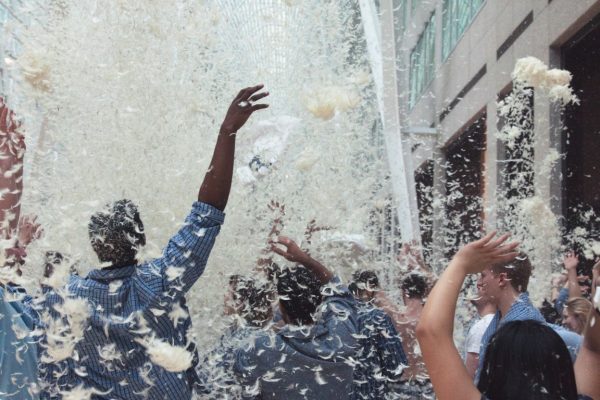 Experiential Marketing Toronto :: What's Next for #TeamTigris?
As a Toronto experiential marketing agency, we couldn't be more proud of the final product. The video we co-produced with ManyMakers hit 325,000 views in 5 days – not to mention the 55,000+ views on our own Tigris Events fan page (15,000 organic and 35,000 with an ad). Our goal is 1,000,000 views and we are confident we will hit it by the end of the month!