Trade shows are like Halloween. Each of the trade show booths resembles a house handing out delicious treats to children in the best costumes. Except, in this case, the 'children' are your potential consumers.  Just like Halloween, kids ran to the houses with the best candy and decorations. How do you make your booth the best on the block? Better still, how do you create a booth that is so amazing, people are lined up just to get in? We've got 21 trade show booth ideas to help you have your best show yet.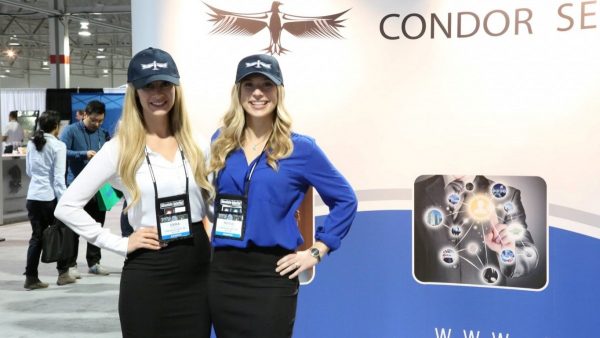 Trade Show Giveaway Ideas: Use branded giveaways
Consumers love free things and they aren't picky either. Whether you're giving away branded pens, phone cleaners or hats, they will take just about anything they can get. Your branded giveaways don't even have to be related to your brand. Of course, if it does, that's even better.
At the ACMO Condo Conference, Condor Security gave away sleek, branded baseball caps. Although the hats are unrelated to security, guests loved them and came to the booth just to grab one. What could be better than an entire trade show walking around wearing your branding. Talk about great advertising!
If you're on a budget, you may want to come up with a unique way to distribute giveaways to manage your inventory. A plinko game, prize wheel or other games can slow down how quickly giveaways disappear. Create a fun activity and also segway into conversation with potential customers.
This tactic is extremely successful when we are hosting events for Wonderlist. Just the sound of the prize wheel brings people over! While waiting in line, our dynamic brand ambassadors engage guests to enter Wonderlist. Once they've entered, they can take a spin on the wheel or play Plinko to get a prize. These from hand sanitizer or chapstick to other small, helpful trade show giveaway ideas. On top of that, they have the chance to win AWESOME prizes. At Taste of the Danforth, a free trip to Greece was up for grabs. As you'll read below, at the Auto Show, $50,000 towards a car was awarded to one lucky winner.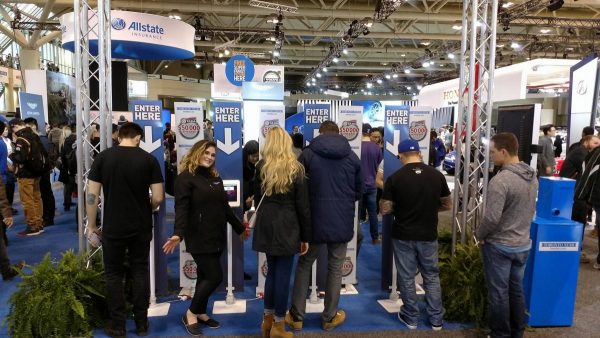 Incorporate a contest
Not everyone has the budget to offer a grand prize of $50,000 towards a new car. Although with a prize like that, it's no wonder people are lining up at the Toronto Star booth, shown above. If you decide to organize a contest, make sure it's easy to participate and the prize is worthwhile. Unsure what to give away? Incorporate your prize into the theme of the trade show. For example, if your company is exhibiting at the Home and Garden Show, you could give guests a chance to win a free garden makeover, gardening gloves or a tool of some kind. By giving away something people will actually use, they will consistently remember your brand over and over again – long after the trade show has come and gone.
Back in 2014, Tigris created an interactive pop-up closet for Express. In addition to trying out the clothing, passersby had the opportunity to enter a text to win contest. Not only did the contest give participants on the spot prizing (e.g. $50 to use in-store), it also enabled the brand to send our weekly offers and discounts to drive traffic to the store. This helped achieve maximum long-term impact outside of the small period of time we were onsite at each location. The Express activation toured locations in Toronto, Southwest Ontario, Ottawa, Vancouver and even Calgary for a year!
Make room for seating space
Trade shows can be long and tiresome (for vendors – as well as guests!). Offer trade show go-ers an inviting place to relax and unwind. Big, comfy chairs and couches are irresistible at a trade show. Once you've got them in your 'arena', use this time to build relationships and pitch your services. Back in 2011, Tigris teamed up with Rogers at the National Home Show. Since the Olympics were in full swing, Rogers designed a ski lodge to create a unique and comfortable space for their customers. What could be more tempting than relaxing by a warm fire after hours of walking around? Creating a relaxing atmosphere is one of our favourite creative trade show booth ideas.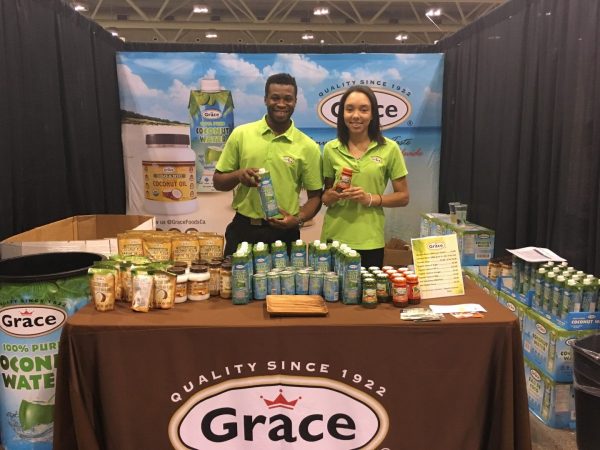 Lots of samples
If you're in the food industry, giving away samples is crucial.  It's what most people love most about these types of trade shows. Especially if you have a unique product that's difficult to describe, it's easier to promote your product when people can taste it on the spot. More often than not, consumers go back to their tried and true products. From food and beverage to beauty and health, people are loyal. But give them the chance to try your product out – make them fall in love – land a new customer. We can't speak more highly about the impact of this trade show booth idea.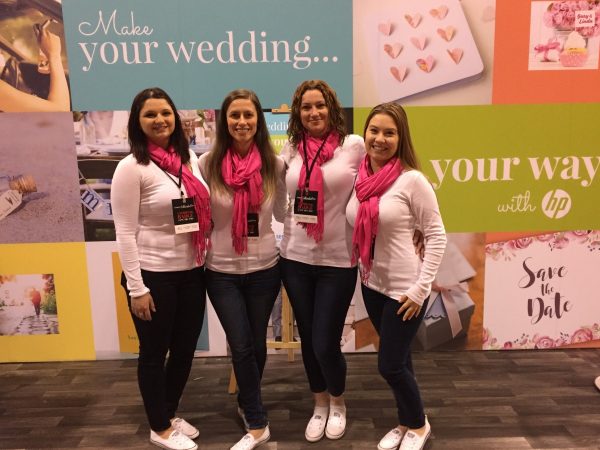 Visual Marketing
Let's jump back to the Halloween analogy. Can you remember which house was your favourite to visit as a child? Maybe it was the house that enclosed their walkway into a haunted path or the house with the smoke machine. Either way, it was the visuals that caught your attention. The same can be done to make sure your trade show booth stands out from other trade show booths. When designing event marketing visuals, keep the messaging simple and clear, prioritize visuals over text and use your brand colours. Humans are simple – they are attracted to bright and shiny things and people 🙂 The design of your booth should be aligned with your brand image – but keep in mind what is attractive to customers to bring as many of them in as possible.
Quick, informative takeaways
"I'm just on my way to hear the guest speaker". Trade shows can be packed with speakers, lectures and workshops. Attendees only have a limited amount of time to browse the floor. If someone is eager to cut the conversation, hand them one of your company cards, a brochure or a magazine (pending what you have accessible). If you don't have time to get into detail about your products, at least they leave with some information about your company. Who knows – they may send you an e-mail later. Alternately, you can take their business card for a draw – so you can follow up with them later. This may not be ideal for some brands, but for service based businesses, this could be the butter to your bread!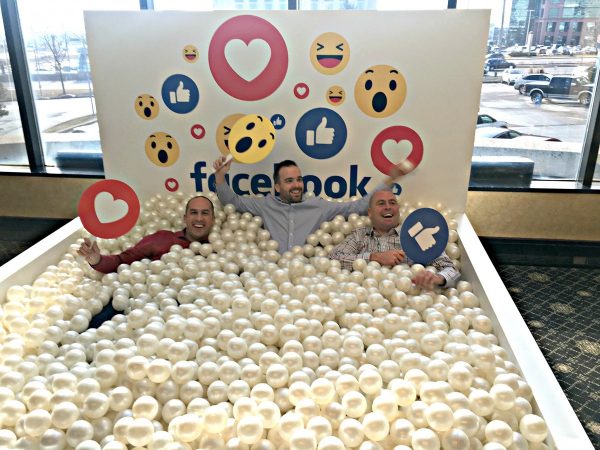 Host a photo booth
Whether you have an instant Polaroid print out or send the photos by e-mail, guests always enjoy taking photos. Use this opportunity to include a branded backdrop, banners, flags, props and/or decor. If you're hosting at a corporate trade show, an effective idea to attract guests is to give them VALUE. Set up a LinkedIn photo shoot so guests can have an updated professional headshot taken for their profile. You'll see a line up all day long – and you'll get their info to send them the photo! For more fun trade shows, like the Gourmet Food & Wine Expo, you could incorporate the same photo booth – but with fun props to dress up. For these photos, you could include your company branding so each photo shared digitally reaches even MORE people. How great is that trade show booth idea?
Trade Show Booth Ideas – Be strategic with your layout
Purchasing prime real estate at a trade show can get pricey. Even if you're not front and centre, make sure you consider the layout of your booth. What do people see when they first approach you? How are they entering? From the front or the side? Will they be walking past or through your booth? By considering foot traffic patterns, you'll be able to place the components of your booth strategically. This is especially important if you have a corner booth – or a booth so large people can enter from all sides.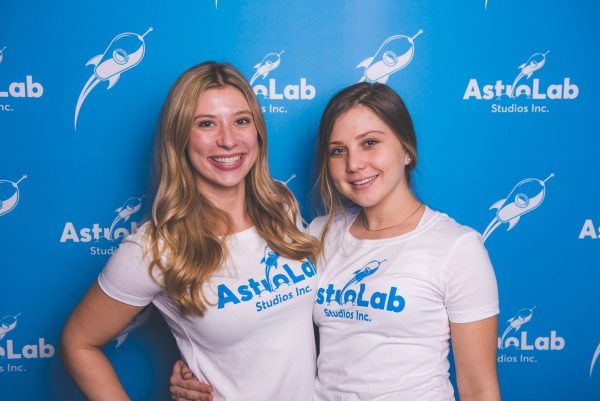 Standout with great uniforms
Whether you prefer branded shirts or business casual, it's easy to stand out with great uniforms. Opt for your brand colours, and ensure the logo is large enough to read from a distance. If you prefer business casual, coordinate with your team beforehand. An example would be for each of the men to wear a black suit with a tie in your brand's colour. The women could wear black dress pants, with your brands colour for the top. As simple as this sounds, a cohesive team appears more professional – even down to the footwear.
Make lead capturing less invasive
Have you noticed most guests walk around with their name tags flipped backward? That's because they don't want to be harassed while walking the floor. By remaining anonymous, we have no idea if they are a fellow exhibitor or potential client. How do you know if it's worth your time to speak with them? Make capturing leads less invasive by ditching the scanner. Incorporate a contest where guests give their business cards to enter. This way it's not invasive and guests give you their information out of their own free will. Place a bowl at the front of your booth with a clear call to action. You'll notice the bowl full by the end of the day!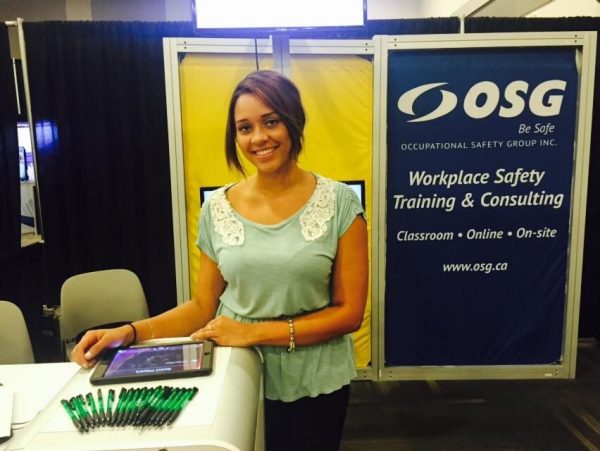 Host a game
Make your booth interactive with a game.  Incorporate virtual reality, iPads, touch screens and more. A great example is the Jeopardy-style game Occupational Health and Safety hosts at their booth. Because they focus on training, the Jeopardy game is extremely relevant. The trivia game runs off iPads, and participants are able to pick from 5 categories. There are 3 basic questions in each category, where each participant will have to answer in the form of a question. Total scores are tallied and a grand prize is awarded at the end of the day. This trade show booth idea gets competitive and keeps your booth looking busy!
Have a charging station
What could be worse than seeing your phone dip to just 1 bar of power amidst a busy workday? You'd be surprised how many people don't keep a charger on hand. By having a charging station at your booth, you'll get lots of guests coming over. As a result, they'll be forced to stay awhile as their phone charges. Use this opportunity to engage in meaningful conversations while you've literally got them plugged-in!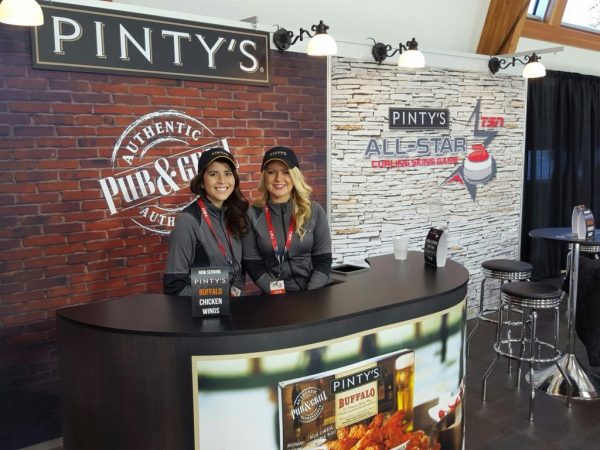 The right amount of staff
An over staffed booth is overwhelming. No one will want to come over and talk if they see 5 people standing at a booth, eager to pounce. It's intimidating and uncomfortable. Whether your booth has temporary trade show staff or simply staff from your head office, take space into consideration. For a 10×10 booth space, you wouldn't want to book more than 2-3 staff. For larger booths, such as 10×20, 4 staff would be sufficient and for 20×20+, 5-6 staff would be optimal. This said it depends on where you are exhibiting. Different rules apply to vending at outdoor concerts, festivals, and special events.
Hydrate guests
I was once at a trade show where almost every guest was holding a fruit-infused reusable water bottle. The whole time I was thinking, where can I get one?! I searched the trade show floor and finally found the booth I was looking for. Unfortunately, when I got there, they were out of stock, and apparently had been for a few hours. The key lesson here is to have a giveaway people want, and they will find you (even when you've run out). More important, make sure you bring enough or come up with a strategic solution to slow down your giveaways (see point above regarding a prize wheel or plinko game). Water is much more efficient than handing out sweets due to the nature of trade shows. They are long and people don't always remember to stay hydrated. You can also get bottles branded if you want to get really fancy!
Play music
Make your booth an environment people want to be in. Bring your own speakers, set up your phone and play some tunes. Your playlist is extremely important. Depending on the trade show, consider your demographic and what they want to hear. Whether it's 90s rock or Taylor Swift, your audience will stop to dance if it's something they like. While trade shows are geared towards creating customer relationships, obtaining leads and improving sales – it doesn't mean they also can't be FUN! Create a memorable experience so the next time your customer hears a song from your playlist, maybe they will think of your brand.
Use Social Media
You don't have to create your own hashtag – each trade show usually has their own. For example, the Calgary Home & Garden shows hashtag is #CHGS17. Look up the hashtag on Twitter and see which influencers are talking about the event and whose attending. Make a connection and invite those talking about the trade show to your booth. Everyone likes a personalized invitation. By including the event hashtag, others searching that hashtag are bound to come across your brand. Creating awareness outside of the trade show floor creates added value that extends beyond the limited reach of those who walk by your booth.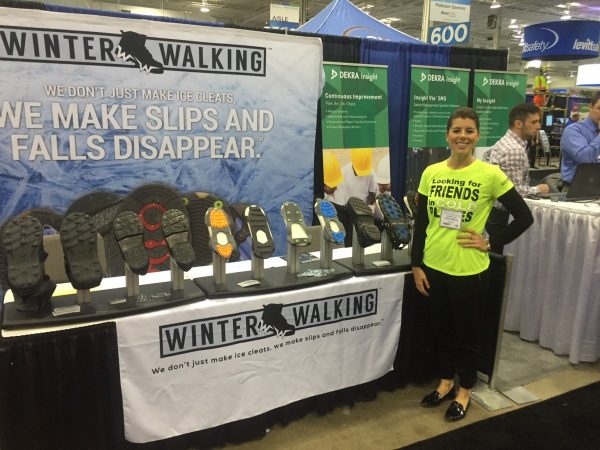 Be Prepared and Practice 
How do you break the ice? Regardless of how long you've been working for the company, it's important to practice your opening lines. You may know what you do, but are you good at talking to others about it? Rehearse your opening lines so it seems natural when you're approaching people. Don't rush into a hard sale and let the conversation naturally lead to your services.
Are you using promotional models at your booth? Ensure they know their roles onsite. If you simply want them to engage with guests to start a conversation, it's important they know to pass along serious, potential clients to others within the booth. On the other hand, if you want the staff to become experts on your services, consider a webinar or onsite training prior to the show.
Trade Show Booth Ideas – Have You Hear of Suggestology?
Use the power of asking questions to engage your customers. Get to know them – people naturally love to talk about themselves and knowledge is power. By learning a bit about them, you can better tailor your conversation and suggest products/services suited to their needs. What could be worse than someone promoting something that is of absolutely no relevance to you? This little trick may take an extra couple minutes per interaction but they will be FAR more impactful.
Speaking of questions, make sure you ask open-ended ones. A great example could be asking a customer what flavour they prefer – blueberry or strawberry. What colour car they like – red or green? Ask them something that requires them to give a thoughtful answer vs. a yes or no, that could result in them simply walking away. This is called the "which close" – by giving a customer options, they are more likely to choose something – in the beginning – or at the close. Rather than asking "do you want to buy ………?" – ask them, "do you want to take home the basic package or the enhanced package today?". If they are really uninterested, they will let you know. If they are, this is a subliminal and effective tool to guide them on the path to purchase.
Schedule Live Performances 
Make your booth more exciting by scheduling live presentations or inviting a special guest. Promote the performance/person via social media and within the trade show. Try to get it printed in the trade show agenda, or have a speaker announce it during one of the lectures. This gives all guests an incentive to visit your booth. The more awareness, the better.
A great example is Java Brew. At each of their trade shows, a spokesperson for the brand conducts scheduled performances throughout the day. These performances attract crowds of over 20 people per session. The spokesperson explains the business opportunity on a stage, next to their booth, complete with a microphone and slide show. It's extremely engaging and therefore, people were inspired to get more information.
Offer a Special Discount
Can you offer your services and/or products at a special discount? Enlist the 'fear of missing out' into your potential clients and consumers. Offer a special discount, unique to the trade show. This will create an incentive and urgency to buy – whether it's BOGO, or 20% off.  These deeply discounted "act now" deals work best when the potential customer is in a unique place for them, a place they are not likely to be in again for a while. That way, if they want this great deal they have to act now.
Have a Sales Goal 
A clear, realistic sales goal will motivate your employees and give them purpose. If you give each member of your team a specific sales goal (even better, with a performance incentive), they will work that much harder to push sales. Track your inventory each night and re-group with your team each morning. With a goal in mind, divided per person per day, bigger numbers become more realistic rather than saying, sell as much as possible!
Check in with your team throughout the trade show to assess performance, and reward positive behaviours  – thebalance.com
In addition to achieving these goals, setting them in advance will also help you benchmark the inventory you need to bring onsite, how much space is required, how many staff you need and even to calculate your return on investment – so you know if participating at the show will, in fact, be worth it.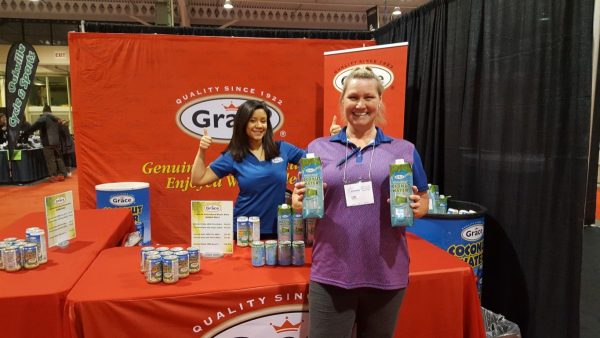 Promote the event like it's your own
Make it known that you are going to attend this trade show. Promote it on your website and social channels. Create a newsletter to send to all of your current and potential contacts. Follow the trade shows social accounts and start engaging. These tactics will gain extra awareness, and people may even think you are sponsoring the event (even if you aren't!).
Did we miss any of your favourite trade show booth ideas or trade show display ideas? Let us know in the comments section below our favourite trade show techniques. We hope you enjoyed reading our 21 Examples of Effective Trade Show Booth Ideas – and find it helpful the next time YOU need to attend a trade show!