Pride Parade brand ambassadors can be walking the streets around the parade route that takes place in cities all across Canada. In Toronto alone, over 1 million attendees participate in the Pride Parade, from the corner of Church St./Bloor St. all the way down Yonge St. to Yonge-Dundas Square. Tons of brands use this special event to show their support with themed activations, whether they sponsor, participate or activate guerilla style. Tigris supported SkipTheDishes and Rouse Condoms with their unique Pride activations by providing dynamic and outgoing Pride Parade brand ambassadors. Read below to see how we spread pride for these great brands!
SkipTheDishes proudly supports #loveislove with Pride Parade Brand Ambassadors
There are endless opportunities to make a splash at Pride. For the first activation we'd like to highlight, Tigris teamed up with creative agency, Arrivals+Departures, who designed cheeky posters to wild post along the parade route to promote SkipTheDishes. A+D designed the posters while Tigris arranged the printing and installation of 100+ posters complete with tongue in cheek taglines. A few of our favourites include:
We've satisfied someone here 9 times.
We've orally satisfied 23 people in this building.
We once satisfied someone here 4 times in a single day.
We satisfied someone here last night.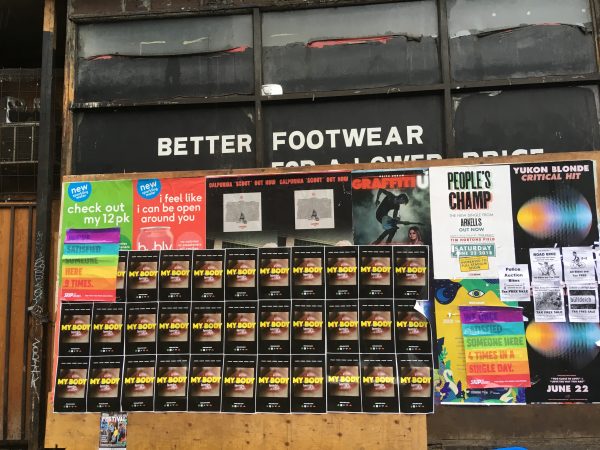 These posters were placed on the ground in public areas, in addition to office and condo buildings, specific to the tagline and along the pride route. The campaign spiked curiosity, brand awareness and multiple laughs from passers-by and event attendees.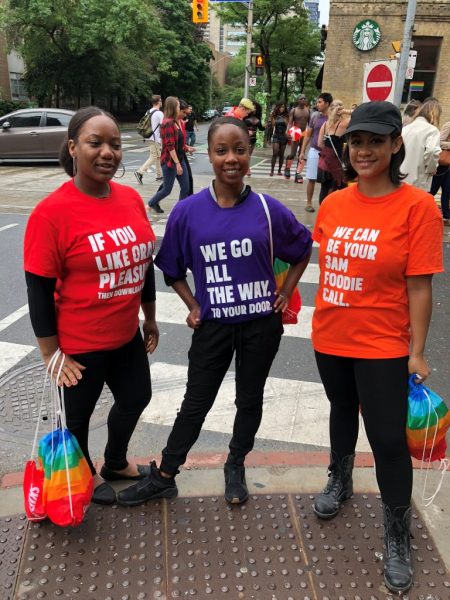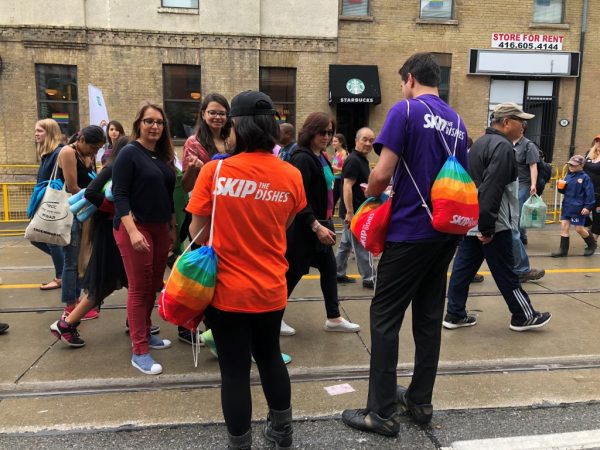 In addition to wild postings, our Pride Parade brand ambassadors walked the parade with high energy to interact with attendees and hand out thousands of branded mints and vouchers with key messaging, "SkipTheDishes proudly supports Pride". Our Pride Parade brand ambassadors were impossible to miss in their bright, branded shirts with cheeky taglines similar to the posters, including:
We go all the way. To your door.
We can be your 3AM foodie call.
If you like oral pleasure, then download our app.
Seems like the perfect taglines, wouldn't you agree?
As with the posters, Arrivals+Departures designed the creative for the mints and shirts while Tigris sourced the suppliers to manage production. Talk about team work!
Pride Activations Target Thousands of Potential Consumers
Furthermore, you may have noticed another SkipTheDishes activation. Our high energy Pride Parade brand ambassadors rode branded tricycles throughout the parade. Along the festival route, our team handed out rainbow SkipTheDishes re-useable draw string backpacks, rainbow pins, vouchers, and more.
Throughout the festival, our team engaged with thousands of attendees. Below are a few reactions:
"This is great! I have never used it but it sounds like a great idea."
"The use of puns on your marketing material is awesome."
"We use the app way too much, I love it."
"I love SkipTheDishes!"
"Thank you! I'll be using this voucher ASAP!"
"Clever marketing!"
"You guy are so great for supporting Pride!"
"Skip The Dishes! You are my savior at 2am!"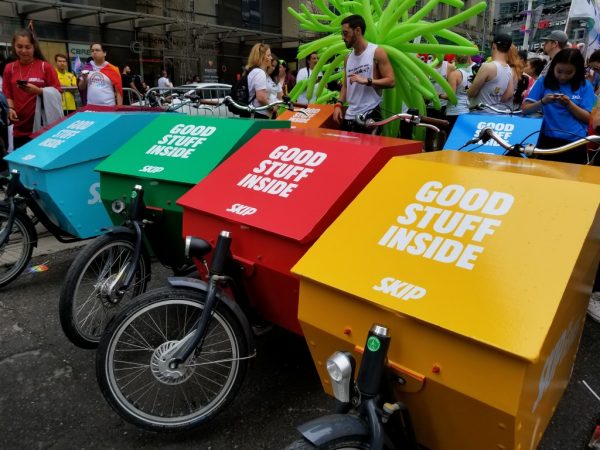 You may be wondering, what's the deal with SkipTheDishes and why do we have enormous #clientlove for these guys? SkipTheDishes saves people time by delivering the food they want from their favourite restaurants. As event planners, that's a mission we truly support. They provide people with the option of ordering from their favourite restaurants and are quickly expanding across North America.
Embracing Diversity & Sexuality at Pride Toronto
Along with SkipTheDishes, Tigris supported Maracaibo Media with a street team activation for Rouse Condoms by distribuing 13,000 condoms to festival-goers. The brand is an advocate of safe sex and gives 75% of their profits to support men's health initiatives which will be distributed through the TH!NK DIFFERENT FOUNDATION. This is a humanitarian organization that provides grants and other program support designed to spark innovative ideas in underserved areas of healthcare within the United States. The best part – Rouse Condoms makes safe sex exciting by allowing consumers to chose their sexual spirit animal (Lion, Bear, Cheetah, Elephant, Rabbit or Tiger) and be confident knowing they are protected.
Although it wasn't the best weather, the Pride Parade was a huge success. A little ran can't stop us!! If you're interested in executing at a popular event, contact Tigris today. Our large roster of diverse and dynamic events staff have the experience and personalities to bring your brand to life. Contact Tigris today to learn more about our award winning team.