Have you ever wanted to teach English abroad? How about exploring a new culture, while contributing to the education of the next generation? Are you a recent graduate or perhaps looking for a career change?
If you answered "yes", to any of the above questions, you'll want to keep reading!
Tigris has partnered with Jobs Piara – a licensed and registered Canadian recruitment agency in Mississauga, to bring you the opportunity of a lifetime. What could be better than combining your passion for people, travel, adventure and education!
How you might ask? We are looking to hire as many as 40 new full-time contract staff, per month, to teach English in towns and cities across China!
You might be asking yourself, "I'm curious, but how can I possibly be qualified for this position"? Well, it's easier than you think… you might already be qualified to teach English abroad.
Requirements:
Exceptional verbal and written English skills
Bachelor's degree or above (recent graduates welcomed to apply!)
TEFL/other teaching certificate strongly preferred

If you do not have your TEFL or equivalent, you can obtain this once you are accepted for the position.

And most importantly, willingness to relocate to China for at least one (1) year
Note: A government-issued Z Work Visa is required and will be provided. This takes approx. 8-12 weeks to process following job offer and there will be help available to you to aid with the process.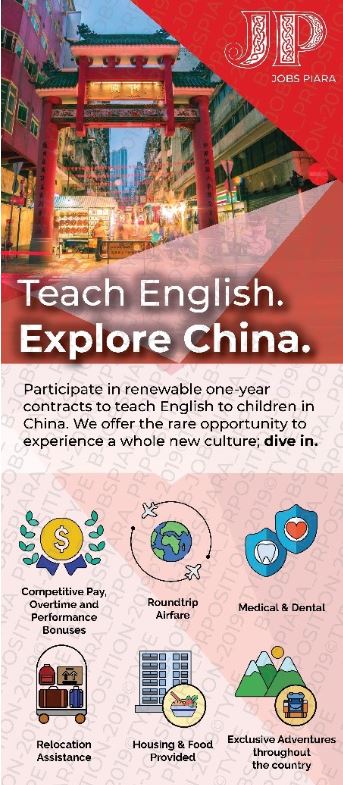 To teach English abroad, this position requires responsible teachers who are motivated to deliver quality lessons to young elementary school students. Above all, we are searching for candidates who are positive, active and outgoing with a clear passion for education. This position is unique, offering the opportunity to learn through an array of training program. It's because of these programs that different and exciting career paths will be available to you!
Details:
Student Demographic: Students range in age from 3 – 12 years old
Class Size: 10 – 14 students per class
Class Length: 40 – 50 minutes per class
Working Hours: 36 hours per week, Wednesday to Sunday

including training, teaching hours and office hours

Training: 10 – 15 days of paid training will be provided in Beijing upon arrival.

Training is paid based on performance. On-going training will be provided throughout the year, offered by a training department team of teachers (foreign and Chinese).

Curriculum: CLIL (Content Learning Integrated Language). Chinese teachers teach Standard English language classes, while foreign teachers teach various subject matter encouraging students to engage in the English language.

Lesson guides and flip charts for interactive whiteboards are provided. In addition, training on curriculum is provided both upon arrival in China as well as throughout the year.

Teaching Assistant: You will be assisted by a bilingual Chinese teacher for each class.
Now that we've told you about the what, the who and the how, you might be wondering, how much? In other words, what's in it for me?
Allow us to show you our competitive compensation package:
Base salary ranging from $30,000-$50,000 CDN (pending the school)
Relocation bonus
Monthly housing stipend
Monthly bonus
Reimbursed airfare to China and airport pick-up upon arrival
Ground service assistance
Demo class bonus
Basic health insurance
Time off: All Chinese public holidays, Christmas and New Year's Day
Sick Leave: 5 paid days
In addition to the above compensation, other benefits include: organized team-building activities and personal career development planning.
Apply in 3 Simple Steps!
Most importantly, Tigris and Jobs Piara have partnered to make this an easy three (3) step process:
Interested applicants can e-mail their resume directly to our HR department at: [email protected] with the subject line: Teach English. Explore China.
Qualified applicants will then be contacted directly to schedule a video interview with a Tigris representative.
After the video interview, successful applicants will be contacted directly for a second and final interview by a prospective school in China. If successful, you'll be contacted following your interview with an offer!
This is the time to follow your dreams and see where this exciting adventure can take you! Contact us today to learn more about this amazing opportunity.