Canada's 150th birthday is an opportunity to showcase All Weather Windows' industry-leading innovation while also highlighting their own Canadian story. To celebrate Canada's 150th birthday and the diversity of the Canadian population, AWW created a lens (or window) to see that through. The window is used to engage Canadians at various events across Canada. Our Ajax Events Staff were responsible for managing the setup, tear down and social activation for All Weather Windows at Deer Creek August 8th. This was the 2017 Durham Region Home Builders' Association Golf Classic.
Ajax Events Staff Capture Memorable Moments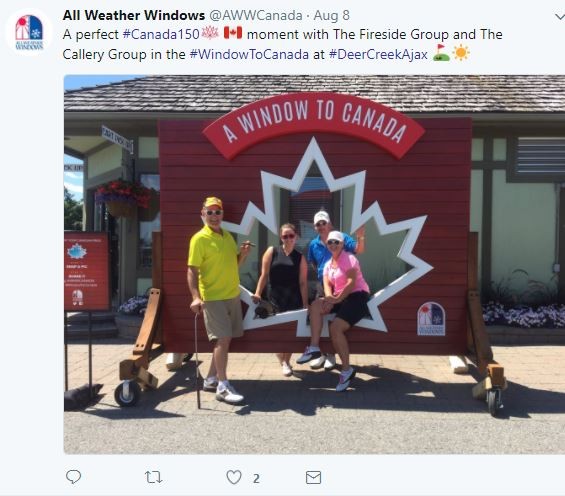 Onsite, our team was to engage with attendees and encourage them to take a photo through the window and post on their social media accounts using the hashtag #WindowtoCanada and/or tagging @AWWCanada. Guests loved posing for photos with the display. Below are a few testimonials:
"Wow, how much does this thing weigh?!"
"This is so cool, thank you for taking out photo."
"These sunglasses are so helpful, I forgot mine in the car. They are necessity when playing golf!"
"All weather windows is great I had them installed recently."
"This sign is amazing!"
Our Ajax events staff is a team that continues to grow with professional, experienced staff. With over 13 year's experience, Tigris is an industry leader, specializing in maintaining a superior roster of dynamic events staff across the country to build YOUR brand. In addition, our national event staffing teams span the country from coast to coast and are supported by event management. Contact Tigris today to learn more about our event staffing and planning services.