In our social media centric society, it seems as though inspiration can come from anywhere! With unprecedented access to people from all cultures, backgrounds, and ages from all over the world, these digital channels offer a glimpse into so many lives, and you just never know what might inspire your next big idea. It's no wonder we see these real-life trends pop up in experiential marketing and advertising campaigns. It's fantastic to be "on trend" and even better to get consumers excited about your product. However, now that we are inundated with brand messaging on a daily basis, a picture is no longer worth a thousand words. So, the real challenge becomes how do you measure experiential marketing campaigns? Well, you're in luck because that's exactly what we're talking about today. Here are our top 3 KPIs your campaign should be measuring!
Conversions
We'd bet that you've heard the term conversions before. However, conversions can mean different things, depending on who you ask. The specific conversions you're looking to achieve is typically dependent on the product and/or service you are marketing and the campaign approach.
Some common measurements include sales, samples, signups, interactions, and more! Conversions are often important to clients because of their direct correlation to monetary value. This KPI is certainly evaluated when discussing return on investment after a campaign is over. However, it's not the be-all and end-all; there are other KPIs we'd recommend you consider.
Location
Location is the next KPI we'd encourage you to consider when you measure experiential marketing campaigns. Why is location so important? Location is critical to evaluate because it can affect so many variables during the campaign. For instance, location affects installation and dismantle, access to the target market, visibility, and foot traffic. In addition to this, it affects the flow of consumers. Be sure to review how your location served you. Was it effective? We'd recommend looking at much time was spent in and around your activation space. Overall, did consumers experience what was intended?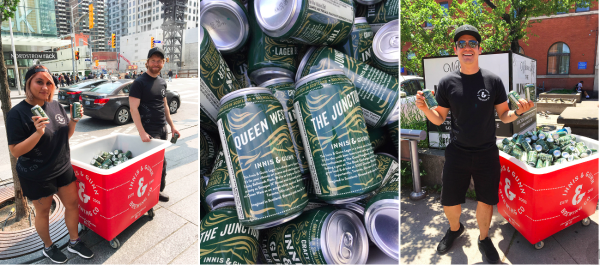 Social Media Presence
Last but certainly not least on our list of KPIs is social media presence. Always be prepared with a social media plan. Social media can be especially effective as it can create long-lasting buzz, even after your activation is over. It enables you to reach a wider audience and share content worldwide, reaching consumers we never thought possible.
In addition, offering a specific call to action on social media can help drive additional conversions. Ensure you have your social media handles at the ready, clearly displayed. Add a fun or insightful hashtag and a photo opportunity, and you're sure to get people talking! Then, when crafting that recap report, be sure to share important screenshots from your social media interactions. How many times was the hashtag posted? Did people tag the brand? Was the promo code used? All valuable KPIs within this category to consider.
Final Thoughts
We'll leave you with one more piece of advice: always define what success means to you/your campaign before you do any other planning. "Success" will differ for different products, services, brands, etc. Choose KPIs that reflect your goals. And be sure to review, reflect and determine if you hit your ROI.
So, what have you learned about how to measure experiential marketing? Connect with us and let us know! What other KPIs do you consider important?