International Marketing for FIFA Women's World Cup Is Out To Play!
Adidas, Coca-Cola, Hyundai, Visa, Labatt, and Bell. These are just some of FIFA Women's World Cup's partners and supporters whose international marketing campaigns are kicking off right now. Whether it be in France, Brazil, Japan, or Canada, marketing teams across the globe are promoting FIFA and incorporating the competition into their special events and marketing initiatives.
One marketing campaign that Women's FIFA has been working on in particular this year is called "Live Your Goals". The objective of this international marketing campaign is to increase the number of girls and women playing football (or soccer, as us North American's call it) worldwide from 30 million to 45 million by 2019 – just in time for FIFA Women's World Cup France. Show your support here!
FIFA's marketing affiliates are able to connect with millions of fans around the world. International marketing campaigns for the organization have been a huge success over the past years which FIFA is very proud of. Some of their marketing highlights include the FIFA Interactive World Cup, FIFA U-20 Women's World Cup Canada 2014, FIFA Beach Soccer World Cup Tahiti 2013, and FIFA Confederations Cup Brazil 2013. FIFA is constantly developing marketing programs which allow fans to interact with FIFA events. We at Tigris know a thing or two about the importance of creating events that leave lasting memories for those involved!
Tigris' Involvement in International Marketing Campaigns for FIFA Women's World Cup
Score! Team Tigris takes part in marketing initiatives for FIFA this year, and our soccer-fanatic brand ambassadors couldn't be more excited!
Over the past couple of weeks, Tigris has teamed up with Bell Canada, TSN, and Pixperience for some exciting events revolving around FIFA Women's World Cup. For the first time in Canadian history, the FIFA Women's World Cup will be taking place in cities across Canada, which TSN and CTV are the host broadcasters for. To celebrate, TSN, a division of Bell Media, reached out to Tigris to provide three experienced soccer players to work as brand ambassadors to host their live viewing party and to assist with building brand awareness for the World Cup. Situated at Toronto's Yorkdale Mall, our brand ambassadors pumped up the crowd, distributed swag, and assisted a team of professional freestyle soccer performers who were onsite at the event Jun. 6.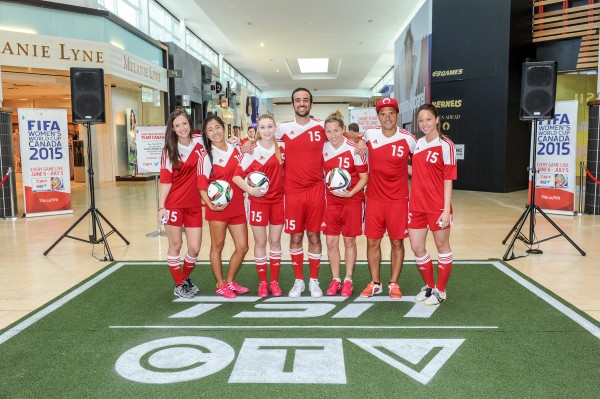 On the west coast, Tigris event staff were busy assisting Pixperience in association with TSN in Edmonton for the Team Canada matches which took place on June 6th and 11th. Six of our high-energy brand ambassadors had the chance to experience the FIFA Women's World Cup first hand – how amazing is that!? It was our staff's duty to assist guests with the photo booth activation and ensure that they had an amazing experience at the game. Our staff did an incredible job at keeping their energy high at all times and driving traffic towards the activation. In addition to the 3 BA's we had onsite per game, we also provided 2 labourers to set up and tear down the photo booth for each event.
Edmonton will host 11 matches during the competition at Commonwealth Stadium, and we couldn't be more thrilled to be a part of these moments in Canadian history.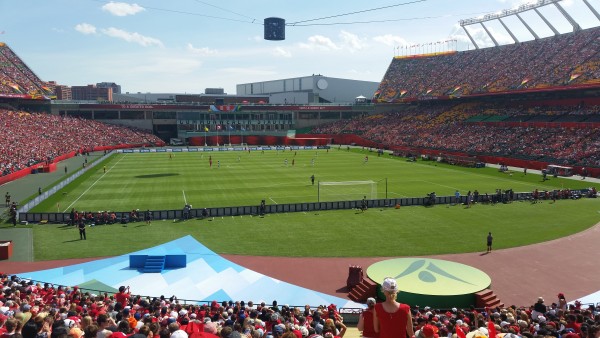 Out of the many international marketing efforts to promote FIFA Women's World Cup, Tigris is honored to have the chance to support, promote, and work with our beautiful country, FIFA Women's World Cup, Bell Canada, TSN, CTV, and Pixperience. Go Canada!