With the hustle and bustle of the holiday season, consumers are bombarded by advertising via social media, email campaigns and commercials; especially for mall shoppers, who are distracted by bright branding, discounts and overwhelmed by the foot traffic. How do you make your holiday retail campaign stand out from the crowd?
This holiday season, we're teaming up with L'Oreal and NYX to enhance their holiday sales. NYX Professional Makeup is a modern, digitally native makeup brand on the forefront of today's emerging beauty trends. It's an affordable, professional makeup line to create makeup artistry at every level.
NYX Sugar Trip Holiday Retail Campaign
The NYX holiday retail campaign was executed in Square One, Toronto Eaton Centre, Yorkdale and and Rideau Centre. To enhance the sales of the NYX Sugar Trip products, we provided two glamorous promotional models per location. While onsite, our talent engaged consumers, encouraged them to view the Sugar Trip products and discussed key product messaging. The primary purpose of having additional staff onsite was to drive additional traffic into the stores and of course, sales.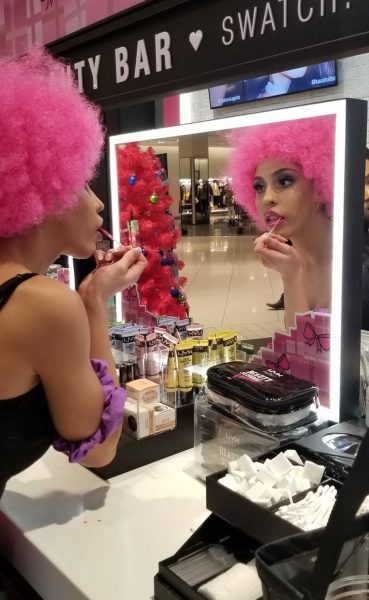 The best part? Our promotional models were dressed to impress as the characters from the Sugar Trip campaign in neon wigs, vibrant spandex clothing and complimentary makeup. They were impossible to miss, even during high mall traffic! Our account coordinators had a blast sourcing these eccentric costumes.
Shoppers were amazing by the outfits; multiple customers stopped to take photos with our team. Below are a few shopper testimonials:
"You girls are so much fun; can I take a photo with you?"
"NYX is getting into the festivities early. I love it!"
"Love the makeup and outfits! Looks like you should be apart of a music video."
"I think this is such a cool idea! And you're giving away candy!"
"NYX is awesome, love your stuff."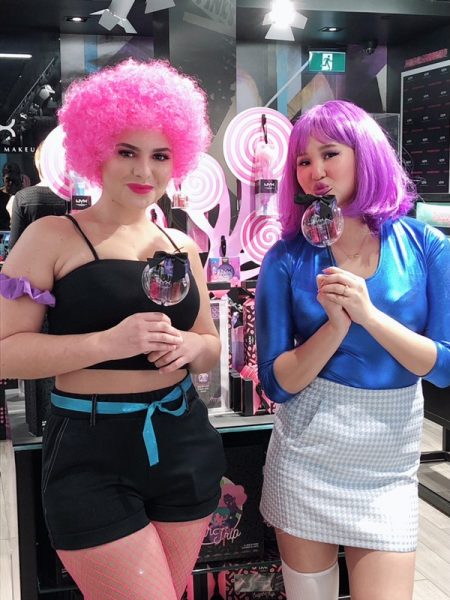 Are you looking to create an effective holiday retail campaign? Use our 4 tips below to increase store traffic and sales during the holiday season.
Be Creative
It's not enough to simply hand out free candy or stand outside of your storefront to engage customers. Be creative with your marketing initiatives and think outside of the box. What would make YOU stop during your busy day? Whether it's an incentive such as a gift with purchase, discount, or limited edition product, make sure it's extremely obvious as to why shoppers should come into your store. Offer a Spin to Win, for example, to capture attention and create long lines – every retailers dream!
Be Relevant
The NYX holiday retail campaign was relevant because they brought characters from Sugar Trip to life. If you're selling purses, it may not make sense to have mythical models standing outside of your store. While it's important to be creative, you must remain relevant to your brand image and message while promoting a holiday campaign. Bring your brand to life by enhancing the key components of the products and services you're offering.
Be Engaging
Our promotional models engaged with hundreds of potential customers throughout the NYX holiday campaign. Their bright, bubbly personalities and show stopping outfits attracted shoppers. Many even asked to take a photo with the team! It's important to have engaging staff at the forefront of your store/booth to bring in consumers, quickly relay key messaging and increase involvement.
Be Memorable
Last but not least, be memorable with your marketing initiatives! You'll definitely remember a girl in a bright blue wig, but will you remember an elf standing outside of a store? Think outside of the normal Christmas characters such as Santa, reindeer and elves. Create a memorable display with your brand colours, include a performance or even a demonstration. Your options are limitless!
Are you looking to execute a retail campaign? Contact Tigris today – we operate nationwide across Canada with over 14 years of events under our belt. Let's discuss your needs and get started with a free quote!